Caitlyn Jenner could face a manslaughter charge in a fatal February car crash in California after investigators determined she was driving too fast, officials and law-enforcement sources said on Thursday.
The four-vehicle crash involving the former Olympian and current reality-TV star left a woman dead on the Pacific Coast Highway in Malibu on Feb 7.
Traffic investigators have completed their investigation into the deadly crash and will present the results to the Los Angeles County District Attorney, according to a statement from the L.A. County Sheriff's Department.
Jenner was driving a Cadillac SUV and rear-ended a Lexus that had just rear-ended another vehicle in a chain-reaction crash, according to NBC Los Angeles.
The driver of the Lexus, 69-year-old Kim Howe, died after her car was pushed into the southbound lane of the highway and struck head-on by a Hummer.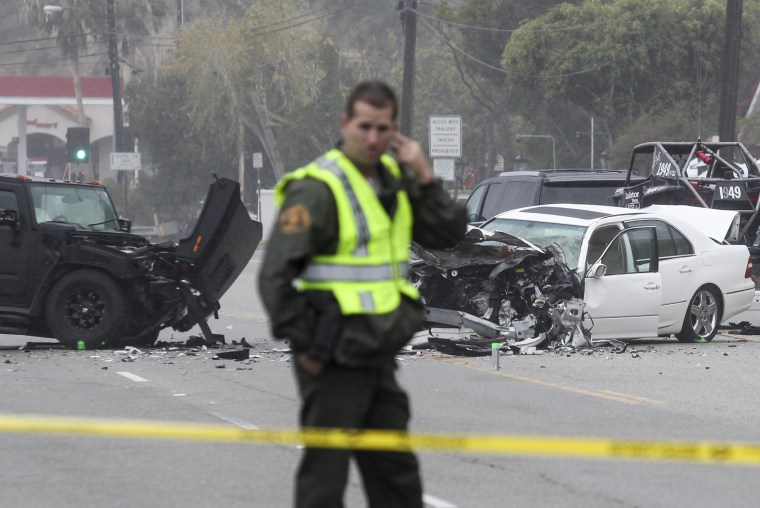 The investigation found that Jenner's speed was factor in the crash considering the existing traffic conditions, officials told NBC News.
Based on that criteria, the investigation could potentially result in a misdemeanor manslaughter charge, against Jenner, law-enforcement sources said. But, they stressed, those charges could be countered by mitigating factors as well.
The district attorney's office will ultimately determine whether any charges will be filed against Jenner or if the investigation requires further review.
Despite earlier reports that sheriff's investigators were recommending a manslaughter charge for Jenner, there was no reference to such a recommendation in the department's official comments Thursday afternoon.
Alan Jackson, a defense attorney and former prosecutor with the Major Crimes Division of the L.A. County District Attorney's Office, told NBC's Today Show that prosecutors would assess three main factors in their decision including the driver's conduct, analyzing speed through both a black box in an accident reconstruction and third, the flow of traffic and what other people were doing on the road at the same time.
"Just because you're presented with a police report and an analysis doesn't necessarily mean that those are going rise to fileable charges," Jackson said.
"There's no felony here because I don't believe that any of her conduct rises to the level of gross negligence and I don't believe it would be filed as a misdemeanor because I don't believe her conduct can be said to have been reckless or even ordinary negligence or what an average person would or wouldn't do in that same scenario," he said.
Unless there was some aggravating factor in addition to what has been widely reported, Jackson said "I don't believe that criminal charges are going be brought."
Jenner's attorney Blair Berk declined comment to NBC Los Angeles.
The station also noted that Howe's stepchildren have filed suit against the celebrity.
The lawsuit by Dana Redmond and William Howe does not specify how much they are seeking. They claim Jenner was negligent when she collided with their stepmother's car, causing them and other relatives "great losses."