Caitlyn Jenner's debut earlier this month created a question for some cities and towns: What should happen to streets named for Bruce Jenner?
Three cities — two in Texas, one in Tennessee — have streets honoring the famed Olympian.
Officials in Olympic Heights, a small community in Austin, said in a Facebook post that if residents of the community want to change Bruce Jane Lane to Caitlyn Jenner Lane "the board has no issue." The board said that the switch was not being actively pursued, though.
And at least a few residents don't like the idea.
"Thank you for not pursuing it. Bruce was the Olympian, not Caitlyn. What a headache it would be if we all had to change our addresses," Alicia Bribiesca Lemon said in a comment on the Facebook post.
Another commenter pointed out that street names aren't changed when the namesakes get married and change their last names.
Eladia Rosario, 49, who lives on Bruce Jenner Drive in Clarksville, Tennessee, was indifferent.
"It wouldn't bother me," she told NBC News. "A name is a name."
Still, she admitted, dealing with the change of address "would be a big hassle."
Related: In Post-Caitlyn World, More Acceptance of Transgender People Expected: Survey
Jennifer Rawls, the director of communications for the city of Clarksville, said there has been no push to change the name of the street.
Bianca Duran, who lives on Bruce Jenner Lane in El Paso, isn't about to ask for a street name change either.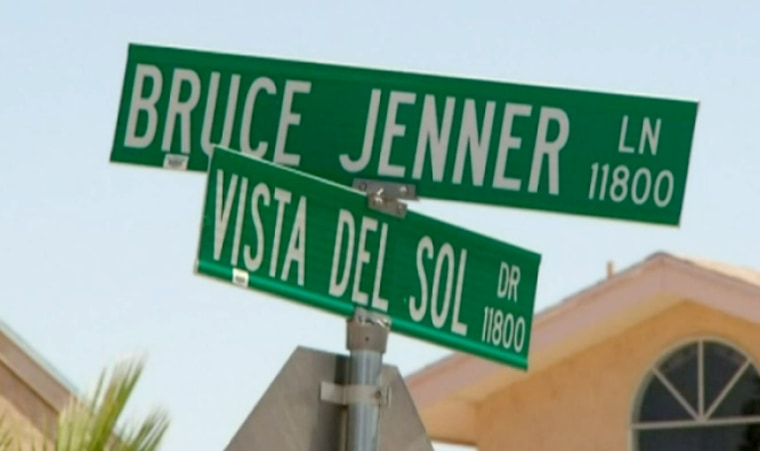 "I don't think they should change the name, because the street was named after he was an Olympian, and who he is now doesn't change who he was in the past," Duran told NBC Dallas-Fort Worth.
Jaime Alvarado, who has lived on Bruce Jenner Lane for 20 years, also weighed in.
"If he changes his name, we should change our street name too. Let's find another idol," Alvarado told NBC affiliate KTSM.
Irma Lopez, a spokesman for the city of El Paso, told NBC News that there are no plans to change the name of Bruce Jenner Lane to Caitlyn Jenner Lane — or anything else.
As for Caitlyn Jenner's name in the official Olympic records, she will likely have the privilege of deciding what name will appear. Patrick Sandusky, the Olympic Committee's chief communications officer, said the committee "would happily consider" any athlete's request for a change of personal information.
"We admire Caitlyn Jenner's courage and wish her all the best," Sandusky said. "We would happily consider any athlete's request to have his or her personal information updated in our records."