Several survivors of sexual abuse at the hands of doctors testified before the California State Assembly's appropriations committee on Wednesday to push for a bill that would require physicians to notify their patients if they are disciplined as a result of misconduct.
This is the third time in three years that State Senator Jerry Hill, a Democrat from San Mateo, has attempted to put the bill before the state legislature for a vote — but this time he is doing so in the #MeToo era with a spotlight on cases like former USA Gymnastics team doctor Larry Nassar and University of Southern California gynecologist George Tyndall.
The "Patient's Right to Know Act" would make California the first state to require that doctors placed on probation due to sexual and other forms of misconduct — including drug or alcohol abuse, a criminal conviction involving harm to a patient, or inappropriate prescriptions — notify their patients.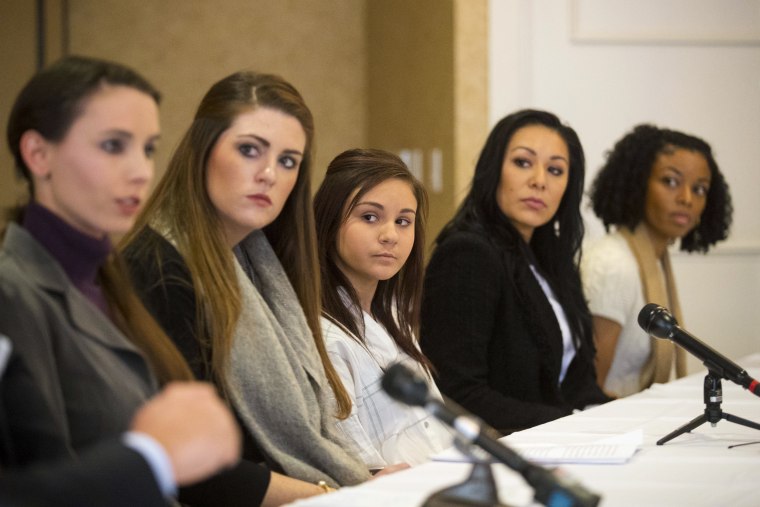 First to testify was Audry Nafziger, a law student at USC at the time when Tyndall allegedly assaulted her and now the chief sex crimes prosecutor for Ventura County.
"Why wouldn't I trust my doctor? I was particularly vulnerable, Dr. Tyndall knew I trusted him and used his position of power to order the nurse out of the room and sexually abuse me," Nafziger said.
Former Team USA gymnast Jeanette Antolin, who was abused by Nassar, also testified. The committee limited formal testimony to two speakers, but former Michigan State University softball player Tiffany Thomas Lopez and former USC graduate student Lucy Chi also spoke briefly in support of the bill.
According to Hill, doctors are currently only required to notify their insurance company and the hospital or clinic with which they are affiliated if they are placed on probation.
"The most important person in the healthcare continuum is the patient and they're not aware of this," Hill said.
Patients are currently only able to find this information if they are aware that it exists publicly and take the initiative to check online.
"I think it's important for patients — especially vulnerable patients, children, the elderly, even people who are not capable of going online for whatever reason— to have access to this information so they could make an informed decision," Chi said.
Hill said that the bill has received pushback from the California Medical Association because the organization is concerned that patients would not want to return to certain doctors — who may then go out of business.
A spokesperson for the CMA sent a statement to NBC News saying the organization "has long been dedicated to real solutions that properly investigate and remove bad actors from the medical profession. We are continuing to work with the legislature and stakeholders to protect patients, strengthen transparency and preserve due process."
Hill first became interested in this type of law when an Orange County doctor linked to 16 overdose deaths was placed on probation. He said that the issue has become even more pressing after recent high-profile sexual misconduct cases.
"Almost every time we turn around there's some other example of [misconduct]," Hill said. "It certainly places this issue on the forefront."
The State Assembly appropriations committee has until August 17 to decide whether or not to pass the bill. If the bill makes it out of committee it will face a vote of the full Assembly.
"If you're a doctor, you shouldn't be able to hide behind your white coat," Nafziger told NBC News. "Patients should be able to make an informed decision as to who's going to touch their body and treat them."