California continues to be hammered by severe weather, with parts of the state blanketed in snow Thursday as the southern Plains and other areas faced the threat of "long-lived, intense" tornadoes, forecasters said.
California Gov. Gavin Newsom declared a state of emergency Wednesday to support disaster response and relief in counties hit the hardest by the severe weather. Newsom also announced that Californians would be eligible for an extension to file their taxes, moving the deadline from April 18 to Oct. 16.
This is in addition to a tax relief program announced in January, offering a deduction for disaster loss to affected areas in the state.
He also activated the State Operations Center to deliver state support to county-led emergency response efforts and to coordinate mutual aid from neighboring jurisdictions, especially in San Bernardino County, where efforts were underway to get more snowplows and road crews out on the streets, his office said in a news release.
"The state is also contracting with private companies to accelerate snow removal and clear roadways, and is coordinating with investor-owned utilities to rapidly restore power," the release said. At least two shelters were also expected to be opened for residents in the county, it said.
The heavy snow in California prompted the closure of Joshua Tree National Park, with officials citing "inclement weather" in a tweet Wednesday. "Rangers are working on reopening as soon as possible!" they said.
Severe weather had already prompted California's Yosemite National Park to close last week. On Wednesday, the park said it would remain closed amid fresh snowfall, saying there was "no estimated date for reopening."
Power outages also continued to affect parts of the state, with more than 70,400 customers without power as of Thursday morning, according to the online outage tracker PowerOutage.us.
Meanwhile, a "severe weather outbreak" was expected across parts of the southern Plains and into areas of Arkansas, Louisiana, Texas and Mississippi.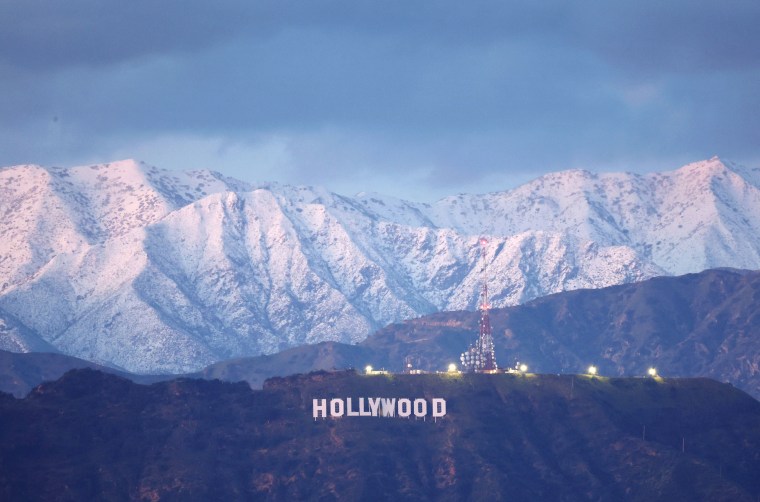 "Widespread damaging winds, large hail, and tornadoes are all expected," the National Weather Service said, with "a few long-lived, intense tornadoes" also possible.
At least 27 million people are under severe weather alert for Thursday, with that expected to rise to 28 million on Friday. Forecasters warn that there is a risk of nocturnal tornadoes as the storm system moves out of California and toward the middle of the country Thursday.
The weather service's prediction center said there was a moderate risk of severe thunderstorms over parts of Arkansas, Louisiana and Texas, "with a broader enhanced risk area spread out across inland portions of the Southern Plains and Lower Mississippi Valley."
"All modes of severe weather will be possible through tonight as a powerhouse of a storm system moves through," the weather service in Little Rock, Arkansas, said in a tweet in the early hours of Thursday. "There is a very real chance of large hail, very strong winds and strong tornadoes. It is imperative that you remain weather alert to and know where to go," it said, sharing an infographic on where to find shelter in a home during a tornado.
"Quickly move to your basement and bring your emergency supply kit," the infographic says. "If you have no basement, move to an interior room with no windows."
The weather service in Little Rock also warned in a separate tweet that "we also need to be concerned with how much water is coming."
"Several inches of rain has already fallen with more on the way. There remains a moderate chance of flash flooding with flood watches still in effect," it said.