Just keep swimming.
That's what helped 9-year-old James Savage brave strong currents and cold water Tuesday morning as he swam from the San Francisco shoreline to Alcatraz Island and back — a total distance of over two miles.
James — at just 4-foot-6 and 57 pounds — was able to set a record as the youngest swimmer to make the journey to the former prison, reported NBC affiliate KSEE.
By completing the grueling open water challenge, the fourth-grader from Los Banos, Calif., has broken a record previously held by a 10-year-old boy who completed the tiring trek last year.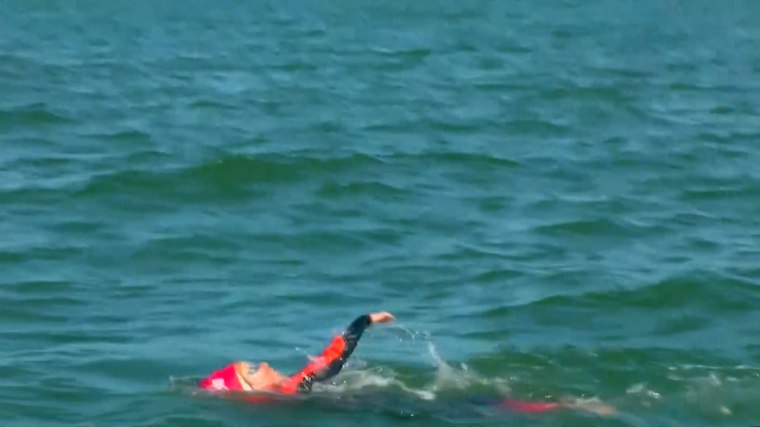 James said that waves in the San Francisco Bay kept hitting him in the face 30 minutes into his swim and made him want to give up. A fleet of paddlers stayed by his side the entire time.
"I wanted to turn back and they kept yelling, 'I believe you can do it,'" James told KSEE.
James' coach, Josh Weinberger, was confident with all of the boy's training that he had the technique and fortitude to finish.
After making it through the first leg, "it was just smooth sailing all the way home, no trouble at all," Weinberger told KSEE.
And as an incentive to get the job done, James' father offered him a $100 reward — then doubled it to $200 after seeing how difficult a time his son had.
But James pressed forward, making it to Alcatraz and back in a little more than two hours.
With his newfound achievement, it turns out he's not done testing his limits. Next up, he said, something slightly easier: Swim the length of the Golden Gate Bridge, a distance of about 1.7 miles.