California is bracing for a soaking wet week as storm systems are forecast to douse the state.
After a trying week of stabilizing Lake Oroville following the discovery of a damaged spillway behind the nation's tallest dam, which forced nearly 200,000 people to evacuate, thousands of tons of reinforcements placed throughout the week will be tested by the coming weather.
But Oroville isn't the only part of the state expecting a rainy week.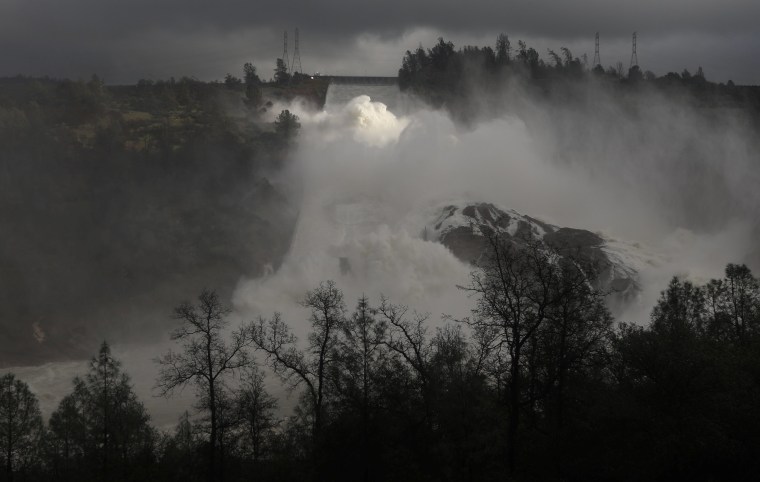 Southern California is facing what could be the heaviest two-day rain event in the Los Angeles Basin in more than six years, according to The Weather Channel. Flood watches were in effect for all of Southern California and even into Death Valley National Park, which is one of the driest regions in the United States.
By Thursday morning, the San Francisco Bay Area had already accumulated an inch of rain. But despite the influx of storms, experts aren't worrying about another situation like Oroville's occurring.
Jay Lund, a professor of civil and environmental engineers at the University of California–Davis, said the state should be able to accommodate the storm this week. It's the potential for infrastructural damages in the long-term he's more concerned about.
"I'm more worried what happens in the next couple of months. We have two more months of the wet season," Lund told NBC News. "The snow has to melt, and that [could be] three months that we have to pay attention to this. Then the long construction season to rebuild can begin."
Lund said that in terms of statewide damage, California's most vulnerable infrastructure is normally levees and spillways, like the one in Oroville. On the local level, drainage and roadways can be more at risk.
But California is equipped to deal with the pendulum swing of the state's weather variability, Lund said.
Related: Residents Hesitate to Return After Evacuation Orders Partly Lifted
"California has some of the most extreme range in hydrologies in the country," he said. "We're coming out of a five-year drought, and now we're having our wettest year on record. I'm pretty pleased we haven't lost more stuff."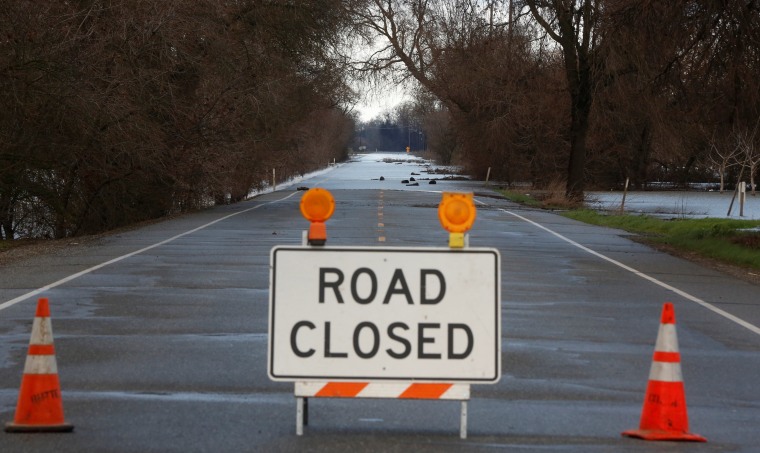 Experts say it's hard to determine whether climate change plays a role in the duality of California's weather because of the state's naturally extreme dry and wet seasons.
"We have really dry years and strings of wet years," said Alan Haynes, a hydrologist for the National Weather Service. "Extracting a climate signal out of that isn't easy."
Haynes said the damage to the Oroville spillway was fairly unusual because inspections are frequent, but he said that with a lot of rain comes a lot of erosion.
He added that he doesn't anticipate additional damage.
Lund agreed that the Oroville damage isn't common in California, saying the last time there was a threat of structural failure of a spillway was 1997.
No matter how infrequent these damages are, Lund said, the cost is always high for residents, and this year is the most challenging the state has had in more than a decade.
Related: Crippled Oroville Dam Threatens Gold Rush Town
"Evacuations are a tremendous expense and inconvenience. Oroville has benefited for the last 50 years having that reservoir, but there's always some residual risk. That's the lesson we're seeing in Oroville," Lund said.
He said the heavy rain can also cause damage to roads and highway systems as landslides become more frequent.
However, there's an up side.
"Wetter times are actually good, because they can generate hydropower," Lund said. "California generates more electricity [during the wet season], and about half of electricity can come from the wet years."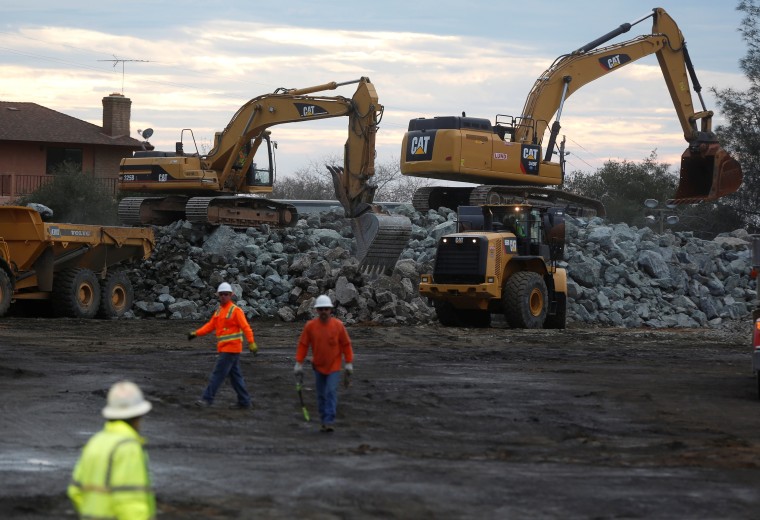 Lund said that there's a lot of infrastructure to maintain in California, and, like infrastructure in much of the country, it's getting on in age.
Gov. Jerry Brown joined governors across the country this month to send President Donald Trump a "wish list" of infrastructure projects for the state. Brown requested 51 projects, including some in the highway and bridge sectors, rail and transit sectors and flood control.
Brown's office said the request wasn't a comprehensive list.
The state has a backlog of $136 million of repairs needed for roads and highways alone, according to the Los Angeles Times. If granted, the governor's request would pay for about $100 billion of infrastructural needs.
In the wake of the Oroville spillway crisis, Trump approved emergency federal resources to deal with the dam and infrastructure damage caused by storms in January.
"Most money we spend on infrastructure is going to be at the local level, but we'll be happy to take any federal funds they offer," Lund said.