OFF THE COAST OF SANTA BARBARA, Calif. — Gazing at the calm waters from a tour boat, Australian tourist Anita Alexander contemplated the kind of squall that only seems to happen on American shores: A clash between the Trump administration and California over the president's plan to open much of America's coast to offshore oil and gas drilling.
"It gives a negative perspective on American politics to think that pristine beauty like this isn't looked after more," said Alexander, whose family had joined her for a whale-watching boat trip near Santa Barbara.
President Donald Trump announced in early January that he plans to open more than 90 percent of America's coast to offshore drilling. Now, two separate bills in Congress meant to ease environmental restrictions on submarine oil exploration could come up for a vote in the next few days and help reignite the debate over offshore drilling.
The declaration was met with howls of protest from almost every coastal state governor in both parties.
The outrage grew even louder a week later, when Interior Secretary Ryan Zinke announced that Florida alone would be exempt from the policy. For many politicians and private citizens, the announcement, which followed a meeting between Zinke and Florida Gov. Rick Scott, a Republican, smacked of political favoritism for a swing state that went for Trump in the presidential election.
"It just flies in the face of fairness," said Xavier Becerra, the California attorney general who has become a uniquely trenchant Trump critic. "There's no consistency when the secretary says 'Oh, except Florida. You're ok, we'll exempt you.' It doesn't work that way."
Since January, however, the department has dialed back its language around Florida being an exception to the drilling proposal. Zinke denied playing favorites and Interior Department officials have since stressed that the decision is not final.
California isn't alone — almost all coastal states will be affected if Trump follows through on his decision. But since the initial announcement, the offshore drilling question has joined a host of political disputes pitting the nation's wealthiest, most populous state against a president it spurned in the 2016 election.
Conflicts around marijuana legalization, immigration and environmental regulations are all coming to a head this year, putting California in the somewhat novel position of defending states' rights against the federal government.
"We've had to take on the Trump administration more than any other state," said Becerra.
Supporters of Florida's exemption say the Gulf of Mexico has a sensitive history with offshore drilling following the 2010 Deepwater Horizon spill. But Becerra and others say Florida should apply for an exemption, rather than simply receive one before the new regulations are even put in place.
Like many of Trump's announcements, it's unclear if or when the offshore drilling will come to pass. Zinke still hasn't published a comprehensive policy proposal and even the fastest timeline wouldn't see drilling off California for another decade.
Supporters of the move argue that Trump's plan is about more than just money. (The estimated 10 billion barrels of underwater oil reserves are certainly significant, however.) The decision will also be a "game changer" for energy security and independence, said Tim Charters, the senior director of governmental and political affairs at the National Ocean Industries Association.
"We are giving ourselves a freedom and opportunity to ensure that we have a supply regardless of what happens around the rest of the world," said Charters, who noted that California depends on foreign oil for more than half its consumption. "This is not a short term energy plan, this is a long-term energy plan to ensure that America has security for generations to come."
Such reasoning is far from reassuring for environmentalists and the millions employed by California's coastal economy, which Becerra says generates about $1.7 trillion annually or about 10 percent of the state's GDP.
Standing on the deck of the same tourist boat alongside Alexander and her family, naturalist Laurie VanStee, who works for the tour boat company, rattled off a list of the Channel Islands' sensitive wildlife: some 80 species of whales, dolphins, porpoises and fish. The blue whale, with a population that inhabits the waters from Santa Barbara north to Monterey, is highly endangered with only 10,000 individuals left.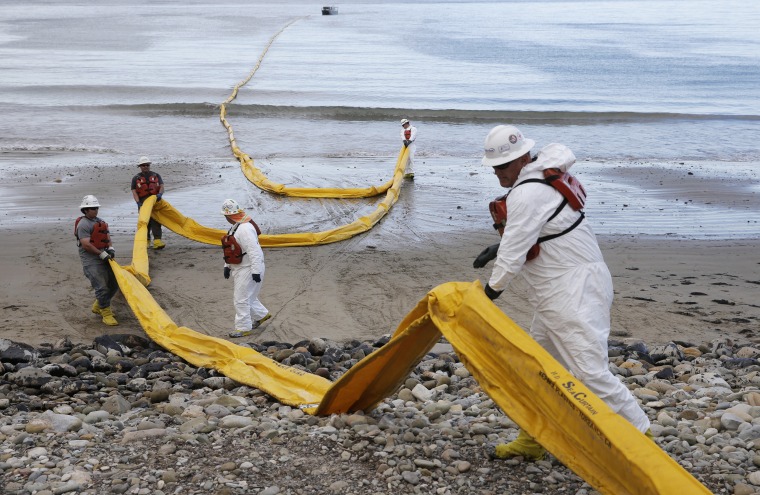 For Californians like VanStee, Trump's announcement recalls a 2015 pipeline rupture in Santa Barbara that dumped some 143,000 gallons of crude oil into the ocean. And many remember the 1969 spill that still ranks among the worst in American history.
But it doesn't take a spill or rupture to hurt wildlife, she said, even in the federal waters miles from the coast.
"The drilling will obviously disrupt the ocean floor because … these are fixed to the ocean floor," said VanStee while gesturing to the older oil rigs in the channel that predate bans on drilling in state waters. "It's not just the stuff swimming. It's also the bottom of the ocean. Quite a healthy ecosystem here as well."
Island Packers Cruises, the company operating the boat tour, depends on that ecosystem.
As the boat rounded the edge of Santa Cruz Island — the largest of the eight Channel Islands — Jill McCoy stood on the deck taking in the view.
"Frankly I'd rather spend 10 cents a gallon more for gasoline than have this be destroyed," said the Chicago-based tourist.
McCoy says she opposes the president's plan even though she holds stock in oil companies that would benefit from the decision. And while "Florida is gorgeous" just like California, McCoy said the president was obviously playing favorites with a kind of not-in-my-backyard double standard: Compared to California, Trump holds far more interests in Florida — his Mar-a-Lago property being one example.
"I think if the president had his golf course in Pebble Beach," McCoy said, "we wouldn't be talking about any of this."