A California planning commissioner has resigned following calls for his ouster after he threw his cat during a recent videoconference meeting between city officials.
During an April 20 videoconference via Zoom of the Vallejo Planning Commission, Chris Platzer was asked if he had any comments after reviewing a project application.
After a cat could be heard meowing offscreen, Platzer responded: "Yes, if I'm allowed to make them," according to the commission meeting video released by the northern California city, which is about 30 miles north of San Francisco.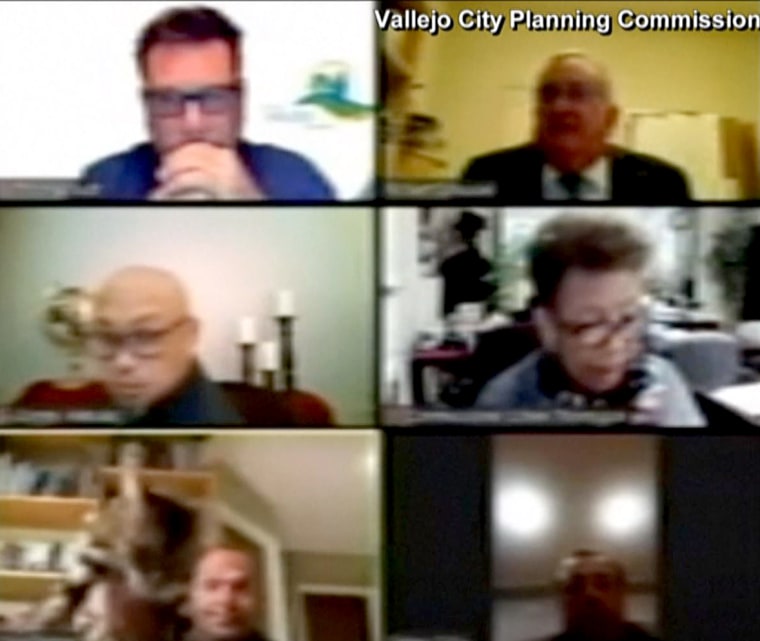 "Yes, this is the section where you can, Commissioner Platzer," the commission's chairman said.
The cat meowed again before Platzer said: "I'd like to introduce my cat," then lifted the animal close to the camera and with two hands, tossed it off screen.
The cat squealed as it was being thrown, and a thud could be heard.
One commissioner on the videoconference can be seen putting his hands to his forehead and covering his eyes after the cat was thrown.
After the conference ended, Platzer could be heard saying, "I'm going to call bull---- on you little b------."
A statement posted to the city's Instagram page Monday said Platzer "was seen exhibiting behavior that does not model the core values of the city of Vallejo."
At the request of Vallejo Mayor Bob Sampayan and Robert McConnell, a City Council member, an action item was placed on the April 28 City Council meeting agenda that called for the immediate removal of Platzer from the planning commission, according to the statement.
"As of this afternoon, the City has received a formal resignation from Commissioner Platzer citing his behavior as not '…befitting of a planning commissioner,'" it said.
Platzer apologized in a resignation letter for any "harm he may have inflicted" through his actions, the city said.
"Many concerned citizens have reached out to both the City and the County with fears for the welfare of Mr. Platzer's cat, seen in the April 20 video meeting," the statement said.
The Solano County Sheriff's Office will lead an animal welfare investigation.
There was a vacancy under the list of planning commission members on the city's website Tuesday morning. Platzer could not be reached Tuesday at numbers listed for him.