The car crash off a California cliff presumed to have killed all eight members of a family from Washington state — including a teenage boy who gained attention in a viral photo — appears to be no accident, authorities said Sunday.
The crash one week ago in Mendocino County may have been intentional based on the absence of skid marks, data from air bag controllers and other information, the California Highway Patrol said.
A CHP spokesman told reporters that the GMC Yukon's on-board computer indicated that the vehicle stopped and then suddenly accelerated off Highway 1 — plunging about 70 feet down to the rocky shoreline of the Pacific Ocean.
"Pure acceleration all the way," said CHP spokesman Cal Robertson.
He confirmed reports that the speedometer was at 90 mph at the time of the crash, but he said it could have moved during impact or accidentally been manipulated during the investigation.
"Certainly, that does not mean the vehicle was going that fast," Robertson said.
Acting Assistant CHP Chief Greg Baarts said a full vehicle inspection had yet to be completed, but he told reporters that the "complete lack of ... physical evidence" of an accident, like skid marks, was striking.
The bodies of parents Jennifer and Sarah Hart, both 38, and their children Markis, 19, Jeremiah, 14, and Abigail, 14, were found at the site.
Three other children — Devonte, 15, Hannah, 16, and Sierra, 12 — have not been found, but are presumed dead, officials said. Devonte, a young black boy, was photographed in 2014 crying in the arms of a white police officer during a protest in Oregon over the police shooting of an unarmed black teenager in Ferguson, Missouri.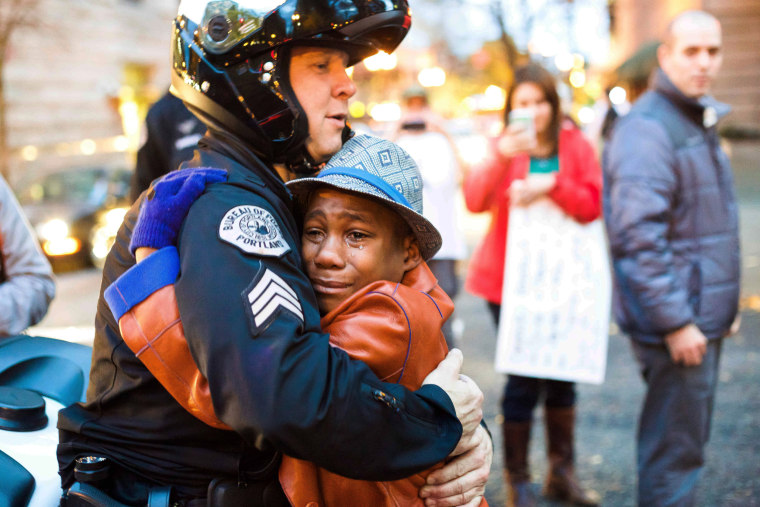 "Three children are still missing and could be in the ocean," Baarts said. "We are trying to determine a timeline, path of travel, and if there were any stops."
He told NBC News that California authorities were "tirelessly searching for the missing children along the coastline," while authorities in California and Washington were "conducting interviews and attempting to establish a timeline and routes of travel in an effort to rule out any other possibilities."
According to neighbors and court records, the family has had troubles in the past, carrying over to a recent investigation into abuse or neglect with the Washington Department of Social and Health Services.
Sarah Hart was charged with a misdemeanor offense of domestic assault against her daughter Abigail in 2011, and neighbors claimed that Devonte would often ask them for food. He said his parents would withhold food as punishment.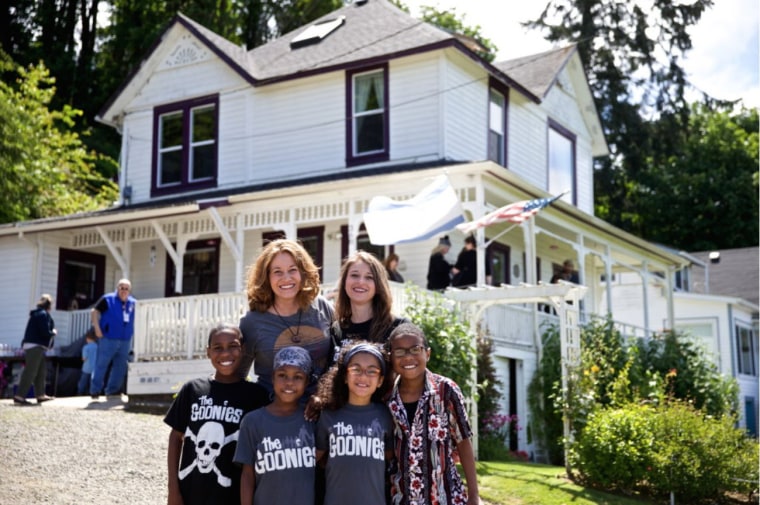 The household had previously been visited by Child Protective Services, and neighbors claimed to have called the agency again to report on the family on March 23, before the Harts left on the trip that resulted in the fatal crash.
The state's Department of Social and Health Services said in a statement that the children who were killed would be identified "as potential victims of alleged abuse or neglect."
The Clark County Sheriff's Office obtained a search warrant Thursday to retrieve items like computers, credit cards and bank statements to help determine a probable cause. Baarts said a felony may have been committed.
In addition, no suicide note was found at the home.