Coastal Northern California residents threatened by raging lightning-sparked fires were ordered to evacuate on Wednesday as flames continued to rage out of control.
A series of evacuation orders for residents across Santa Cruz County were issued by the California Department of Forestry and Fire Protection (Cal Fire) just before dawn, telling them to leave or take refuge at county fairgrounds in Watsonville, about 40 miles south of downtown San Jose.
Hours earlier, just before midnight, Cal Fire also ordered evacuations in neighboring San Mateo County, telling residents there to flee or hunker down at Pescadero High School which is about 40 miles south of San Francisco International Airport.
Those two counties are in the midst of five fires - dubbed the CZU August Lightning Complex - which have scorched 10,000 acres.
The fires were sparked on Monday night and by Wednesday morning, one of those blazes was only 5 percent contained and the other four had zero containment, Cal Fire said.
With all of the hillsides and tall trees that dominate this picturesque region of Northern California, some residents had no idea flames were rushing toward them.
Trudy Heirst, who lives near Butano State Park in San Mateo County, only spotted the fire as she was headed out of town.
"I said, 'Wait a minute, that's over by where I live,' " Heirst told NBC Bay Area. "We're so deep in the redwoods that you can't really see the smoke that much. You can see up but you can't really see across."
On Tuesday, California Gov. Gavin Newsom declared a state of emergency in response to a series of wildfires that have aggravated a stifling heat wave.
At least 27 fires are raging across the state, including some caused by lightning from a rare summer thunderstorm Sunday, according to a map by Cal Fire. The flames have intensified temperatures from a serious heat wave that rolled in over the weekend.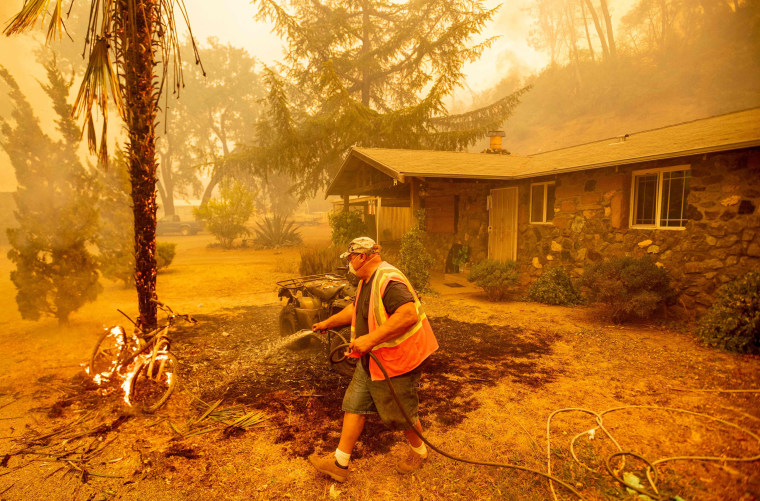 About 20 fires that were being tracked as the single SCU (Santa Clara Unit) Lightning Complex Fire had consumed 85,000 acres with about 5-percent containment by Wednesday morning, Cal Fire said. These blaces are in the counties of Santa Clara, Alameda, Contra Costa, San Joaquin, and Stanislaus.
Eight fires connected to lightning strikes in Napa and Sonoma Counties, called the LNU (Sonoma-Lake-Napa Unit) Lightning Complex Fire had consumed more than 46,000 acres by Wednesday morning, with no containment, Cal Fire said.
Multiple communities in Napa County were under either evacuation orders or warnings.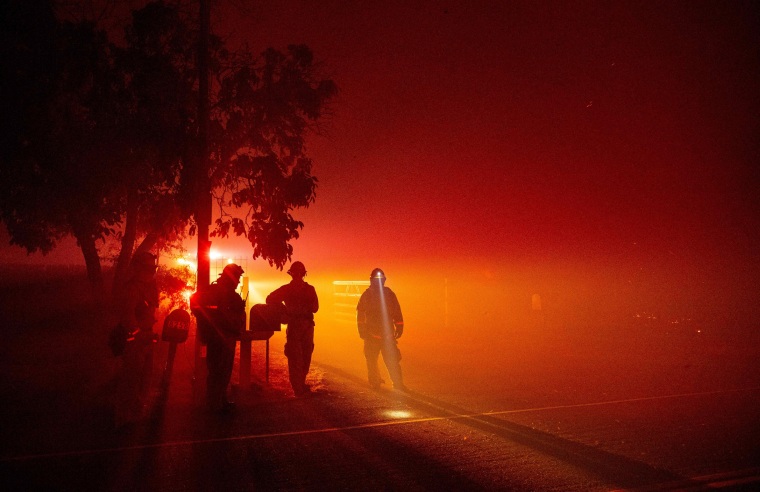 Newsom's office said Tuesday night it has secured grants from the Federal Emergency Management Agency to help the state fight  the LNU Lightning Complex Fire and the Jones Fire in Nevada County.
Bay Area air quality officials advised residents to stay indoors "if temperatures allow" Tuesday and Wednesday as a result of smoke in the atmosphere.
On Saturday, a fiery tornado was spotted near the Nevada border where the Loyalton Fire continues to burn in Tahoe National Forest.
The emergency order will allow agencies to deploy every possible resource to keep residents safe under such "extreme" conditions, Newsom announced Tuesday.
"California and its federal and local partners are working in lockstep to meet the challenge and remain vigilant in the face of continued dangerous weather conditions," Newsom said.
The state has been under the threat of rolling blackouts since Friday as the high temperatures have stretched the state's energy grid to its limits.
The governor signed an emergency proclamation Monday to prevent rolling blackouts. The order allowed some users and utilities to use "backup energy sources" during peak times.
The power grid's manager, the California Independent System Operator, said on Twitter Tuesday night that the possibility of outages seemed to have passed, at least until Wednesday.
"You did it, California consumers," it said. "No rotating power outages expected tonight."
The Los Angeles Department of Water and Power, which on Friday said it wouldn't be participating in rolling outages, said on Tuesday some of its customers were in the dark.
"Extreme #LAHeat and electricity demand has overloaded distribution equipment in some neighborhoods," the taxpayer-run utility said on Twitter.
The department said that on Tuesday it had recorded the highest electricity demand yet for 2020.
The National Weather Service urged residents on the West Coast to take the heightened temperatures seriously to prevent heat-related illnesses.
"Yeah, it's summer, and summer is hot, but this is different," the agency tweeted. "These are record high temperatures in what is typically one the hottest times of the year anyways."
In the early evening Tuesday, it was still 125 degrees at the Death Valley Furnace Creek visitor's center, according to the National Weather Service.
Triple-digit temperatures baked the state from Redding in the north to El Centro near the border, the latter of which recorded a reading of 112 degrees shortly after 6 p.m.
El Centro and San Diego, Orange, Riverside and San Bernardino counties were under excessive heat warnings through Thursday, the National Weather Service said.
An excessive heat warning was in effect for Los Angeles through 9 p.m. Wednesday, when it was expected to be reduced to a heat advisory through Thursday night, federal forecasters said.
In the San Francisco Bay Area, an excessive heat warning was in effect through Wednesday night.
The National Weather Service office in Los Angeles said in its forecast discussion Tuesday that little relief was expected.
"Only slight cooling is expected later in the week and temperatures will remain above normal through early next week," it said.