LOS ANGELES — Rare blizzard warnings were in place for Southern California mountains early Friday morning as forecasters warned of 5 feet of snow at higher elevations, while other parts of the country were still recovering from a major winter storm.
More than 700,000 homes and businesses in Michigan, including in the metro Detroit area, were without power early Friday morning after what a utility president called a historic ice storm.
In the west, Portland, Oregon, had its second-snowiest day on record Wednesday, with over 10 inches, the National Weather Service said. The 80-year record of 14.4 inches was set Jan. 21, 1943, according to weather service records.
The heavy snow wreaked havoc on travel.
So many stuck cars were abandoned that the city said it was waiving fines for vehicles that are towed for blocking travel lanes.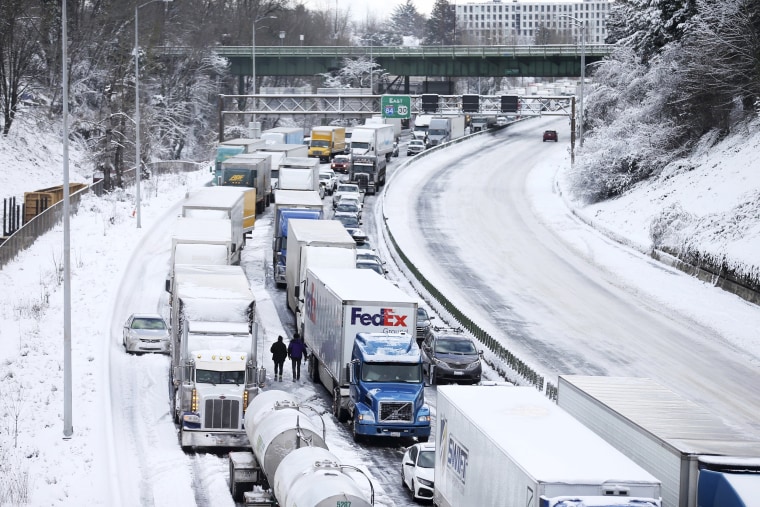 "I probably won't see it until Monday, if that," Eric Zavala told NBC affiliate KGW of Portland about his car, which he had to leave after it became stuck.
The Multnomah County medical examiner's office was investigating a possible hypothermia death that occurred in Portland on Wednesday, the county said, but whether the person died from the cold has not been confirmed.
The snow wound down in Portland on Thursday, but a wind chill advisory was still in place until noon Friday, with wind chills of minus 5 degrees possible, according to the weather service.
In California, more than 80,000 utility customers were without power as of early Friday morning, according to PowerOutage.us.
The weather service in San Diego issued blizzard warnings for the San Bernardino County mountains, in a first for the office.
Blizzard warnings were also in effect for mountains in Los Angeles and Ventura counties for the first time since 1989, the weather service said.
The warnings were in effect from 4 a.m. Friday until 4 p.m. Saturday. Areas from 2,000 to 4,000 feet could get up to 1 foot of snow, and higher than that could get 5 feet, forecasters said.
Below the snow line, heavy rain could cause flooding from what the weather service called "an unusually cold and slow-moving winter storm." As of Friday morning, 21 million people are under flood watches across Southern California, including in Los Angeles where there's a moderate risk for flash flooding until Friday night, and 30 million people are under wind alerts across the state for gusts of 50 to 65 mph.
The storm will slide from northern California into Southern California bringing heavy rain, low elevation snow and high winds along the way on Friday.
Friday night into Saturday, the flash flood risk will increase from Los Angeles to San Diego, with heavy snow continuing in the mountains.
Southern California may receive up to seven inches of rain and wind gusts of up to 38 mph in Los Angeles and 41 mph in San Diego.
Cold air will rush in with this storm system, leading to chilly morning low temperatures this weekend.
The Storm Prediction Center mentioned the possibility for waterspouts and brief tornadoes Friday morning in parts of Santa Barbara county.
"Intense showers & isolated thunderstorms over the ocean may generate waterspouts and move onshore thru 11am with potential for small tornadoes" in western Santa Barbara and San Luis Obispo counties," the weather service wrote on Twitter. "Damaging winds & small hail could occur."
Either snow or graupel — which is a fragile type of frozen precipitation also called soft hail — fell on Mount Lee in Los Angeles, where the Hollywood sign is, the weather service said after having examined video.
The California Department of Transportation urged drivers to stay home in affected areas.
Traffic was held up Thursday on Highway 50 in Meyers, south of Lake Tahoe, because of spinouts, the agency said, and Interstate 80 in the Sierra Nevada, from the Nevada state line to Colfax, was closed in both directions. Some cameras in the area were frozen.
Drivers were also briefly stranded on the San Marcos Pass on Highway 154 near Santa Barbara, a Santa Barbara County fire spokesman said. Plows cleared the way, but intermittent closures were possible in the future.
Meanwhile Thursday, much of Midwest and the Northeast was recovering from a major winter storm that hit this week.
The Twin Cities of Minneapolis and St. Paul got more than 1 foot of snow, and parts of Michigan were hit by an ice storm that tore down trees and power lines.
The snowfall record for Feb. 23 was broken on Thursday in Negaunee county in Michigan's Upper Peninsula with 20 inches of snow, according to the National Weather Service's office in Marquette. The previous record for Feb. 23 was set in 1990 with 6 inches of snowfall.
Thursday also marked "the second most calendar day snowfall for February behind the record that was set nearly a year ago to the day of 21.6 inches" on Feb. 22, 2022, the agency said. Both dates make the top ten list of greatest snowfalls ever at NWS Marquette.
More than 710,000 electricity customers were without power as of early Friday morning, according to the outage tracking website PowerOutage.us.
DTE Energy, the state's largest power and gas company, said it had 3,000 wires down Thursday night.
"We're in the midst of an historic ice storm, one that we have not seen in Michigan for over 50 years," Trevor Lauer, the president of DTE subsidiary DTE Electric, said Thursday.
Lauer urged people to stay inside. Downed energized lines can be hidden by tree branches, and if they are on a fence, the fence can become electrified. "It's an extremely dangerous condition right now that we have," he said.
In Van Buren County, on the western side of the state, a volunteer firefighter died Wednesday after a tree branch fell and brought down a power line, the fire department said.
Paw Paw Volunteer Fire Lt. Ethan Quillen, 28, was electrocuted, it said.
Around a half-inch of freezing rain fell on Wayne County, where Detroit is located, according to the weather service.
Lauer expected 95% of DTE's customers without power to have it back by Sunday. Another utility, Consumers Energy, also had major outages but expected many customers to have power Sunday.
In the Northeast and New England, snow and ice were forecast to taper off Friday, the weather service said.
Next week, however, wintry weather may be coming to cities like New York City, Hartford and Boston.
On Saturday, a storm system may bring snow showers to New York City all the way up to Boston.
On Monday and Tuesday, New York City is forecast to see a wintry mix which could range from a cold rain to a few inches of snow, while further north, cities like Boston and Albany could see several inches of accumulating snowfall.