LOS ANGELES — The hotel guests checked in one by one, handing their belongings to a uniformed employee waiting with a luggage cart.
They were offered bottled water and shown to their rooms. But unlike typical guests patronizing area hotels, they would not be paying for their accommodations.
They were the first wave of temporary shelter recipients identified through Project Roomkey, a statewide initiative California Gov. Gavin Newsom unveiled last week to secure 15,000 hotel and motel rooms for some of the state's 151,000 residents experiencing homelessness.
Full coverage of the coronavirus outbreak
Los Angeles County, home to the largest unsheltered population in the state, set its own goal of obtaining an additional 15,000 rooms for some of the 60,000 people living on its streets, according to the Los Angeles Homeless Services Authority.
Project Roomkey is part of California's effort to flatten the coronavirus curve as COVID-19, the disease it causes, spreads. More than 17,000 Californians had tested positive for the virus and nearly 500 had died as of Wednesday, according to NBC News counts. At least 18 cases involved people experiencing homelessness, according to the county's public health director, Dr. Barbara Ferrer.
To mitigate the damage, officials fast-tracked previously announced plans to temporarily shelter homeless residents, who are at greater risk of experiencing chronic health problems or contracting deadly diseases.
Researchers warned last month that as many as 3,400 people experiencing homelessness could die from COVID-19, according to a joint study by universities in Los Angeles, Pennsylvania and Boston. As many as 1,200 of those victims were projected to live in California.
"As a humanitarian issue and to protect emergency room resources, it is essential that we do everything we can to help homeless people find safety," said co-author Randall Kuhn, an associate professor of community health sciences at the University of California-Los Angeles' Fielding School of Public Health.
Download the NBC News app for full coverage and alerts about the coronavirus outbreak
Hotel rooms set aside for Project Roomkey are reserved for the most vulnerable people living in the streets, including those over age 65 and those who have pre-existing health conditions. Those in temporary shelters will have greater access to services, such as warm meals and medical assistance, and the program will also help to ease congestion inside shelters, where it has become difficult for residents to practice social distancing, a key to further preventing the spread of COVID-19.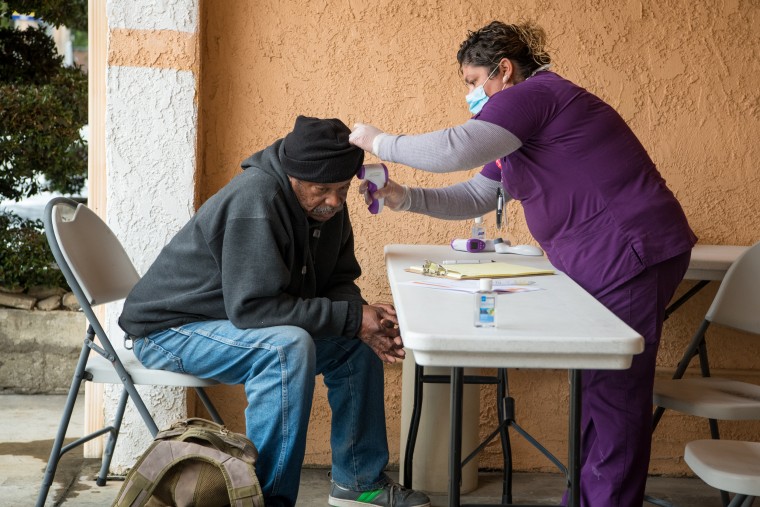 The first hotel opened Friday in Los Angeles, and five more have since come online, said Heidi Marston, interim director of the Homeless Services Authority, who anticipates having more than 1,000 beds available by next week in over 15 sites across the county.
Mayor Eric Garcetti said this week that the number of rooms must increase rapidly, and he encouraged hotel operators to allow the government to lease them.
Project Roomkey equips each hotel or motel with supportive services, including drug and alcohol counseling, mental health treatment, fresh meals and onsite security. Nurses monitor residents and staff members daily for signs of coronavirus infection, Marston said, and people who become symptomatic will be moved into isolation.
The Federal Emergency Management Agency will pay 75 percent of leasing costs, and the state will provide $800 million in emergency funds to counties. Los Angeles County and its partners have collectively allocated $39.3 million in state emergency funding for the project.
Expanding temporary shelter had already been a goal before the outbreak, "but it's now more urgent than ever," said County Supervisor Hilda L. Solis, adding that it is "no small feat."
"We have a moral and ethical responsibility to do our part," she said.
One Southern California hotel backed out of Project Roomkey this week after residents of a nearby senior living community protested plans to use the site, an Ayres Hotel, as a temporary shelter.
"We have heard the concerns of Laguna Woods residents and do not want to add more fear or worry to our neighbors," the company said in a statement.
Ayres Hotels, which owns multiple properties across the region, said it will continue to use one of its locations for Project Roomkey. That hotel is close to medical facilities and will operate under strict isolation guidelines, the hotel said.
The battle to house California's unsheltered population has been well documented for decades. At the beginning the year, Newsom asked lawmakers to direct $1.4 billion toward combating the crisis. Last year, homelessness increased by 16 percent across the state, according to the annual point-in-time count.
Now, cities and counties are navigating the two public health crises — the coronavirus and homelessness — according to the needs of each community. San Diego is completing plans to move 800 homeless residents into the city's convention center, NBC San Diego reported. Additional beds are being secured through Project Roomkey.
San Francisco has leased more than 900 rooms in eight hotels, with more coming online later this month, The Associated Press reported.