A fugitive accused of a deadly shootout with law enforcement officers was back in custody Monday after his weekend escape triggered a major manhunt in Northern California, authorities said.
The Placer County Sheriff's Office announced shortly before 1 p.m. that Eric Abril, 35, was in custody. Deputies searching a greenbelt behind homes in Rocklin, a northern suburb of Sacramento, took him into custody shortly after 12:30 p.m., Sheriff Wayne Woo said at a news conference.
A neighbor's dog alerted to someone's presence in an area of heavy brush and foliage, and the resident told deputies nearby who were assigned to the search, Woo said.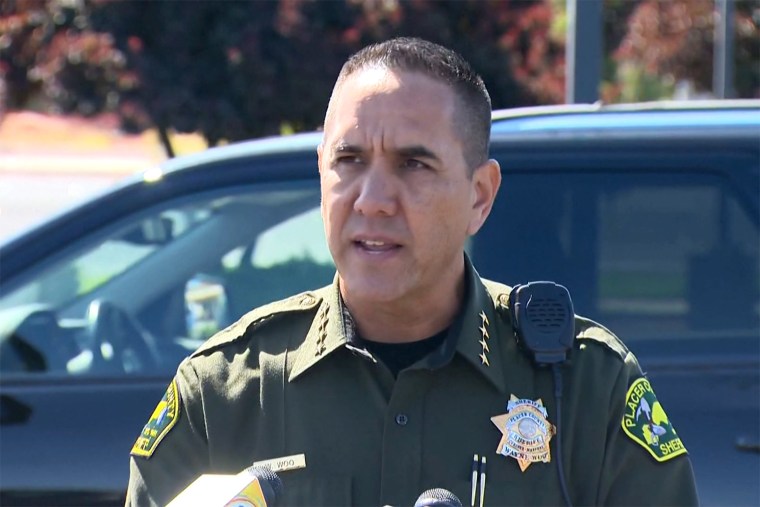 Abril was in jail boxers and a waist chain, with no pants, shirt or shoes on, he said. Investigators were checking security video to determine how his hands were unshackled, Woo said.
He escaped from Sutter Roseville Medical Center early Sunday after he was taken there by ambulance for an undisclosed "medical episode," Woo said.
When Abril bolted, Woo said, the single deputy assigned to guard him gave chase but lost him in a parking lot. The escape is being investigated.
"We'll make whatever course corrections we need to," Woo said. "I'll take full responsibility."
Abril was found in the area of his last credible sighting, Woo said. Search crews had doubled down on the area Monday, he said.
Abril was charged with murder, attempted murder and other counts after he was accused of killing a hostage, injuring another and shooting and wounding a California Highway Patrol officer in April, authorities said.
The violence took place at Mahany Park in Roseville, a city adjacent to Rocklin. Abril was assigned a public defender; the Placer County Public Defender's Office did not immediately respond to a request for comment.
The sheriff's office led a major manhunt that included more than 70 sworn officers from multiple agencies, as well as a nonstop search by air overnight, it said.
Authorities warned that a suspect brazen enough to open fire on law enforcement officers and kill a hostage in their presence — allegations made by authorities investigating the violence in April — could be very dangerous.
The public was asked to exercise "extreme caution" and call 911 if he was spotted, the sheriff's office said in a statement.