SAN FRANCISCO — California Gov. Jerry Brown started the week by signing a pair of actions to get his state to use nothing but electric power drawn from green sources like wind and solar by 2045. He ended the week Friday with a surprise: The state would launch its "own damn satellite" to track down greenhouse gas emitters who fuel global warming.
The twin actions were meant to demonstrate the power that California, and other cities, states, corporations and individuals have to take action against global warming — particularly in the face of perceived inattention or hostility from President Donald Trump and the federal government.
In the days in between the two announcements, Brown hosted a gathering of nearly 5,000 environmentalists, elected officials, corporate chieftains and activists from five continents at the Global Climate Action Summit here. They repeatedly promised to do more to rein in global warming while trying to spur on an equal level of commitment from 195 national governments.
The week was a melange of high aspirations, escalating pledges of greater action against greenhouse gases and jeremiads about the calamities that await the world if it continues to move slowly on what Brown and others deemed an "existential" threat to humanity.
"In California, with science under attack, in fact we're under attack by a lot of people, including Donald Trump. But the climate threat still keeps growing," Brown told delegates at Moscone Convention Center, near the city's financial district. "With science still under attack, we're going to launch our own satellite, our own damn satellite, to figure out where the pollution is."
Brown's office said the satellite — to be developed in conjunction with the San Francisco-based Earth-imaging company, Planet Labs, and launched by 2021 — will allow the state to track greenhouse gas emissions. It hasn't yet been determined whether data from the satellite would be available to other governments or private organizations that want to track greenhouse gas emissions, said Stanley Young, a spokesman for the state Air Resources Control Board.
The government could then crack down on catastrophic releases of carbon dioxide, methane and other pollutants, said Stanley Young, a spokesman for the state Air Resources Control Board. And it could use data to detect more chronic problems and develop policies to abate them, Young said.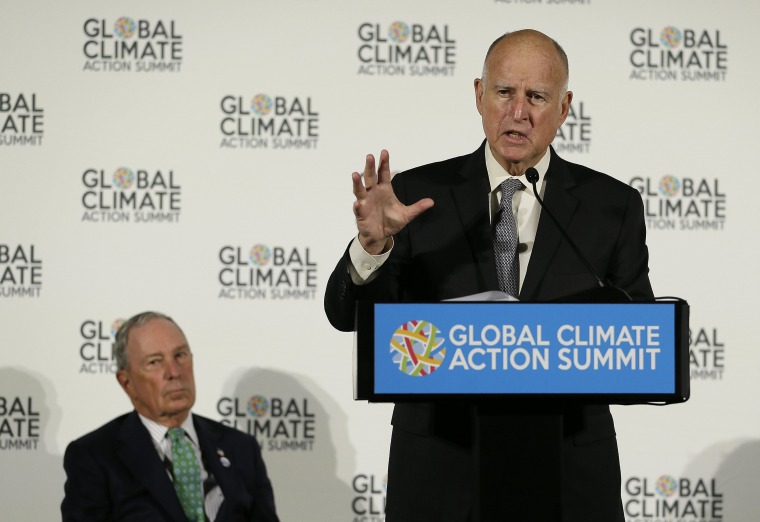 The summit grew out of an alliance between Brown and former New York Mayor Michael Bloomberg to push ahead with global warming solutions after Trump announced in June of 2017 that he intended to withdraw the United States from the Paris climate agreement, under which all nations set greenhouse gas reduction goals.
The organizers pushed hard for companies, governments and other organizations to increase their ambition for expanding and nurturing forests, buying more electric cars and buses and building more sustainable green buildings, among other innovations.
In the lead up to and during the conference, the organizers said, there were more than 500 commitments, including:
Governor's from 17 states, and both U.S. political parties, pledging to spend $1.4 billion to drive down auto emissions. The money comes from a legal settlement paid by Volkswagen for falsifying the clean air performance of its cars.
Two giants of the electric vehicle charging business, ChargePoint and EV Box, pledged to build 3.5 million new charging points worldwide.
A total of 26 states, cities and businesses pledged to procure non-polluting vehicle fleets by 2030 and Los Angeles Mayor Eric Garcetti promised that the city's regional bus operation would be all electrical in time for it to host the 2028 Summer Olympics.
New York announced it would double the investment by its city's pension funds in companies offering climate change solutions — investing $4 billion over the next three years.
"I had the sense that there is a tipping point in climate change action," said Mark Major, a senior adviser at the nonprofit Partnership on Sustainable, Low Carbon Transport. "With the number and the scale of announcements, I felt like we were really accelerating the momentum, which is not where we were just three years ago."
That's when the world assembled in Paris and reached a historic compact on curbing greenhouse gas emissions, also agreeing to regular follow-up sessions to reassess. The goal of the international agreement is to keep global temperatures from increasing more than 2 degrees centigrade, and preferably no more than 1.5 degrees. Any more could put the planet's ecosystems at unredeemable risk, scientists said.
The U.S. now stands alone as the only nation declaring its intention to walk away from the agreement.
That action and others by the Trump administration —including supporting a continuation of coal-burning electric power and favoring less stringent fuel-mileage standards for cars —made the president an object of derision here, a deep blue city where he is was already a political pariah.
Speakers issued multiple admonitions against complacency, regardless of how much participants felt as if they were making progress, and thereby thwarting Trump.
"I am going to tell the truth," former Secretary of State John Kerry, who helped negotiate the Paris agreement, said on the final morning of the gathering, "and the truth is we are not anywhere near where we need to be with respect to the overall challenge of climate change."
Indeed, a review by Data-Driven Yale and other scientists analyzed the plans of nearly 6,000 cities, states and regions, and more than 2,000 companies, worldwide and determined they would not be enough to fulfill the commitments made in Paris. Even those ambitious benchmarks were predicted to leave the Earth with 3 degrees of warming by 2100, a level that would trigger calamities, including famines and pandemics, scientists have said.
Kerry made his remarks at a panel on the health of the world's oceans. A few minutes later, climate activist and former Vice President Al Gore took to the convention hall's main stage to urge more action.
He began with a litany of the record temperatures, droughts, firestorms and severe weather that seem to be washing over the globe. "Every night on the television news it's like a page has been ripped from the Book of Revelation," Gore said, "and we have got to connect the dots between the cause and the effect."
Gore described Trump's desire to leave the Paris agreement as only "a speech," since the accord sets timelines for withdrawal and the U.S. is not free to leave the pact until the day after the 2020 election. "And if there is a new president … excuse me for a moment," Gore said, before bowing his head and putting his hands together in apparent prayer, "then we are right back in."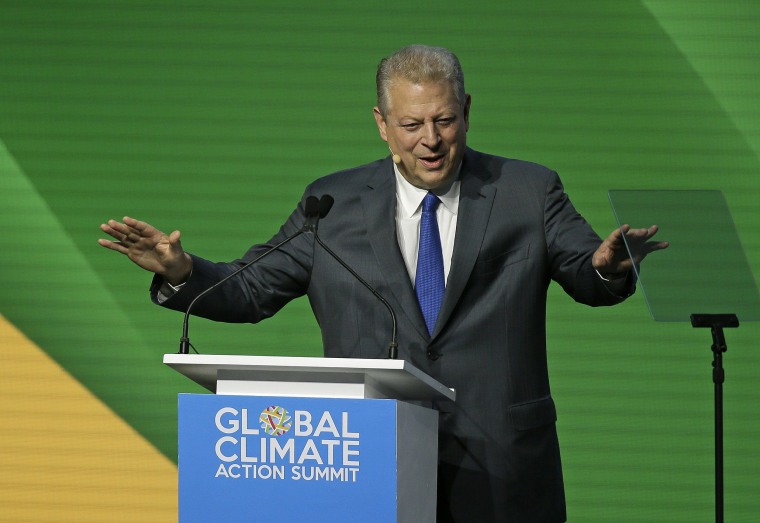 The crowd roared its approval. And many talked during the week about how the climate solutions were now known and so much momentum had been gained that it would be hard to stop them.
"Our world is in the early stages of a sustainability revolution that is built on the new digital tools of the internet," said Gore. "This revolution is sweeping the globe. It has the magnitude of the Industrial Revolution revolution."
It was Brown, 80 and just four months from retirement, who stole the headlines on the last day of his summit. His first two terms spanned from 1975 to 1983, when he earned the nickname of "Governor Moonbeam." The moniker came, at least in part, because of Brown's proposal for the state to join in a satellite project.
Well into his second stint in office, in late 2016, Brown told a group of scientists at an event for the American Geophysical Union that some people were denying the science that made it clear humanity's activities were warming the planet. He described rumors that Trump would even "turn off the satellites that are monitoring the climate."
While Trump has never said he intended to cut off data from America's climate satellites, one of his advisers did say the administration intended to crack down on "politicized science" by refocusing the mission of NASA's earth science division away from climate change.
So Brown told the gathering of scientists, also in San Francisco: "If Trump turns off the satellites, California is going to launch our own damn satellite. We're going to collect that data."
It wasn't clear then if Brown was serious about that pledge. On Friday, it abundantly clear he was not joking.