As homelessness in California swells, Gov. Gavin Newsom is asking state lawmakers to funnel $1.4 billion into programs designed to alleviate the crisis.
He unveiled a budget Friday that would build on last year's billion-dollar promise to create more temporary shelters and emergency housing and help pay for treatment programs.
"The state of California is treating homelessness as a real emergency — because it is one," Newsom said in a statement. "Californians are demanding that all levels of government — federal, state and local — do more to get people off the streets and into services — whether that's housing, mental health services, substance abuse treatment or all of the above."
He said the money would go directly to the people who need it most and would focus on preventive measures, including rent assistance and access to healthcare.
"[We're] using every tool in the toolbox — from proposing a massive new infusion of state dollars in the budget that goes directly to homeless individuals' emergency housing and treatment programs, to building short-term emergency housing on vacant state-owned land," he said.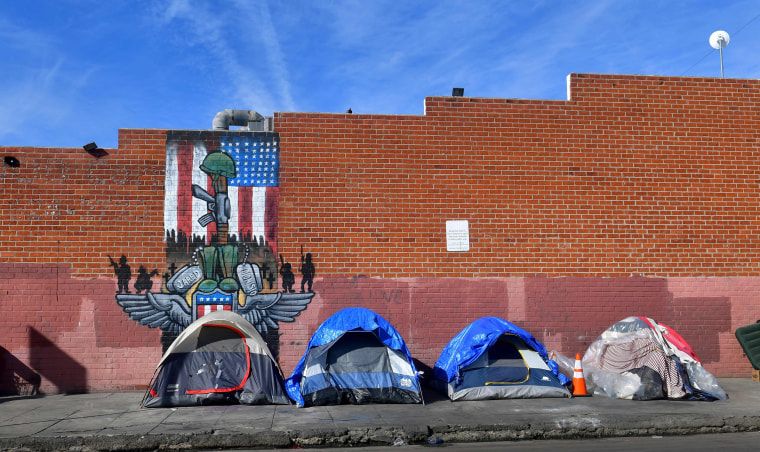 The proposal was met with measured enthusiasm from advocates and officials, who said they were grateful for the additional resources but acknowledged it would not be enough to get the 151,000 homeless individuals in California off the streets.
"It covers the major direct issues related to homelessness, shelter, housing, social services," said Nan Roman, president and CEO of the National Alliance to End Homelessness, based in Washington, D.C. "Whether it's the right amount of money I can't say … but it seems like it's hitting the right things."
In Los Angeles, the city with the largest homeless population in the state, the response appeared to be equally restrained. L.A. experienced a 16 percent increase in its homeless population from 2018 to last year, bringing the total to 36,000, according to an annual count.
"Solving homelessness is the top priority for Angelenos and people across California, and our state budget ought to reflect that urgency," Los Angeles Mayor Eric Garcetti said in response to Newsom's announcement.
Los Angeles County experienced a 12 percent increase in homelessness over the same period, putting the population at around 59,000.
Although Garcetti believes "we always need more," he is grateful for the possibility that additional money will be set aside to battle the epidemic, a spokesman said.
President Donald Trump has even weighed in on the homelessness crisis in California, saying it will hurt real estate "prestige" and "destroy cities."
Newsom touted the state's budget surplus, low unemployment rates and entrepreneurial spirit but said rising housing costs, among other factors, have choked access to affordable housing, leaving many lower-income earners on the brink of financial collapse.
He signed an executive order Wednesday to free up $750 million for service providers to help pay rent, fund affordable housing and expand a safety net for at-risk people. Another $650 million in emergency aid would go to cities and counties with the most pressing needs.
He said he wants to use vacant state-owned land to house people and change the state's Medicaid program to increase spending on preventive care.
"We can no longer make the imperative of getting people off the street a voluntary act by the government," said Sacramento Mayor Darrell Steinberg. "[The proposal] is bold, and it expresses a strong commitment by the governor. The resources will be deeply appreciated and well-used."
California has directed nearly $3 billion to combat homelessness over the last two years, according to the governor's office. Yet the number of unsheltered people jumped 17 percent across the state in 2019, according to federal data, and even the most hopeful advocates wondered how much can be accomplished in a short amount of time.
"It's not going to change in a year," Roman said. "I wish it would."
Last year, taxpayers approved $4 billion in bonds for existing affordable housing programs for low-income residents, veterans and farmworkers, said David Wolfe, legislative director of the Howard Jarvis Taxpayers Association, The Associated Press reported.
Voters also allowed the state to spend up to $140 million a year in existing county mental health funds for housing for homeless people with mental illness.