LOS ANGELES — A Southern California high school student was killed and others were injured Tuesday when a man suspected in an earlier stabbing hit them with his vehicle during a rollover crash, officials said.
The crash, which killed a 15-year-old boy in Thousand Oaks, west of Los Angeles, is believed to have been deliberate.
"The traffic collision today was deemed an intentional act," Capt. William Hutton, a Ventura County sheriff's spokesperson, said late Tuesday.
A possible motive has not been released. The suspect was identified as Austin Eis, 24, but it was not clear whether he had been booked on charges late Tuesday. He was being guarded at a hospital, Hutton said.
Three other teenagers were injured in the single-vehicle rollover crash, Sheriff's Deputy Ashely Barrios told reporters earlier. They are two girls, 16 and 14, and a 15-year-old boy, she said. Their conditions were not immediately available.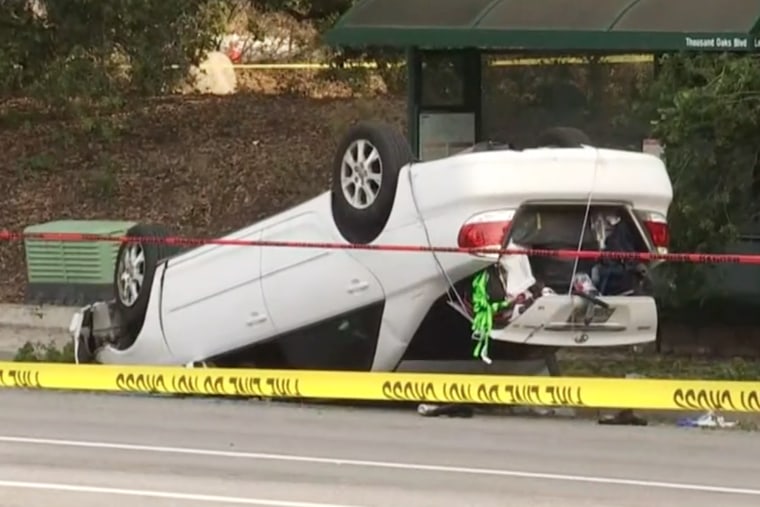 All four were students at Westlake High School, and they were hit around 3:15 p.m. on a sidewalk, said Mark McLaughlin, the superintendent of the Conejo Valley Unified School District.
"During this time of unimaginable loss, our thoughts and prayers remain with these students, their families, friends, and the entire Warrior community," McLaughlin and Westlake High School Principal Jason Branham said in a joint statement.
Eis is also suspected of stabbing a worker at a Walmart in Simi Valley, north of Thousand Oaks, around 2:40 p.m.
Barrios said that after the stabbing, the suspect went to Camarillo, a city west of Simi Valley, where some type of domestic dispute with family members occurred. No one was hurt there.
He then traveled to Thousand Oaks, where the rollover crash occurred, Barrios said.
Helicopter video from NBC Los Angeles showed a white vehicle on its roof by the sidewalk and a covered bus stop nearby. The scene is near Westlake High School, the station reported.
The sheriff's office said the car that crashed was the same white Toyota Camry missing its front bumper that was seen leaving the Walmart after the stabbing.
The sheriff's office and Simi Valley police said a motive for the stabbing at the Walmart had not been determined. An investigation was ongoing, the department said.
The school district said counselors would be available at Westlake High School, as well as campuses across the district.
A number for anyone associated with Eis in Ventura County could not immediately be found in online public records late Tuesday. It was not clear whether he had a lawyer who could speak on his behalf.
Thousand Oaks is a city of around 120,000 in Ventura County, west of Los Angeles.