He made his own killing machines.
The arsenal that police said Kevin Janson Neal used during Tuesday's deadly rampage in northern California included two AR-15 type semi-automatic rifles with multi-round magazines that he assembled himself, police told NBC News on Thursday.
One of the high-powered rifles was found outside the grade school in rural Rancho Tehama Reserve that Neal riddled with bullets, police said. The other lethal weapon was found at the spot where Neal was killed in a gun battle with officers.
Experts say Neal apparently exploited a legal loophole that enabled him to get around California's tough gun laws by ordering the parts for a weapon that is illegal in that state — and putting it together at home.
"As long as it's not restricted in the state of their residence and the person is not prohibited, anyone can manufacture a sporting firearm for person use," Rick Vasquez, a retired technical expert with the federal Bureau of Alcohol, Tobacco, Firearms and Explosives, told NBC News.
Related: Gunman in California shooting spree needed mental help, sister says
And, unless specifically outlawed by the state, "these firearms are not required to have a serial number," Vasquez said.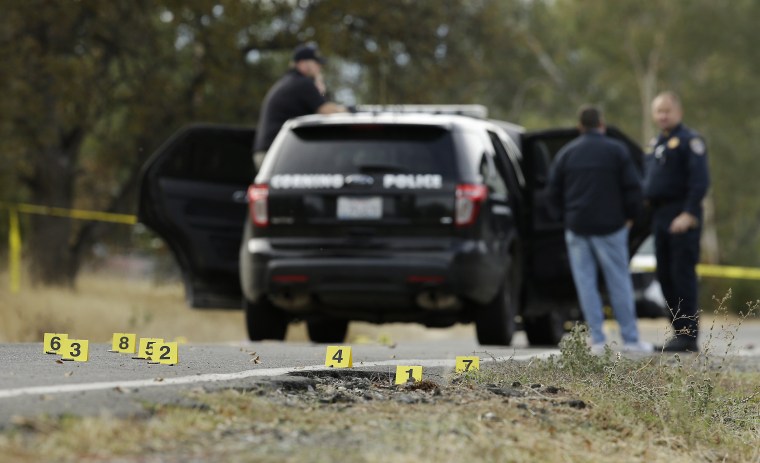 Police have not said whether the homemade weapons Neal was wielding had serial numbers.
"Most of the people doing this are legitimate gun owners doing it as a hobby," Vasquez added "But as with any type of device, they also can be used in a criminal activity by bad actors who are looking for ways to acquire firearms without any traceability. It's past the point of no return."
Bob Thacker, president of the Pennsylvania Gunsmith School, said under existing gun control laws "any firearm that is transferred by a dealer to an individual goes through background check." But guns built from kits aren't technically guns when they are shipped — just a collection of parts.
Once they arrive, they're easily assembled, Thacker said.
"Firearms are mechanical," he said. "Pieces and parts go together ... Anybody can learn to do it."
Neal was killed 45 minutes after he went on a deadly tear that left four of his five victims dead and 10 people injured, including seven children. Investigators later discovered the fifth victim, Neal's wife, beneath the floorboards of their home.
Despite being out of bail for stabbing a neighbor in January, the 44-year-old shooter was not barred from owning a weapon, Tehama County Assistant Sheriff Phil Johnston said on Wednesday.
Neal also owned two handguns that were also used during the killing spree, including one that he purchased in 2009 in Raleigh, North Carolina, NBC News learned Thursday.
Related: California mass shooter killed wife, buried her beneath floor
It was not immediately clear which of the weapons Neal used did the most damage, but police said he used the rifle to shoot up the elementary school, where one child was hit by gunfire and six others were hurt by shattered glass.
Neal's sister later told NBC News Wednesday that her brother had a history of mental illness and in recent months seemed "possessed or demonic."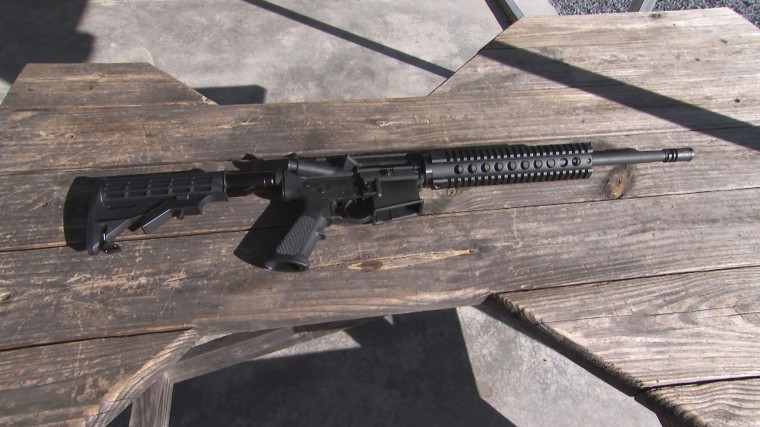 Curbs on self-assembled weapons like the kind Neal used are not addressed in the proposed gun control legislation that was unveiled Thursday by a bipartisan group of senators.
But Sen. Chuck Schumer, D- New York, the Senate minority leader, has been pushing to close the loopholes on so-called "ghost guns" — weapons made from kits and are untraceable because they have no serial numbers — which have been used in deadly shootings across the country.
If Neal's weapons turn out to be ghost guns, this would be just the latest case of homemade semi-automatic weapon being used in a crime. A gunman In Baltimore used an AR-15-style rifle that he'd assembled to shoot at four police officers in July 2016. They returned fire and killed him.
Hundreds of websites offer ghost gun kits ranging in price from $450 to $1,000 — and requiring absolutely no background checks.
To test how easily such a gun can be purchased and put together, NBC News in February ordered a kit online and had it shipped to Vasquez's home in Virginia.
Vasquez said it took him just a couple hours to assemble the weapon and when he tried it out at the gun range it "work(ed) great."