At least four people were killed in a massive wildfire burning in Northern California that grew by more than 80,000 acres Thursday, the state firefighting agency said.
Three of the deaths in the LNU Lightning Complex fires occurred in Napa County, and the fourth person died in Solano County, the California Department of Forestry and Fire Protection, known as Cal Fire, said in an update.
The three people dead in the fire in Napa County were found Wednesday and recovered Thursday, Napa County Sheriff's Office spokesman Henry Wofford said. They were found in a residence, but it is not clear if they were related and identification is pending, he said.
Earlier Thursday, Solano County Sheriff Tom Ferrara said in a fire update briefing that there has been one death, which he said was a man who lived in the county, but he gave no other details because next of kin has not been notified.
A PG&E utility worker died Wednesday while clearing infrastructure around the fire complex to make it safe for first responders, Cal Fire said in a statement earlier Thursday. It was not immediately clear whether that worker's death was included in the Cal Fire count of four fatalities in the LNU complex.
A helicopter pilot conducting water drops on a different fire, the Hills Fire in Fresno County, died when the aircraft crashed Wednesday morning, officials said.
The LNU Lightning Complex, which grew from 131,000 acres to 215,000 acres Thursday, has destroyed at least 480 homes and other structures, Cal Fire said.
There are 23 major fires or complexes burning across California, along with other blazes. At least 62,000 people have been evacuated, and 100,000 more were under evacuation warnings, Cal Fire said Thursday. An Air Force base was evacuated, and the fires covered large swaths of the San Francisco Bay Area in smoke.
"We are experiencing fires the likes of which we haven't seen in many, many years," Gov. Gavin Newsom said at a news conference Wednesday.
Download the NBC News app for breaking news and alerts
The PG&E utility worker was found unresponsive in a vehicle Wednesday afternoon and was pronounced dead at a hospital, Cal Fire said.
The helicopter pilot, identified by the department as Michael John Fournier, crashed while on a water-dropping mission Wednesday morning at the Hills Fire, around 9 miles south of Coalinga in the San Joaquin Valley. He worked for a private company contracted by Cal Fire.
The state is battling 367 fires, 23 of which are major fires or complexes, Newsom said Wednesday. Many were sparked by a large number of lightning strikes in California — about 11,000 over four days — as the state is in the grip of a heat wave.
The infernos are stretching the state's resources, the governor said. "The totality, when you consider 367 active fires we're aware of all across California ... that is a resource challenge where they are stretched in ways we haven't seen in the last few years."
The LNU Lightning Complex is burning across five Northern California counties — Napa, Sonoma, Lake, Yolo and Solano — and it was zero percent contained Thursday night, Cal Fire said. It is made up of several fires connected to lightning strikes in Napa and Sonoma counties.
There were 30,500 structures threatened Thursday night.
Travis Air Force Base in Solano County, northeast of the Bay Area, ordered all nonessential personnel to evacuate Wednesday night.
Darcy Smith, 46, said she and her family operate Funky Chicken Rescue, with about 200 animals in their care, in Vacaville, a city of 100,000 people about 35 miles southwest of Sacramento. She said in a phone interview Wednesday that several fires burning in the area at first seemed far away.
As the blazes moved closer, the family was forced to evacuate.
"The wind picked up a bit, and we could tell that the smoke was headed our way," she said.
Smith said they packed as many animals as they could but had to leave over a dozen behind.
"That was completely heartbreaking. We were told to evacuate. You could actually hear people's propane tanks exploding, so we were rushed off before we could get everybody," she said, adding that her husband went back to their property to rescue more animals.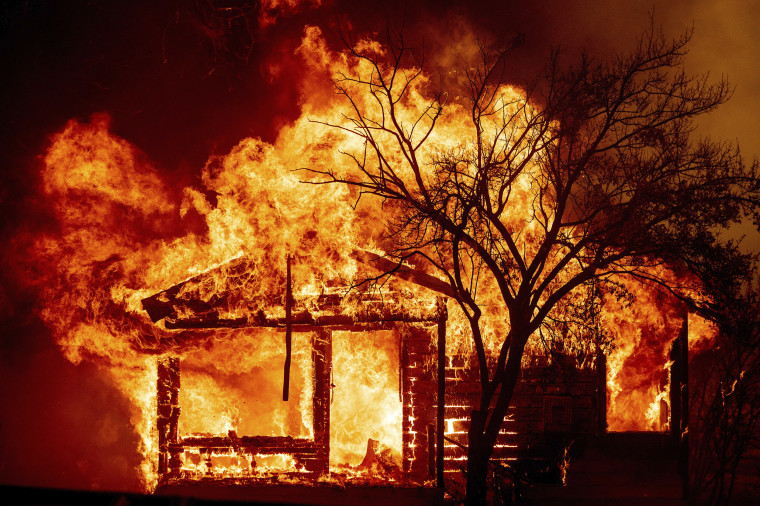 Caroline Newell said she decided to evacuate her home in Winters, a town 30 miles west of Sacramento, after the smell of smoke in her home became overwhelming.
"When I went outside, I went to go check out what was going on, and there was so much ash," she said in an interview Wednesday. "It felt like it was snowing. It was super hazy, but inside my house was also very hazy."
Newell said she fled to her parents' house in Fairfield, about 24 miles south, but later had to evacuate again to Oakland.
Bay Area residents were warned to stay indoors because of smoke from more than three dozen fires in counties just outside San Francisco, San Jose and Oakland.
Spanish Flat Mobile Villa, a mobile home park in Napa, was flattened and nearly 100 people had to quickly evacuate Tuesday night as a fire ripped through, NBC Bay Area reported.
A 90-year-old woman who has hearing issues had to be rescued by a neighbor. Another neighbor, Marcia Ritz, told NBC Bay Area that everyone escaped to a resort on Lake Berryessa but that flames continued to draw closer.
"One of our friends had a pontoon, and there were 10 of us that got on it, and we were out on the water for about five hours," Ritz said.
More than 50 trailers in the mobile home park were destroyed.
Newsom said there have been 6,754 fires since the start of the year, compared to 4,007 at this time last year.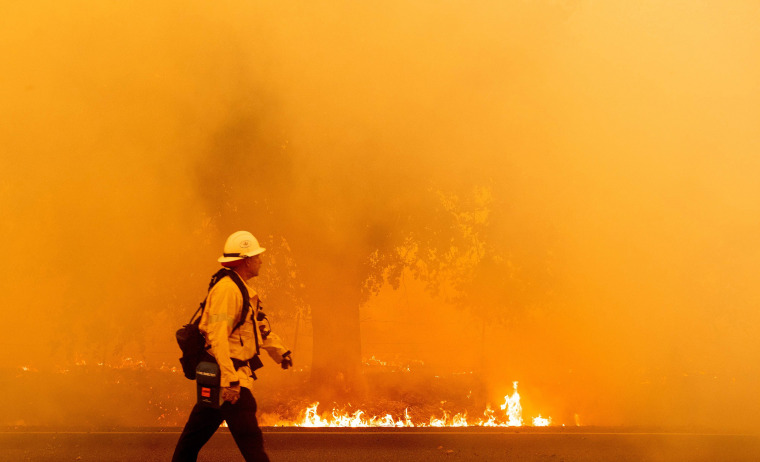 A group of 20 fires being tracked as the single SCU (Santa Clara Unit) Lightning Complex — in Santa Clara, Alameda, Contra Costa, San Joaquin and Stanislaus counties — grew by around 20,000 acres Thursday to reach 157,475 acres, Cal Fire said.
The complex is 5 percent contained. No structures have been destroyed, but 20,000 were threatened Thursday night.
Embers were being thrown as far as three-quarters of a mile, Cal Fire Capt. Stephen Volmer, a fire behavior analyst on the complex, said in a video Thursday. While humidity normally increases at night and slows the spread of fires, that has not been happening, "and that's allowing the fire to burn actively all day and all night out there," he said.
"We're looking at, just in the grass, the fire will move at up to 120 feet a minute, and that is also hampering the control efforts, because it's putting the fire moving faster than we can actually engage it safely," Volmer said.
Five fires in San Mateo and Santa Cruz counties — dubbed the CZU August Lightning Complex — broke out Monday night and continued to grow Thursday, swelling from 40,000 acres to 48,000 acres, officials said. It was zero percent contained.
At least 50 structures have been destroyed, and Cal Fire Deputy Chief Jonathan Cox said he expects that the number will reach triple digits.
Around 48,000 people have been evacuated, and officials said that people having left areas has helped firefighters in regions of small, winding roads.
More help has arrived, but Cal Fire incident commander Billy See said at a news conference that "it's still not enough."
"We're still drastically short for a fire this size," See said. He said firefighters saw growth of 700 to 1,000 acres an hour in heavy timber Thursday.
Sonoma County Sheriff Mark Essick said Thursday that he was concerned that many people were pulling over on the sides of busy highways and roads to view the fire and take pictures.
"We really urge you to fight that urge and continue to evacuate," he said. "When you pull over to take pictures, it creates secondary traffic hazards and problems for evacuations."