A California search and rescue volunteer died while trying to find a hiker who went missing last week, authorities said.
Timothy Staples, 32, was found dead on Mount Baldy in California on Saturday afternoon, the San Bernardino County Sheriff's Office said in a Facebook post. Staples was one of 126 people across 23 teams searching for Sreenivas "Sree" Mokkapati, 52, of Irvine, California, who had gone missing on Dec. 8 after becoming separated from his group while ascending Mount Baldy.
Staples' family, in a statement released by the sheriff's office, said: "Our hearts are broken as we mourn the loss of our treasured family member, Tim Staples. Tim was the beloved husband of Katie Amrhein, and son of Dan and Barbara Staples. Tim was an exceptional human who gave is life serving others.
"He was a brother, uncle, nephew, and a friend to so many. During his teaching career, he gained the respect and love of his students as he was an exceptional role model who cared deeply for them. Tim's absence left a hole in our hearts that may never be filled."
Staples' partner on the search and rescue team alerted the sheriff's department on Saturday that he had become separated from Staples. A Los Angeles County sheriff helicopter located Staples in "an area of ice and snow." He was unresponsive, and a medic lowered to Staples soon afterward found that he was dead, according to the sheriff's office.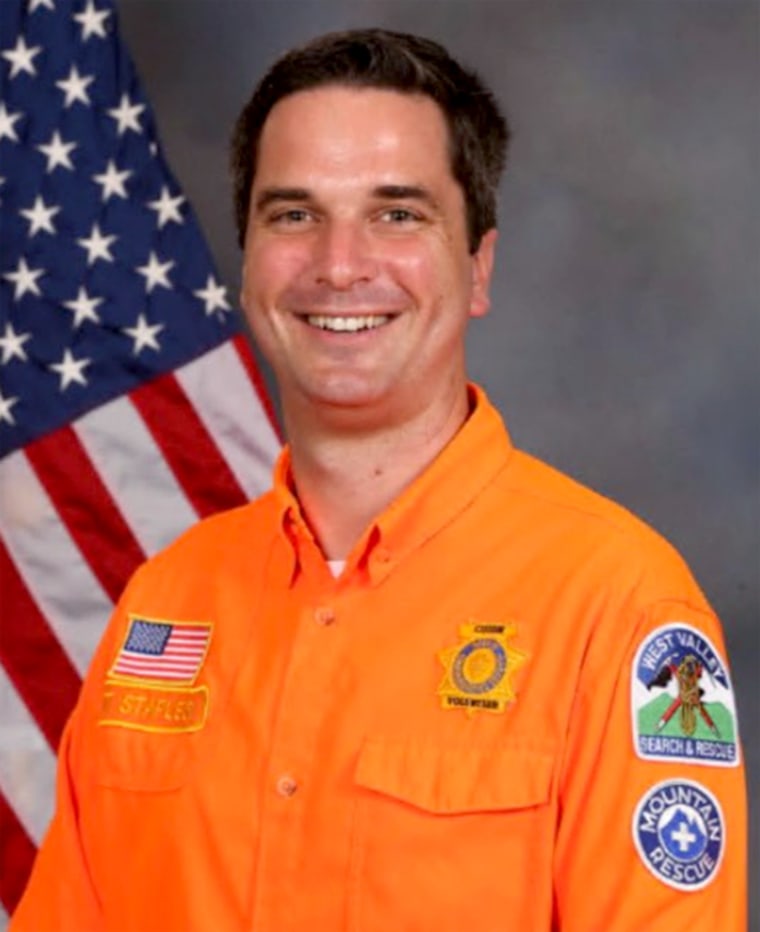 Staples was a "dedicated volunteer" and a nine-year veteran with the sheriff's search and rescue team, according to the post.
Staples was a faculty member in social science and English at Damien High School, which remembered him as "a favorite teacher among his students" in a post on its website. He also coached cross country and track and field.
"We are deeply saddened by this loss and will make every effort to support our students, faculty, and alumni during this difficult time," the post said. "We ask that our Spartan families and extended school community come together in prayer and support for Mr. Staples' family."
The initial search for Mokkapati has since been suspended, and search operations "will be reevaluated," the sheriff's office said
Mokkapati had been hiking with three other people last week when he became separated from the group.
Justin Williams, a member of the group, was the last person to see Mokkapati, according to NBC Los Angeles. The two had been hiking together, with the two other people in their group lagging far behind.
After hiking for four miles, Williams said, he told Mokkapati that they should turn back because conditions were dangerous. He took a photo of Mokkapati about 20 feet ahead of him before Mokkapati disappeared.
"I wish I would've been like, 'No, you can't do it, man. You're going to die,'" Williams told NBC Los Angeles.
Download the NBC News app for breaking news
Mokkapati was considered an experienced hiker and had hiked Mount Baldy several times, according to the Facebook post. He had limited supplies when he disappeared, as he had prepared for a day hike.
Parts of Mount Baldy were closed starting Thursday to aid in the search, which covered 34 square miles. Search and rescue volunteers came from at least 10 California counties.
Anyone with information regarding the search for Mokkapati was urged to contact Fontana Sheriff's Sgt. Al Huff or Detective Brent Meelker at 909-453-5392 or 909-677-9436.