SAN DIEGO — Not far from where protesters gathered recently to call for an end to stay-at-home orders, Megan Haber toweled off after a Saturday morning dip in brisk, 62-degree water.
"It hurts a lot," she said of last month's shoreline closure. "The beach is a part of our lives."
San Diego city beaches reopened last Monday and, even with the boardwalk closed and sand off limits for congregating and sunbathing, people flocked to the tide line in Pacific Beach to enjoy the first weekend since March that they could access the shoreline.
Mythologized by Gidget movies and a magnet for multitudes who have crossed borders and state lines to reach it, the beach is central to what it means to be a Californian. Anger over closed beaches is not just about liberty but about equity.
"In California, by definition, the beach is a birthright," said Sean Anderson, an ecologist at California State University Channel Islands. "It's how we define ourselves."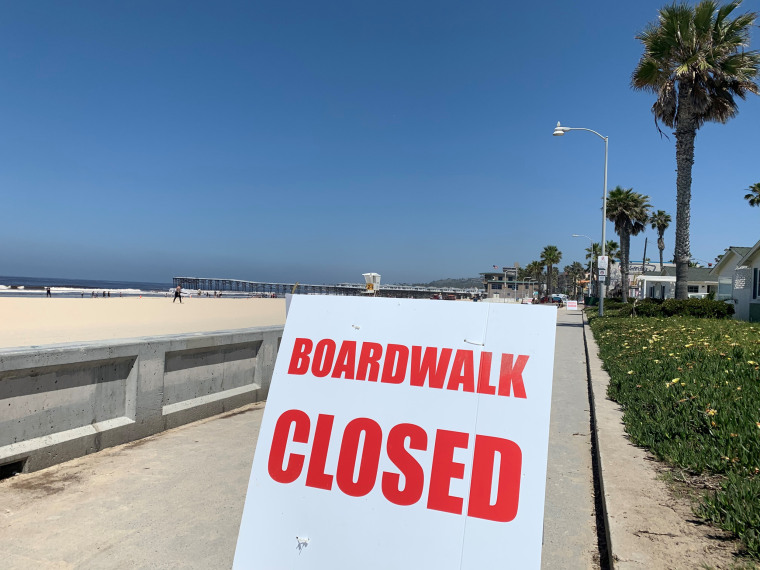 Limiting access to California's most prized resource, the coastline, during the coronavirus pandemic has drawn the ire of beachgoers, activists and local officials.
A "Fully Reopen California Now" demonstration in Huntington Beach Friday was seen by many as a jab at Gov. Gavin Newsom, who ordered beaches in Orange County closed after crowds congregated on the sand during a recent heat wave.
One protester held up a surfboard marked with the words, "Surfing is not a crime."
The Huntington Beach demonstration was planned for days as part of a nationwide series of events decrying what some have described as a national lockdown.
"One of the things that's fueling protests is people are just frustrated, and they want to be able to go to the beach," Anderson said.
Coastal law and policy experts seem to agree that Newsom has the right to shut down beaches for a global pandemic. But some have a problem with uneven access.
Officials at Doheny State Beach in Orange County said that because the park was closed to vehicles, access would be granted only to those who could get there.
"The park remains open for locals," a statement on its website said last week before the governor closed Orange County beaches. A spokesman for the state parks department did not respond to a request for comment.
But at some beaches in California, officials have used parking to try to regulate crowds. One effect is that people who live at the coast have the cherished resource all to themselves.
"You can't exclude people who aren't local residents," said Richard M. Frank, director of the California Environmental Law and Policy Center at the University of California Davis School of Law. "You can't make local beaches the exclusive province of local residents. That's discrimination and wouldn't pass muster in court."
The California Coastal Act passed in 1976 ensures public access to the beach, limits coastal development and offers environmental protections near the ocean.
"Closing beaches to the public clearly goes against the intention of the California Coastal Act," said Shelley Luce, CEO of the environmental group Heal the Bay. But she said the pandemic is one of those circumstances that would qualify as a loophole.
Frank said coastal access is not necessarily a 24/7 right because many beaches close at sunset.
"That's not an unfettered public right of access," he said.
But that's different from allowing people in Ventura County to hit the beach and prohibiting people in the next county, Los Angeles, from doing so.
"I really would prefer something that's consistent statewide," Luce said.
The patchwork of beach closures has frustrated Californians in need of a saltwater fix, and it appears people from L.A. County are traveling north to Ventura County to get it.
Anderson said data he has collected on parking and beach access in April shows spikes in parking in some residential areas near beaches in Ventura County. At spots along Deer Creek Beach, where the summer norm for parking might be 10 to 15 vehicles a day, he has counted more than 160 in a single day in April.
The result could be crowding, he said.
"It's an unintended consequence that we need to address," he said.
With another heat wave predicted for Southern California next week, some avid beachgoers say they are prepared to sacrifice their time near the ocean if they must.
Steve Padilla, a City Council membern in Chula Vista, who nearly died from COVID-19 in March, is also chairman of the California Coastal Commission, the powerful body that oversees shoreline development and ensures beach access under the Coastal Act.
After 11 days on a ventilator in intensive care, Padilla returned home a survivor one month ago.
"I said, 'I can't wait to stick my toes in some warm sand,'" he said. "I can't imagine something that would be better for my recovery. And my family had to gently tell me, 'The beaches are closed right now.'"
He urged Californians to be patient.
"I almost didn't survive, and I support the measures put in place to protect people's health," he said. "If I can't go to the beach for a few months and it will save one life, then I'm OK with that."