SAN DIEGO — The headaches and heartaches from deadly winter storms across much of California aren't likely to end soon.
Millions remain under flood warnings and thousands are without power from the severe weather that has turned roads into rivers, spurred rockfalls and mudslides and forced thousands from their homes.
The heavy rain across much of the state Tuesday will continue Wednesday in Northern California. And forecasters are calling for another storm-producing system at the end of the week into next week.
California's weather has been unrelenting, and it has killed at least 17 people, officials said Tuesday.
"Almost 100,000 Californians [are] living in places where it's unsafe to be in their homes right now," California Secretary for Natural Resources Wade Crowfoot said at an afternoon news conference Tuesday.
Fears of more flooding and mudslides persist because the ground is saturated, an unusual state amid California's historic, three-year drought.
"Soils in California are saturated from above average rainfall over the past few weeks, which means it won't take much additional rainfall to trigger flooding," the federal Weather Prediction Center said in a forecast statement Tuesday.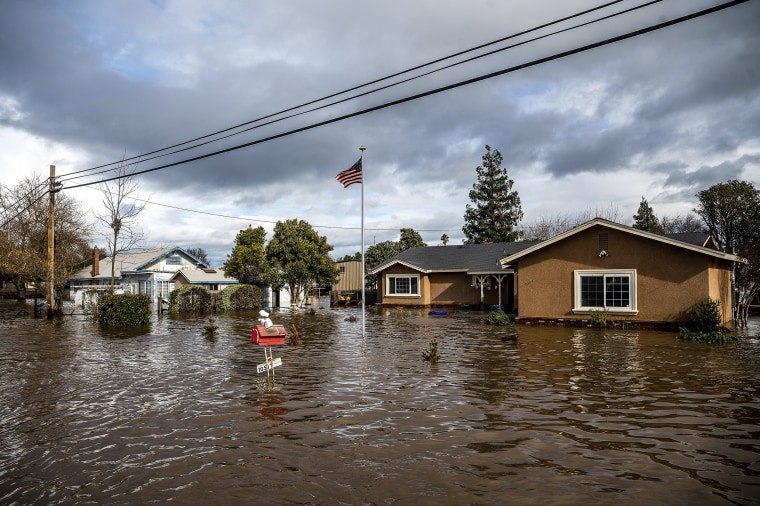 The city of San Francisco told residents Tuesday to take "shelter and do not travel" for three hours, starting about 12:30 p.m. PT, after the National Weather Service issued a flash-flood warning for the region.
Meteorologist Jan Null tweeted Tuesday that the rainy stretch from Dec. 26 to Monday was historic: "This is now San Francisco's 3rd wettest 15-day period, going back to the Gold Rush in 1849."
High winds closed Interstate 80 in both directions near the California-Nevada line.
And in Southern California, several routes in Angeles National Forest were closed.
More climate and extreme weather news
The search resumed Tuesday for a child who was swept away when floodwater swamped a vehicle Monday near Paso Robles, said Scott Jalbert of the San Luis Obispo County Office of Emergency Services.
The boy's mother was rescued Monday.
As many as 30 first responders, including a search-and-rescue team and operators of search drones, were looking for the boy Tuesday. Officials had requested a helicopter-based search crew; it wasn't clear whether weather permitted such flights.
To the south, in the city of Ventura, officials declared a local state of emergency in order to expedite disaster response and seek emergency funding, officials said in a statement. The city sustained flooding and damage from high surf, they said.
By Tuesday night, power company workers had whittled the number of homes and businesses in the dark to 75,778, according to PowerOutage.us.
Sacramento County was one of the hardest-hit, with about 12,000 customers still without power by the lunch hour, according to the outage tracker.
The rain appeared to be letting up in Beverly Hills on Tuesday afternoon. But organizers of the Golden Globes took no chances and set up tents so the gray-colored red carpet would remain dry when celebrities arrived.
Kevin Costner, who won for best performance in a television drama, said in an Instagram video Tuesday that he wouldn't attend because local flooding would make the trip difficult if not dangerous.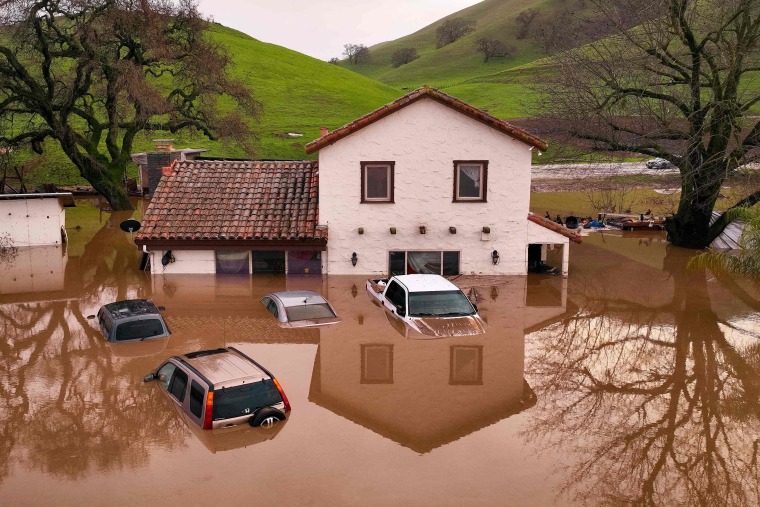 An 'endless onslaught'
Just as one episode of heavy rain across the state began to wind down, another low-pressure system rapidly gained strength off the West Coast, barreling toward the state, according to the National Weather Service.
"The endless onslaught of potent systems with atmospheric rivers of moisture continue to inundate California," it said.
Moderate to heavy rain was expected across much of California into the night, while several feet of snow were expected along the Sierra Nevada, it said.
Officials issued immediate evacuation orders Monday for the entire community of Montecito, as well as for parts of Santa Barbara and other nearby towns, because of heightened flood and mudslide hazards.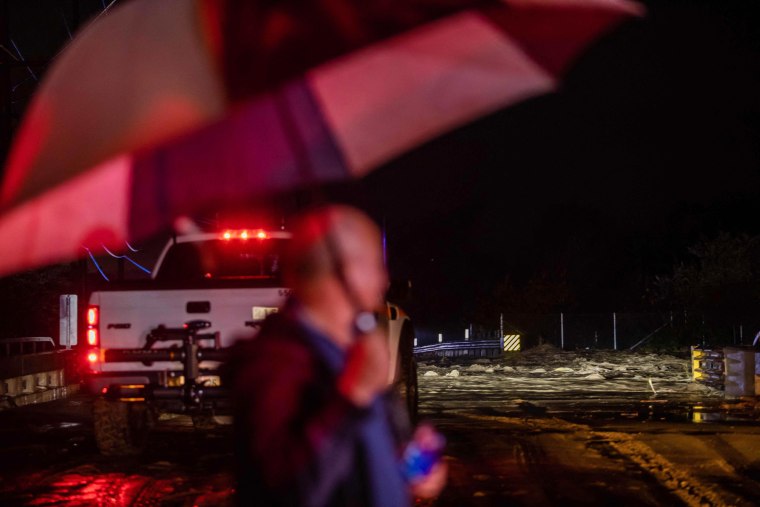 In Montecito, which is home to 10,000 people, Monday's flooding came five years to the day after heavy rain hammered a Montecito "burn scar," killing nearly two dozen people.
The severe weather also forced Santa Barbara Airport to close, the airport tweeted Monday.
"All commercial flights are canceled until further notice, and the terminal is closed," it said. The airport said its reopening would be "dependent on the weather and conditions."
In Chatsworth, a neighborhood in Los Angeles, four people were trapped after two cars were swallowed by a sinkhole that "compromised" an entire road Monday night, the Los Angeles Fire Department said.
Two people were able to get out of the sinkhole, while firefighters were able to safely extricate the two others, who were treated and taken to a hospital with minor injuries, it said.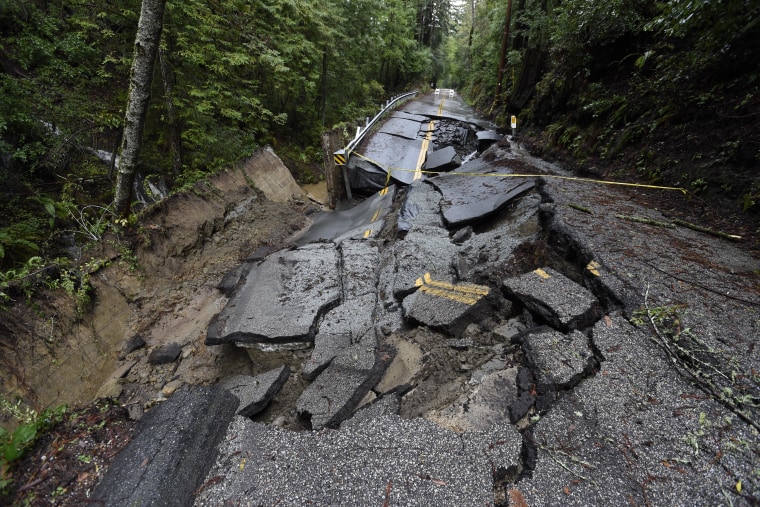 Maria Aldana, 26, who lives in the northern Los Angeles County community of Lancaster, couldn't believe her eyes when she saw sidewalks swallowed up by rainwater Monday night.
Aldana was grateful to be driving her dad's truck and not her usual Toyota Corolla.
"When we were passing by, we were like, 'Dang if we would have come in my car, this would have been a lot worse,'" she said. "A 2023 Tacoma is very high."
Nearly all of California has had higher-than-average rainfall totals over the past several weeks, with totals 400% to 600% above average, according to the weather service.
Climate change has made extreme precipitation in California twice as likely, with extreme weather predicted to generate 200% to 400% of surface runoff — rainwater that can't be absorbed by soil — by the end of the century, according to research by the UCLA environment and sustainability department.
The recent severe weather prompted Gov. Gavin Newsom to declare a state of emergency last week, while President Joe Biden issued an emergency declaration Sunday to support the storm response.
'Enormous cyclone' to strike Wednesday
Tuesday's storm system was expected to push inland in the evening, bringing widespread mountain snow across the Great Basin, but an "enormous cyclone forming well off the coast of the North American continent will bring yet another Atmospheric River toward the West Coast — this time impacting areas further north from northern California northward up the coast of the Pacific Northwest" on Wednesday, the weather service said.
"When all is said and done, precipitation totals over the next few days will be in the 3-7 inch range through the Transverse Range of Southern California, northward along the central to northern California coast ranges and through the Sierra," it said.
The weather service warned that widespread flood impacts were likely across large parts of California into western Nevada.