LOS ANGELES — The powerful storm that struck California has left tens of thousands without power and prompted evacuation orders and flood warnings throughout the state, officials said Wednesday.
Gov. Gavin Newsom earlier declared a state of emergency as the weather was expected to bring heavy rain, snow and flooding. The declaration will allow state agencies to respond quickly as the storm develops and support local jurisdictions.
The heaviest rain was expected to hit Northern California Wednesday and Thursday morning, Newsom's office said. In Southern California, the heaviest rain was forecast for Wednesday night through Thursday.
Mandatory evacuation orders were in effect for several cities in Northern California, including Richmond in the Bay Area and Watsonville in Santa Cruz County.
Powerful storm hitting California
An "atmospheric river event" was bringing heavy rain to California through Thursday.
Officials warned of flooding and debris flows, especially in burn scar areas left by wildfires.
Gov. Gavin Newsom declared a state of emergency, which in part authorized the National Guard.
Trees and wires were downed in San Francisco. The Los Angeles area was to be under a flood watch overnight and until Thursday afternoon.
A body was found Wednesday in Sacramento near where another body had been discovered previously inside a submerged vehicle.
Thousands without power, trees down
More than 197,000 households or businesses were without power as of 10 p.m., mostly along the coast from Monterey County to Oregon, according to tracking website Poweroutage.us. The city of Santa Cruz said 80 people were at its emergency shelter, and a warming center was also open.
The storm was also bringing high and potentially dangerous winds. In Marin County, north of San Francisco, wind gusts of 85 mph were recorded, the National Weather Service said. Sacramento Executive Airport saw a 46 mph gust.
The San Francisco Fire Department said it was responding to dozens of trees and wires down, and flooding. A tree fell on a vehicle, trapping a family inside. They were rescued and are OK, the department said.
Interstate 280 in San Bruno in San Mateo Country was almost totally blocked by "multiple" downed 80-foot trees, the California Highway Patrol said.
Flooding possible with heavy rain
The Los Angeles area, as well as cities like Ojai and Oxnard, were under a flood watch began at 10 p.m. Wednesday and last through 4 p.m. Thursday.
Excessive rain could cause flooding, especially in burn scars and urban areas, the weather service said. Urban areas could see 2 to 4 inches and the mountains could get up to 8 inches.
San Francisco Mayor London Breed said late Wednesday afternoon that the storm's impacts were already there.
"San Francisco has been upgraded to a flood warning which means floods are inevitable," Breed said. San Francisco and other counties were under a flood warning until 12:30 a.m. Thursday.
North of San Francisco, in Mill Valley, heavy flooding was reported on a busy freeway underpass, and the city of San Jose in Silicon Valley declared a state of emergency before Newsom's announcement.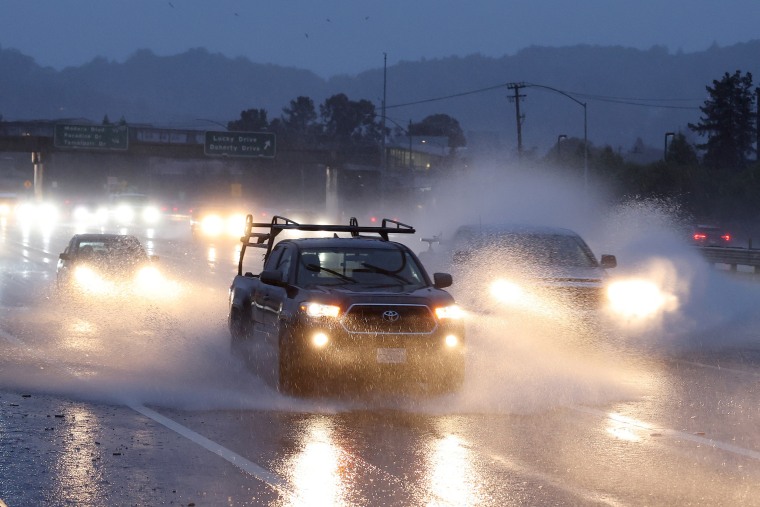 "We anticipate this may be one of the most challenging storms in California," said Nancy Ward, director of the Governor's Office of Emergency Services.
Several communities experiencing some of the biggest downpours were still cleaning up from flooding caused by a storm over the weekend.
In Sacramento, a second body was found Wednesday near where another body had been discovered previously inside a submerged vehicle.
Law enforcement officers recovered the second body while towing cars stranded during a New Year's Eve deluge, according to Mark Leavitt, public information officer with the California Highway Patrol's South Sacramento division.
Both deaths appeared to be weather-related, he said.
Storms could test infrastructure
While the precipitation appears out-of-character for the drought-stricken state, California would normally expect to see this type of rainfall during an average winter, experts said.
"These are not huge storms, I think yet, by California standards historically, but they're big storms during this drought period we've had the last few years," said Jay Lund, vice director of watershed sciences at the University of California Davis.
The storm systems could test infrastructure that hasn't seen heavy flows in years.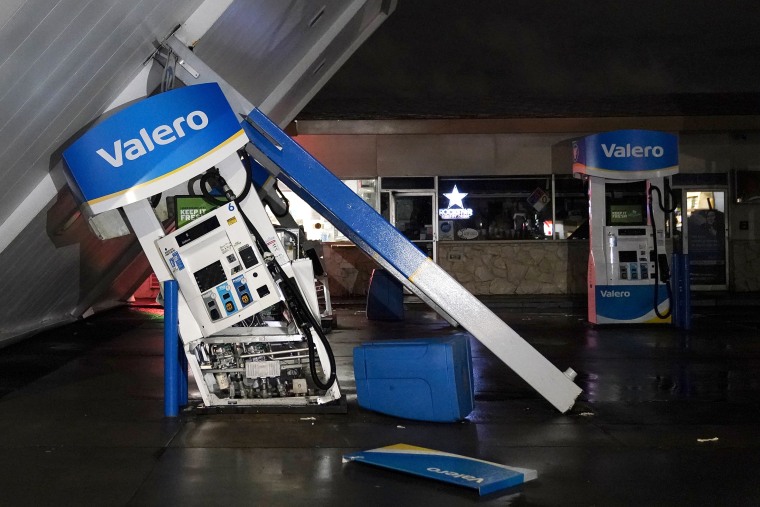 "With flood infrastructure, you don't know if you have a problem until it's too late, there's just so many ways levees can go wrong, and we have thousands of miles of levees downstream of reservoirs," Lund said. "They haven't been tested in several years."
Operators of some of California's smaller reservoirs, such as Folsom Lake, were already full and had to release water despite the drought. But larger reservoirs still had lots of capacity. Lake Shasta was 34% full and Lake Oroville was 39% full on Wednesday, according to the California Department of Water Resources website.
"They're still pretty low, and I would be impressed if these storms fill those two pretty large reservoirs that are still down quite a bit after a few years of drought," Lund said.
More snow anticipated
This year, the state's snowpack is off to one of its best starts in 40 years, at 174% of the historical average, the third-best measurement in the past four decades, state officials said. Even more snow is expected later this week and over the weekend.
Water officials remain cautiously optimistic about the effects the current precipitation will have on the lingering drought.
"The significant Sierra snowpack is good news but unfortunately these same storms are bringing flooding to parts of California," Karla Nemeth, director of the state Department of Water Resources said in a statement. "This is a prime example of the threat of extreme flooding during a prolonged drought as California experiences more swings between wet and dry periods brought on by our changing climate."
In December 2021, California's snowpack was nearly 100% its normal range for that time of year after powerful storms blanketed the Sierra Nevada Mountains. Hopes for drought relief quickly faded after heavy snow and rain were followed by three months of extremely dry conditions.
Much of California's water comes from melting snow in the Sierra Nevada mountains through the winter months, but it remains to be seen whether the state's recent pattern will be enough to offset the ongoing drought.
"We don't know if it's going to be a wet year or a dry year until the end of March. There's very little correlation from one month to the next," Lund said. April 1 is a typical high point for snowpack in California, where snow melt feeds reservoirs in May and June. But that dynamic is changing.
"With the warmer climate we've had the last decade or so, we're seeing generally less snowpack than we're used to and we're seeing it melt off faster and we're seeing more evaporation off the watersheds," Lund said.
Most of the state remains in severe to extreme drought, according to the U.S. Drought Monitor.
Alicia Victoria Lozano and Phil Helsel reported from Los Angeles, and Evan Bush from Seattle.