At least nine people were killed in a fast-moving wildfire in northern California while two fires in the Los Angeles area forced thousands to evacuate Malibu and nearby communities as homes were engulfed in flames, authorities said Friday.
The Camp Fire in Butte County north of Sacramento was responsible for the nine deaths, including five people who were found dead either inside cars or near them in the town of Paradise, said Butte County Sheriff-Coroner Kory Honea. Three others were found dead outside residences and one inside a home.
Paradise was all but wiped out. The town's mayor said 80 to 90 percent of residents lost their homes. "There's nothing much left standing," a state fire official said.
Around 250,000 people in California were under evacuation orders because of the Camp Fire, about 90 miles north of Sacramento, the Hill Fire in Thousand Oaks and the Woolsey Fire along the Los Angeles-Ventura County line. The Woolsey Fire accounted for about 200,000 of those under evacuation orders, according to the California Department of Forestry and Fire Protection, also known as Cal Fire.
Late Friday, the bodies of two people were found in the vicinity of the Woolsey Fire, sheriff's officials said. The Los Angeles County Department of Medical Examiner-Coroner was said to be investigating.
Acting California Gov. Gavin Newsom, who is the governor-elect, issued an emergency proclamation for Los Angeles and Ventura counties Friday as the Camp, Hill and Woolsey fires burned across the state.
Newsom also sent a letter asking President Donald Trump to issue a Presidential Emergency Declaration for the state, which would release more federal funds to fight the fires and deal with their aftermath.
Trump tweeted early Saturday that "gross mismanagement of the forests" was to blame and threatened to cut funding to the state.
L.A. County Fire Department Chief Daryl Osby could not say Friday evening at a news conference how many structures had been lost. Officials expect to take advantage of a lull in winds Saturday to change out crews and enact perimeter control before the weather picks up again Sunday.
Osby emphasized the need for citizens who may still be in their homes to evacuate quickly if a mandatory evacuation order comes in.
"There's several instances where our firefighters have been hampered today trying to get in to protect structures only to be confronted with people who have not evacuated," Osby told reporters. "And when you do that, that puts your lives at risk and our firefighters lives at risk."
The Woolsey Fire
The city of Malibu ordered all its 13,000 residents to evacuate on Friday, urging them to take Pacific Coast Highway out of town and avoid small canyon roads. Los Angeles County sheriff's deputies knocked on doors, telling residents they had to leave. The evacuation caused an immediate traffic jam on the 21-mile stretch of PCH.
The blaze broke out about 3:30 p.m. Thursday near Simi Valley in Ventura County and quadrupled in size by Friday morning, growing to 35,000 acres.
Strong winds were pushing the fire south and west Friday, toward exclusive communities in Malibu Canyon and Agoura Hills.
"The wind-whipped conditions ... this is ripe conditions for explosive fire behavior," Los Angeles fire Capt. Erik Scott told NBC Los Angeles. "This is the new normal. When we have conditions like this, when it's such incredible wind, that brings us into a different caliber, so it's become a much more challenging condition."
With the Woolsey Fire so close to the Hill Fire, which started in Thousand Oaks, regional resources were stretched thin. "The challenges are, number one, competing resources," said Chief Deputy David Richardson of the Los Angeles County Fire Department.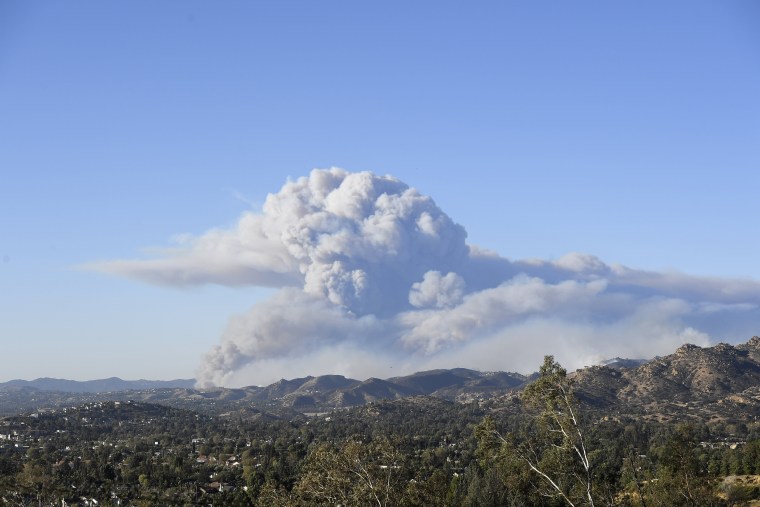 Reality show figure Khloe Kardashian, who lives near the fire zone in Calabasas, tweeted Friday that she hadn't been ordered to evacuate but was getting ready. Later, she tweeted, "I just left with the clothes on my back," adding that she packed what seemed like her child's entire bedroom into her vehicle.
Other celebrities, including singer Lady Gaga and actress Alyssa Milano, tweeted that they left their homes as the fires spread. TMZ reported Friday that Caitlyn Jenner's house had burned down, but a spokesman for Jenner told NBC News that the reality star had no information on her Malibu home.
The historic Paramount Ranch Western Town, where shows such as "Westworld" and "Dr. Quinn Medicine Woman" were filmed, burned down, according to the Santa Monica Mountains National Recreation Area official Twitter account.
Pepperdine University in Malibu canceled classes Friday. The school was already in mourning for student Alaina Housley, 18, who was shot to death Wednesday night at Borderline Bar and Grill in Thousand Oaks.
The Camp Fire
An estimated 90,000 acres had been charred by the deadly blaze that prompted the California National Guard to send 100 guardsmen to help in evacuations, authorities said.
Almost all structures in the small unincorporated town of Paradise, with a population of 27,000, have been destroyed, officials said. An estimated 6,713 structures were destroyed as a result of the fire, which has grown to cover 140 square miles, officials said.
"The town is devastated, everything is destroyed," Cal Fire Deputy Chief Scott McLean said. "There's nothing much left standing."
With an estimated 6,453 single-family residences and 260 commercial buildings destroyed, McLean said the Camp Fire "will be the most destructive fire in the history of California."
The only hospital in town, Adventist Health Feather River, safely evacuated all 60 of its patients Thursday. The hospital was "severely damaged" by flames, said Emergency Services spokesman Bryan May.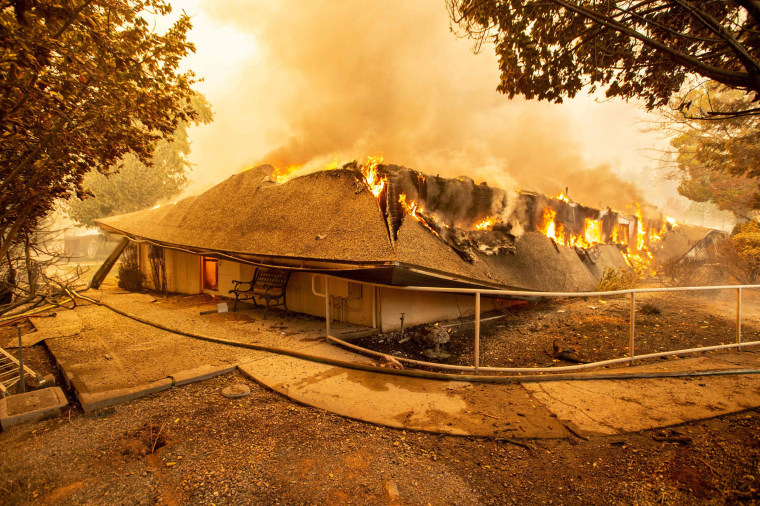 At least three firefighters have been injured in Butte County, Cal Fire officials, said.
Gov.-elect Newsom, who is acting governor while Gov. Jerry Brown is out of state, called a state of emergency in Butte County.
The cause of the Camp Fire has not been determined. Pacific Gas & Electric Co. said in a statement Friday that there was an outage on a transmission line in Butte County at about 6:15 a.m. Thursday, and Cal Fire says the fire began at 6:33 a.m. PG&E said damage was observed on a transmission tower one mile northeast of the town of Pulga, where the Camp Fire started.
The Hill Fire
The idyllic community of Thousand Oaks, already reeling from Wednesday night's mass shooting at Borderline Bar and Grill, contended with the Hill Fire, which broke out Thursday afternoon and blackened more than 10,000 acres.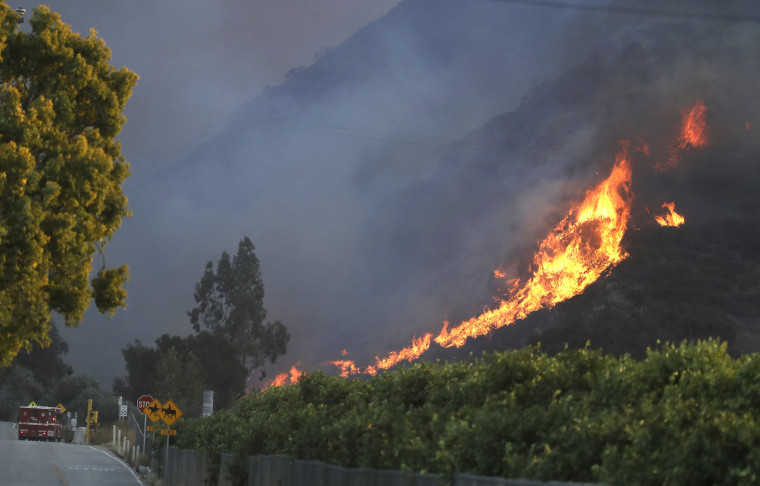 "The Office" actor Rainn Wilson said early Friday he had to evacuate but said the Borderline shooting was still weighing heavily on his mind.
"My House has been evacuated due to nearby fires in Thousand Oaks. (The pigs & dogs are fine, thank you) Please send your prayers to the people of Thousand Oaks and the victims of the shooting that are now having to evacuate their homes and neighborhoods. Then send them some cash," he tweeted.