A wildfire tearing through western California on Sunday mostly destroyed a Boy Scouts camp, killing all of the animals in its nature center, authorities said.
The Whittier Fire in Los Padres National Forest, which began about 1:30 p.m. (4:30 p.m. ET) Saturday and jumped across Highway 154, had grown to about 7,800 acres, incident commanders said Sunday afternoon. It remained only 5 percent contained, they said.
The Outdoor School at Rancho Alegre, an outdoor residential education center that is home to the Los Padres Council of the Boy Scouts of America, said in a statement Sunday that it had "lost our dear animal friends in the nature center and many of the staff on site have lost most of their belongings."
All staff members were safely evacuated, but many lost most of their belongings, it said.
The Boy Scouts council said that "a number of structures" were destroyed and that it was working with other councils to keep its programs going.
"It's a rough fight," Jim Harris, the national forest's deputy fire chief, told reporters Sunday afternoon. Years of drought in the region created dangerously dry conditions that were aggravated by high temperatures that reached 110 degrees on Saturday, Harris said.
About 80 people at Circle V Ranch Camp in Santa Barbara County — most of them children — were forced to stay put and shelter Saturday night as acres of forest burned, Santa Barbara County Fire Chief Eric Peterson told reporters Sunday.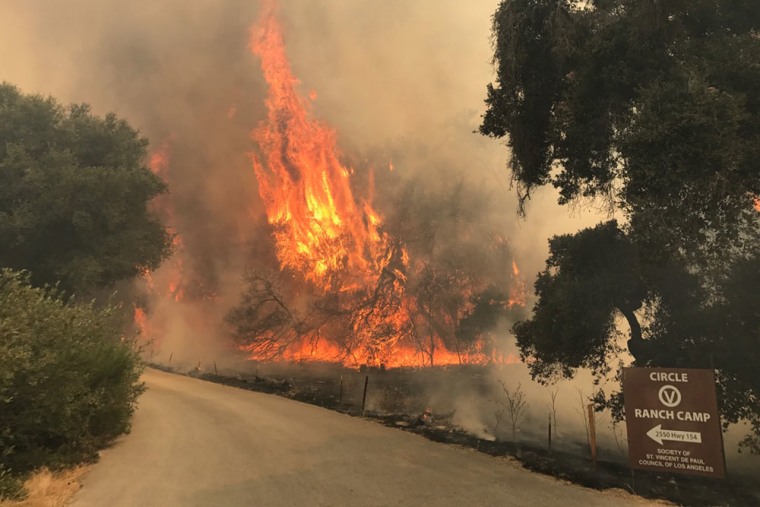 The campers were later evacuated and reunited with their families after what Peterson called a "rescue operation."
"They rode it out for hours, literally hours," he said.
Photos: Raging Wildfires Threaten Hundreds of Homes in California
Mandatory evacuation orders were in effect for the area around Highway 154. Incident commanders said anyone in close-by areas should be prepared to be evacuated quickly.
At least 400 firefighters were assigned to the fire, whose cause officially remains under investigation, although authorities said they believe it began with a vehicle fire.
Tom Horning, a camper from San Diego, said he had spent two days at Lake Cachuma, near where the fire burned, when his wife got a text asking whether he had been able to evacuate safely.
He said he looked off in the distance, saw the smoke and tried to head back away from the fire but was turned away at the highway.
"As far as other people were in danger of losing their homes, I mean we're kind of lucky," Horning told NBC affiliate KSBY of Santa Barbara. "All we have is our camping stuff."
North of Sacramento, in Butte County, 11,000 people were under mandatory evacuation orders and warnings over the so-called Wall Fire.
The blaze started on Friday afternoon, according to state's fire agency, and had swollen to 5,000 acres by Sunday. It was 17 percent contained.
Six people had been injured, including one firefighter, according to NBC affiliate KCRA. Ten unidentified buildings had been destroyed and more than 5,400 homes and other structures remained under threat, the agency said.
Gov. Jerry Brown declared a state of emergency in the county, saying that critical infrastructure had been destroyed and that the fire was beyond was local personnel could handle.
A third fire, known as the Alamo Fire, which was burning in San Luis Obispo and Santa Barbara counties, exploded to 24,000 acres on Sunday after it broke out on Thursday afternoon, fire officials said.
The fire remained only 10 percent contained as more than 600 firefighters sought to bring it under control, incident commanders said Sunday. No injuries had been reported.
The fires in Southern California burned amid record-setting heat. Highs were expected to remain above 90 throughout the week.