California Gov. Jerry Brown has launched a blistering attack on President-elect Donald Trump's stance on climate change, telling a gathering of scientists that he will do everything in his power to protect laboratories and advanced research.
In an address Wednesday to a conference of the American Geophysical Union in San Francisco, Brown abandoned all niceties in going after Trump, who has called climate change a hoax orchestrated by China.
Brown — whose defiant environmental advocacy during an earlier term as governor won him the nickname "Governor Moonbeam" — said reports that the Trump administration could end NASA's role in climate research were unacceptable.
"Some people need a heart attack to stop smoking. Maybe we just got our heart attack."
"If Trump turns off the satellites, California will launch its own damn satellites," he said.
But Brown also said Trump's campaign statements on climate change could serve as a shock to jump-start state and local efforts to push research forward with even more urgency.
"Some people need a heart attack to stop smoking," he said. "Maybe we just got our heart attack."
And his state will be at the front of the charge, said Brown, who promised to protect California's elite university-based research labs, like Lawrence Livermore National Laboratory.
Noting that he's president of the University of California System's Board of Regents, Brown declared: "Keep your hands off. That laboratory is going to pursue good science."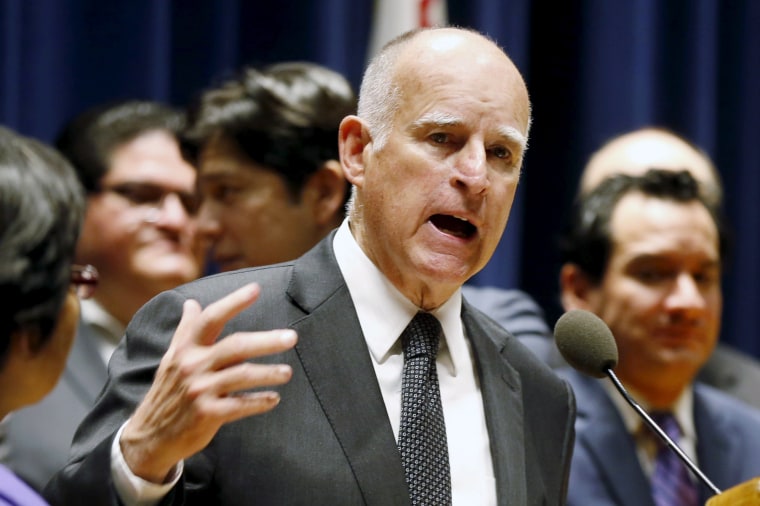 In case there was any doubt, he added: "We've got the scientists. We've got the lawyers. We're ready. California will continue in support of research."
Brown briefly veered away from his main topic to skewer Trump's nominee for energy secretary, former Texas Gov. Rick Perry, a fierce opponent of action to reduce carbon emissions. The two governors clashed in 2013, when Texas launched a radio ad campaign to lure California businesses to move to Texas.
"Rick, I got some news for you: California is growing a hell of a lot faster than Texas. And we've got more sun than you have oil," he said.