A campus police officer shot and critically wounded a knife-wielding 14-year-old student Wednesday during a confrontation witnessed by dozens of classmates at a Reno, Nevada, high school, authorities said.
The student, a boy, was listed in critical condition with a gunshot wound sustained at Hug High School, Reno Police Chief Jason Soto told reporters. He said the boy got into an altercation with a classmate and began threatening other students with a knife.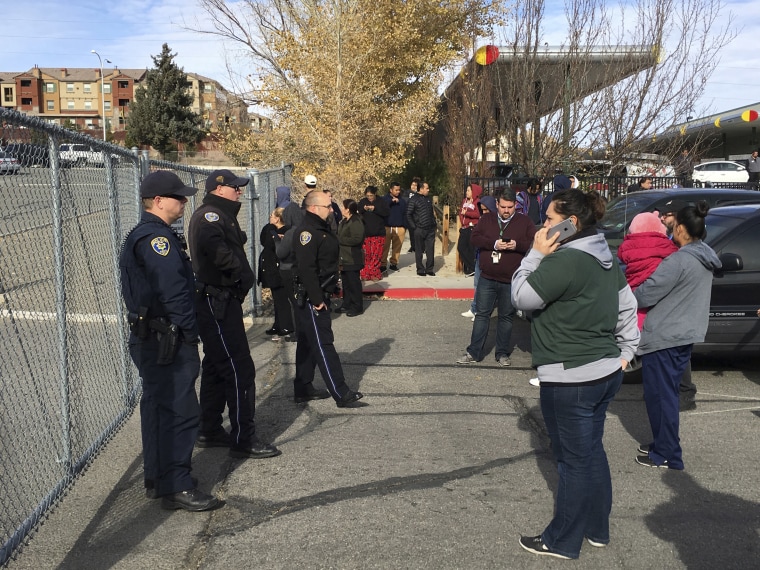 A lockdown was lifted by mid-afternoon, and all students were reunited with their families, Soto said.
In a Thursday news conference, Washoe County Schools Superintendent Traci Davis praised officers' handling of the shooting. "Had it not been for their quick actions and professionalism, I truly believe that the outcome could have been much worse for our students," she said.
She and schools police chief Jason Trevino declined to answer questions about the shooting itself, or about policies governing officers' firing their guns at or around students.
Trevino said the shooting was under investigation by the Reno Police Department, and he cautioned against drawing conclusions from videos that captured portions of the episode.
David Houston, a lawyer for the student's family, said there were still "many questions to be answered as to what happened and what could have been done to avoid the use of lethal force" during the incident.
"There are many questions that require answers," he added in the statement. "The family thanks all for their support and prayers. All matters will be fully investigated and all answers necessary sought out."
NBC News is not naming the student because he is a minor.
Robert Barragan told the Reno Gazette-Journal that two male fellow students were fighting outside the library before a police officer shot the knife-wielding student in the shoulder.
Reno police Officer Tim Broadway said more than 40 students witnessed the incident, including many who shot cellphone video that police want to see before the public.
"There's multiple videos out there," Broadway said. "There's some very disturbing video out there. But there are other events that led up to this incident, so please don't react to those."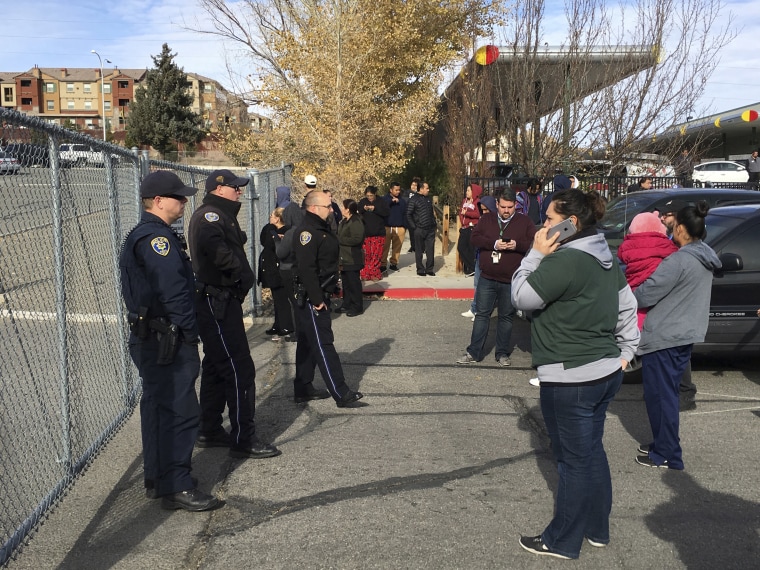 The Gazette-Journal reported that it reviewed video showing a student wielding a knife before being wounded.
DJ Laflamme, a friend of the student who was shot, told TODAY that teh boy was trying to defend another friend and had gotten hit .
"So he obviously wasn't swinging around knives for no reason. He was obviously defending himself," DJ Laflamme said.
His father, Demick Laflamme, told TODAY he was concerned about the school's handling of school safety more broadly — its handling of bullying and fights, and its use of armed officers.
"I think the police are way out of line for having lethal rounds at school," Demick Laflamme said.
The shooting was reported about 11:30 a.m. (2:30 p.m. ET) at the school on the city's north side, a few blocks from U.S. Highway 395.
The district issued a statement before 1 p.m. calling the campus "currently stable and secure with heavy police presence."
Hug High, which opened in 1968, is named for Proctor Ralph Hug Jr., a former teacher, athletic coach and Washoe County School superintendent who served as a state senator and a federal judge.