A program that educates officers about subconscious stereotypes is getting traction among police departments across the nation.
Hillary Clinton promoted the strategy earlier this week as a way to stop minorities from being unfairly targeted by cops — but research is still out on whether "implicit bias" training, which has only gained popularity in the last couple years, actually changes officers' behavior in a positive way.
Much of its success depends on how good the trainer is and whether police departments can afford follow-up assessments, experts say.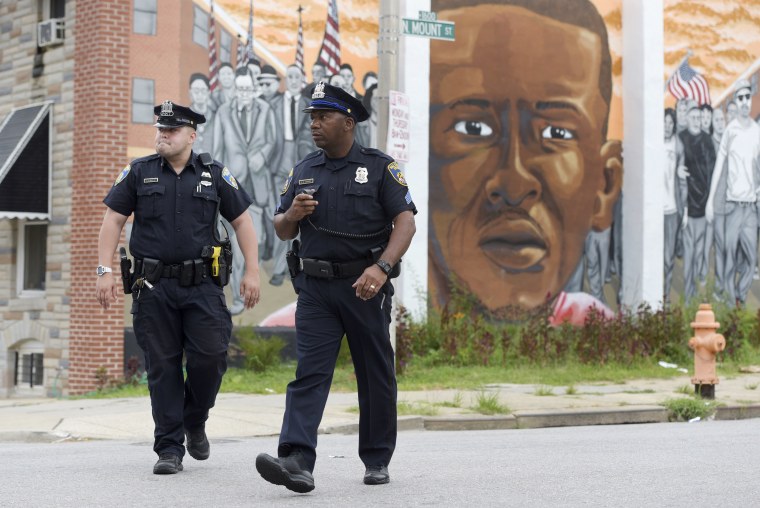 The concept is based on the notion that every person holds implicit, or subconscious, prejudices — even those in positions of impartiality, such as judges. (You can take an online test here to evaluate your own implicit biases.)
"We're all biased, but the consequences of our bias depends on the role we play in society," said Bryan T. Marks, a Morehouse College psychology professor and senior research fellow with the Campaign for Black Male Achievement, who has provided implicit bias training to police around the country. "There are certain roles in society where being biased has a bigger impact."
Being a police officer is one such role. During the first presidential debate on Monday, Clinton said she would put federal dollars toward implicit bias training for officers, "since it can have literally fatal consequences."
"When two concepts come together, we naturally start associating them to save time. We're trying to save energy."
The training doesn't aim to rid the mind of involuntary prejudices. Instead, it helps officers learn how to avoid acting on them. Marks said training can range from a half-hour presentation to a full-day course.
Our brains don't necessarily form implicit biases maliciously, said Phillip Atiba Goff, a leading social psychologist in implicit bias and the president of the Center for Policing Equity.
"When two concepts come together, we naturally start associating them to save time. We're trying to save energy," he said. "The problem is, sometimes when we do that, we have over-learned something that isn't always right."
Implicit bias training got a boost in 2014, when President Obama's task force on 21st century policing recommended it following the Ferguson, Missouri, fatal police shooting of black teen Michael Brown. Since then, departments from New York City to Los Angeles have implemented it, although there are no official estimates on how many nationwide have undergone training.
Even the police department in Charlotte, North Carolina — under fire for the recent shooting death of a black man, Keith Lamont Scott — had implicit bias training, a point of pride for the chief of the department who helped bring it to staff long before Scott's death prompted protests over allegations of racism.
Related: Why the Charlotte Police Chief Was the 'Least Likely' to Go Into the Force
It isn't clear how extensive training was for the Charlotte police officers. But one training doesn't necessarily erase prejudices, the experts say, especially if it's led not by a law enforcement agent, but by a coach or an academic who may not easily earn the trust of participants.
"If you've got a resistant room, they're not going to be able to say, 'No, really, this works,'" Goff said.
And preliminary research indicates even those who have been trained often return to their original biases over time.
"The training can move the needle on implicit bias temporarily. But the research shows for long-term impact, there needs to be ongoing engagement," Marks said.
For example, he said, if someone has been exposed to 1,000 associations of a black male criminal over a lifetime through movies, TV and music, but only 10 associations of a black male Ph.D, "It's more likely that their association with criminals will be activated because it's just more exposure. So one strategy to undo that is to expose oneself to positive associations to a particular group and association."
"We're all biased, but we can put checks in place."
Individuals can watch documentaries and different types of TV shows and expand their social groups to overcome learned biases, Marks suggested. As for police departments, they can bring implicit bias trainers back for future sessions and follow-up assessments to make sure the information sticks.
Related: Yale Study Finds Signs of Implicit Racial Bias Among Preschool Teachers
"The challenge is in terms of budget. They may not have the budget to bring us back once a month," he said.
Accountability is also crucial. Equipping officers with bodycams and publicly sharing data for how many traffic stops were made by each department by gender, race and neighborhood can help officers pause before acting on impulse.
"We're all biased, but we can put checks in place," Marks said.
Wade Henderson, president and CEO of The Leadership Conference on Civil and Human Rights, agreed that implicit bias training isn't perfect — but he told NBC News "it's a step in the right direction."
"It obviously doesn't resolve all problems with policing or for that matter, prosecution," he said. "I think there is a recognition that these training modules may have to be fine-tuned."