Becoming a newly minted millionaire comes at a personal price for many lottery winners: They lose their anonymity.
That's what California man B. Raymond Buxton sacrificed when he came forward Tuesday as the sole winner of the $425 million Powerball jackpot — following six weeks of staying in the shadows.
Buxton claimed his cash from the California Lottery without the fanfare of a news conference — even covering his face in a publicity picture with the standard oversized check.
Still, that will do little to stop friends, family and random acquaintances alike from trying to get a piece of his windfall, lottery experts say.
"If I could have done it (stayed anonymous), I would have."
"Everyone's different. Some people will enjoy this five minutes in the spotlight," said Jason Kurland, an attorney for three Greenwich, Conn., wealth managers who split a $245 million Powerball jackpot in 2011.
"But a lot of times, winners come to me and they're petrified. They don't know how to protect themselves from other people with their hands out."
California is among the majority of states that compel lottery winners to be publicly identified if they want to collect their cash.
Six states — Delaware, Kansas, Maryland, North Dakota, Ohio and South Carolina — allow winners to remain anonymous.
In a news release, California Lottery officials described Buxton as a Northern California retiree who came to their offices on April Fool's Day wearing a Yoda T-shirt that read, "Luck of the Jedi I have."
It was all part of a deliberate display that Buxton orchestrated after he realized he bought the winning ticket in the Feb. 19 drawing, according to one of his advisers, Sam Singer.
Singer remained tight-lipped on Buxton's life, but told NBC News that he's a "hardworking, middle-class American with a large family. He has a wonderful, charming sense of humor."
Buxton, a regular lottery player, had already purchased one ticket for the drawing, featuring one of the largest Powerball jackpots in U.S. history. He decided to buy a second ticket during a sandwich run at a Chevron gas station in Milpitas, north of San Jose. That one had the winning numbers.
Buxton chose to collect the cash option, which will leave him with $242 million before taxes. He told lottery officials he plans to use some of that money to start a charitable foundation focused on pediatric health, child hunger and education.
He'd also like to travel and go on a road trip with his family, Singer said.
"He said, 'I want to enjoy my family. I don't want to be like Ali G and come with cameras and be a spoof,'" Singer added.
While Buxton may decide to go public down the line, he wants to hold on to as much privacy as possible for now.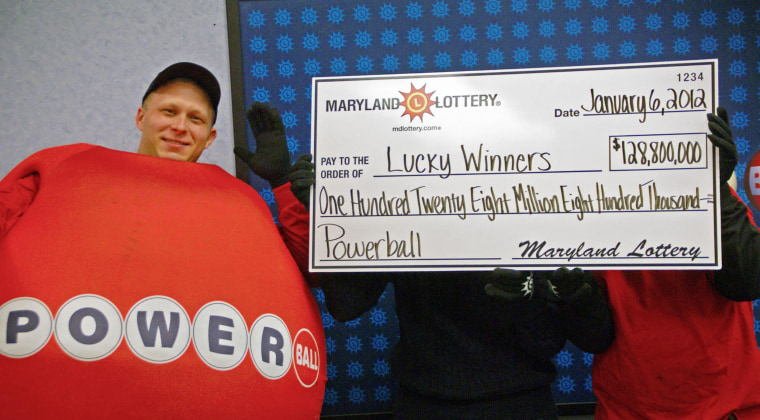 It's a sentiment that former lottery winner Mike Wittkowski can appreciate. In 1984, the then-28-year-old took home $40 million in the Illinois Lottery — a king's ransom at the time.
State law forced him to come forward in a news conference, although he was reluctant.
"If I could have done it (stayed anonymous), I would have," Wittkowski told NBC News.
As part of a deal with his family, he split the money with his father, brother and sister. Wittkowski agreed to be paid annually over 20 years.
"The average lottery winner is a blue-collar individual, and all of a sudden you give them tens of millions of dollars and you post their name across the world..."
But with his name and picture plastered on the news, he was a target. Someone called in a bomb threat to his home. At bars, people would expect him to buy a round of drinks. More than 1,000 letters from strangers trying to tug at his heartstrings were mailed to his home.
"I had a lady who wrote me a 21-page typed letter and said she was down to her last $20, but she sent it to me registered mail," Wittkowski told the Chicago Tribune in 2004, the year of his final lottery payment. "It cost her $19 just to send the letter."
Despite the near-daily badgering, Wittkowski's winnings changed his family's life for the better. He retired at 28. He and his wife invested properly, and were able to live off the money and send their children to college. For as long as he could, he never told his kids about his good fortune — the fewer people who knew, the better.
"It's so much better for your privacy and everything else, you get every crazy contacting you," Wittkowski said.
Other jackpot winners have had far more difficulty staying under the radar. Those are the "lottery losers," said attorney Andrew Stoltmann, who has represented millionaires after they've lost their money to con artists and in bad investments.
"The average lottery winner is a blue-collar individual, and all of a sudden you give them tens of millions of dollars and you post their name across the world, and then you expect them to act responsibly — it's an unenviable expectation," Stoltmann said.
"There are days I wish we were back to just getting paid every two weeks."
Some winners have squandered their earnings. West Virginia man Andrew "Jack" Whittaker, who won $315 million in a 2002 Powerball drawing, lost it all in about four years. His misfortune reportedly included thieves stealing $545,000 from his car and lawsuits over his gambling debts.
Kurland, the lottery lawyer, said new winners can try to limit their public exposure upfront. During news conferences, they should say as little as possible, he advised.
And in states where it's permitted, they can also form a limited liability company so that when a winner's name is reported, it's the LLC and not individuals being identified.
The attention is tempting for some.
Last August, when "Wild" Willie Seeley and 15 of his coworkers at an Ocean County, N.J., maintenance garage won a $450 million jackpot, they basked in the spotlight.
But a month later, Seeley lamented to NBC News that all he wanted was his old life back.
"There are days I wish we were back to just getting paid every two weeks," he said.