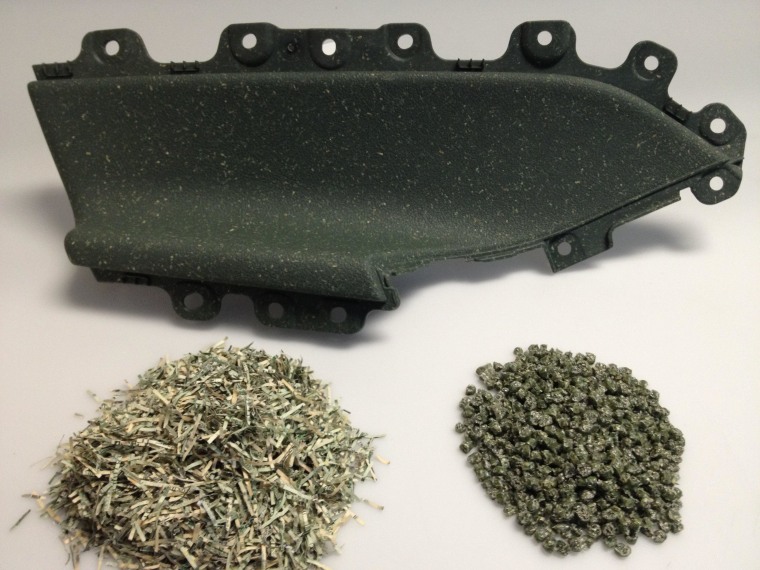 Ford has trumpeted its use of recycled materials in its cars in recent years – from soybeans in seat cushions to blue-jean material as a sound dampener. Ahead of Earth Day on Sunday, it's talking now about making some parts from millions of dollars in U.S. currency.
Ex-currency, that is.
"It's a very large waste stream that's untapped right now," Ford plastics researcher Ellen Lee told msnbc.com.
Prototypes of arm rests and interior trays have been done, and the research has included testing bills to make sure any residue -- "If you know what I mean," Ellen says -- doesn't affect production. To be clear, those residues are micro-organisms from bodily fluids as well as drug compounds.
The bills "should be totally fine," she adds, because the high temperatures used to turn them into fiber fillers for plastic parts take care of any residue. 
The move toward "biomaterial" like currency, and away from harsher material like glass fiber, isn't just about the environment. A key factor is the rising cost of petroleum, which is used not just to run vehicles but to make the plastics in them.
Ford notes that 300 pounds of plastic go into a typical Ford vehicle.
"Finding alternative sources for materials is becoming imperative as petroleum prices continue to rise and traditional, less sustainable materials become more expensive," John Viera, Ford's sustainability director, said in a statement.
At the Center for Automotive Research, a think tank in Ford's backyard, the biomaterials research by Ford and others, including major chemical companies, hasn't gone unnoticed.
It's about "petroleum independence," CAR President Jay Baron told msnbc.com. "They're positioning themselves for the future in case petroleum prices double."
Getting costs down is still a factor, he added, but "the cost will come down. You will see more and more biomaterials in the car."
Ellen says Ford hasn't calculated the overall savings from natural fibers, but the company did note that using soybeans saves it 5 million pounds of petroleum each year.
As for the retired currency, should it pass further testing it will join these unusual natural materials now in 2012 Ford vehicles: 
Blue jeans in Fusions: Those models have the equivalent of about two pairs of blue jeans as material to dampen road, wind and powertrain noise. The material is basically denim scraps from the clothing industry.
Soybeans in all models: Every vehicle built in North America uses soybeans in seat cushions and seat backs. Most also use soybeans in headrests. 
Kenaf in Escapes: Fiber from the plant is used in hidden material that reinforces the arm rest behind the door.
Scrap cotton in Escapes: Ten pounds of scrap cotton from clothing go into the Escape's dashboard.
Plastic bottles in Escapes: The equivalent of 25 recycled 20-ounce bottles is used in the Escape's carpet.
Plastic bottles in Focus Electrics: This all-electric car uses a wood-fiber-based material in its doors and recycled plastic bottles in its seat fabric.
Straw in Flexes: Wheat straw used in the storage compartment of the vehicle's third row.
Yarn in Tauruses: The interior suede is made from 100 percent recycled yarns.
That's not to say that every material, or experiment for that matter, pans out. 
"Labs full of the failed attempts still exist" at the company's R&D campus, Ford notes.
In the case of soybeans, early versions of seat cushions containing the plant "were fraught with problems," it says, including "strong odor."
So when might we be driving around with cash in our cars? Ford says there's a ready supply: 8,000 to 10,000 pounds of retired paper currency are shredded daily – more than 3.6 million pounds annually. The shredded money is either compressed into bricks and deposited in landfills, or burned. "It seems very promising," Ellen says. "It just needs some time for us to do our due diligence before it gets into vehicles."
More content from msnbc.com and NBC News: