/ Source: Associated Press
Cardinal Bernard Law, the disgraced ex-archbishop of Boston whose failure to stop child molesters in the priesthood sparked a global crisis in Roman Catholicism, died Wednesday in Rome, Vatican officials announced Wednesday. He was 86.
Law passed away "early this morning after a long illness," the Holy See said in a statement.
One of the most important leaders in the U.S. church until scandal led to his resignation, Law was hugely influential as a confidante of Pope John Paul II, and was a regular visitor to the White House under President George W. Bush.
But in January 2002, The Boston Globe began a series of reports based on church records that showed Law had transferred abusive clergy among parish assignments for years without alerting parents or police. Within months of the reports, which were recounted in the movie "Spotlight," Catholics around the country demanded to know whether their bishops had done the same.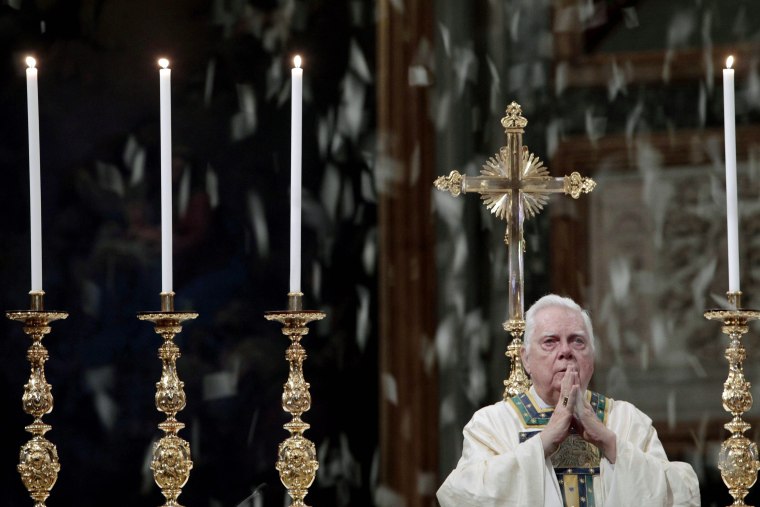 Mitchell Garabedian, an attorney who represented dozens of people who say they were sexually abused by priests, said Law's death has reopened old wounds.
"Bernard Law could have prevented many children from being sexually abused," he said in a statement to NBC News. "He knew what Father John Geoghan had done and he refused to notify the public. He refused to protect the innocent. Law's death is a reminder — his name is salt in the wound of many victims."
In the case that started the scandal, the Globe reported that Law and two of his predecessors as Boston archbishop had moved Geoghan between parishes despite knowing that he molested children. More than 130 people eventually came forward to say Geoghan had abused them. The archdiocese paid $10 million in settlements with 86 of his victims and their relatives even as Law was clinging to his job.
Alexa MacPherson, who says she was a victim of clergy sex abuse for six years as a child, had no words of sorrow at the news of Law's death.
"Good riddance to bad rubbish. I hope the gates of hell are swinging wide to allow him entrance," she told The Associated Press. "I won't shed a tear for him — I might shed a tear for everyone who's been a victim under him."
Law first tried to manage the crisis by first refusing to comment, then apologizing and promising reform. But thousands more church records were released describing new cases of how Law and others expressed more care for accused priests than for victims. Amid a groundswell against the cardinal, including rare public rebukes from some of his own priests, Law asked to resign in December 2002, and the pope agreed.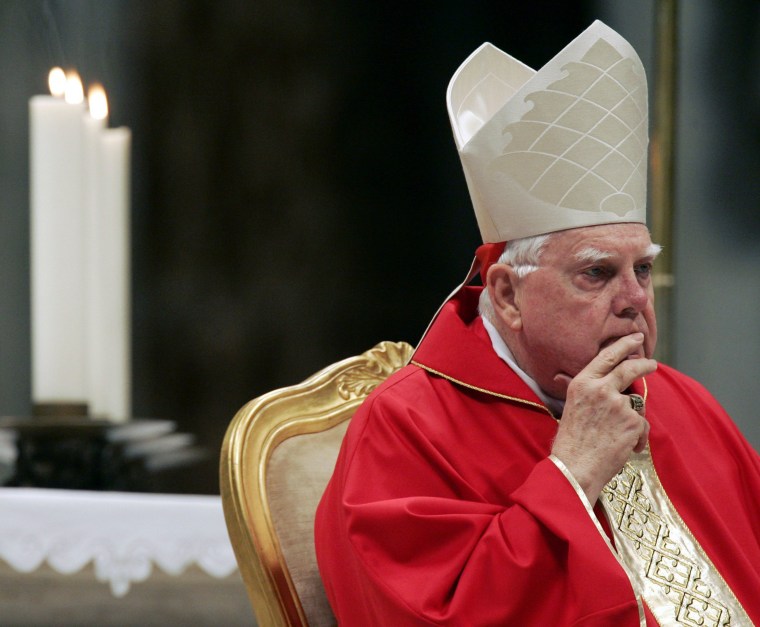 "It is my fervent prayer that this action may help the archdiocese of Boston to experience the healing, reconciliation and unity which are so desperately needed," Law said at the time. "To all those who have suffered from my shortcomings and mistakes, I both apologize and from them beg forgiveness."
However, MacPherson's mother, Barbara Sidorowicz, whose two sons were also abused, said she couldn't do that.
"I'm a person, I cannot ever turn my back on my faith, but I can't find it in my heart to forgive," she told the AP. "I cry over what happened to my children, but I can't cry over him. I can't even get myself to say a prayer for him. He should have been in jail."
Law retained some support in the Vatican.
In 2004, he was appointed archpriest of the Basilica of St. Mary Major, one of four principal basilicas in Rome. He continued for several years to serve in Vatican dicasteries, or policy-making committees, including the Congregation for Bishops, which recommends appointments to the pope. Advocates for victims saw the posts as a sign of favor for Law by church officials unrepentant about abused children.
Garabedian, the attorney, said many of Law's victims "are upset that he was not criminally prosecuted, but instead received a promotion to Rome."
The current archbishop of Boston, Cardinal Sean O'Malley, made a fresh apology to the victims of clergy abuse and said the church had "failed seriously in its responsibilities" in those cases.
"I deeply regret that reality and its consequences," he said in a statement. "Since the day I arrived in the Archdiocese of Boston, my primary objective has been to work for healing and reconciliation among survivors, their families and the wider community of Catholics for whom the abuse crisis was a devastating experience and a great test of faith."
He gave Law credit for being "deeply engaged in the civil rights struggle in our country" and for "visiting the sick, the dying and the bereaved at all hours of the night and day."
However, he acknowledged: "It is a sad reality that, for many, Cardinal Law's life and ministry is identified with one overwhelming reality, the crisis of sexual abuse by priests."
A Vatican news release on Wednesday briefly noted Law's role in the scandal but his official biography made no mention of it, instead recalling his "vast experience" in improving relations between the U.S. Catholic church and Judaism.
Alastair Jamieson reported from London. Anne Thompson reported from New York.