INDIANAPOLIS — It was raining in Indiana's capital city on the day Renee Elliott and millions of other blue collar Americans stunned the world by helping to elect a Manhattan real estate mogul the 45th president of the United States.
But all Elliott saw that day was sunshine.
As she waited patiently in line to cast her vote, Elliott said she was buoyed by the belief that Donald Trump would make good on his campaign pledge and prevent her job at the Carrier plant — the job that she said allowed her to escape an abusive marriage and live a modest but comfortable life — from being sent to Mexico.
Now, very soon, Elliott will be standing in another line — the unemployment line.
Elliott, 44, was one of the 215 workers at the Indianapolis plant who were given pink slips on Thursday. And to say she is disappointed by Trump would be an understatement.
"We all voted for him," she said of herself and her Carrier co-workers. "We just thought he was going to protect our jobs. It sounded really good. And then, boom."
Elliott doesn't know what she is going to do next. She has only a high school diploma to go along with the hairdresser license she earned before she got the job five years ago at Carrier, when she was studying to be a nurse.
"My five-year plan was to finish out nursing school and work on the line and take classes at night," she said.
What Elliott does know is that it will be hard to find anything that will match the $18-an-hour she made as a press operator at Carrier — and that whatever savings she had were eaten up raising two now-grown kids. Her 73-year-old mother, who had also been living with her, has moved in with her brother, who still has a job at Carrier.
"Being a paycheck away from being homeless is terrifying," she said.
Then there is the other psychic toll that Elliott is bracing for. That job was her life for five years. She fears she will never find the kind of camaraderie she found working at the plant.
"Being a paycheck away from being homeless is terrifying."
"We weren't just people who worked in a factory, we were a family," she said. "Everyone would go to Sully's or hang in the parking lot, and everyone will be playing dice or cards and drinking and talking about the day."
Elliott's fate was sealed long before she voted for Trump. The Carrier Company announced on Feb. 10, 2016, that it was closing its plants in Indianapolis and Huntington, Indiana, and moving the operations to Monterrey, Mexico.
It was during the first presidential debate with Hillary Clinton that Trump gave Elliott and her co-workers some hope that their lives and livelihood would be spared.
"We have to stop our companies from leaving the United States and, with it, firing all of their people," Trump declared. "All you have to do is take a look at Carrier air-conditioning in Indianapolis. They left — fired 1,400 people. They're going to Mexico."
The exact details of what was happening at Carrier were somewhat different. But the gist of what Trump said on national television electrified the workers on the Carrier plant floor.
Suddenly, there was a savior on the horizon.
Until that moment, Elliott said she didn't think much of Trump, the son of a wealthy real estate developer who was trying to cast himself as a working-class hero.
"When I first heard on the radio that he was going to run, you're thinking, 'He's a billionaire and so forth,'" she said. "And I was thinking, 'There's no way, but he's going to find a cause and pick it up and when he does he'll change things. And little did I know we'll be the cause."
Elliott said workers began showing up for their shifts in red Make America Great Again baseball caps and she started seeing Trump bumper stickers and posters everywhere.
After the election, there seemed to be even more reason to cheer when a triumphant Trump and his running mate Mike Pence, then the governor of Indiana, announced that they had worked out a deal with Carrier's parent company, United Technologies, to save "more than a thousand jobs right here in the head of the Heartland."
"Actually the number's over 1,100 people, which is so great, which is so great," Trump said.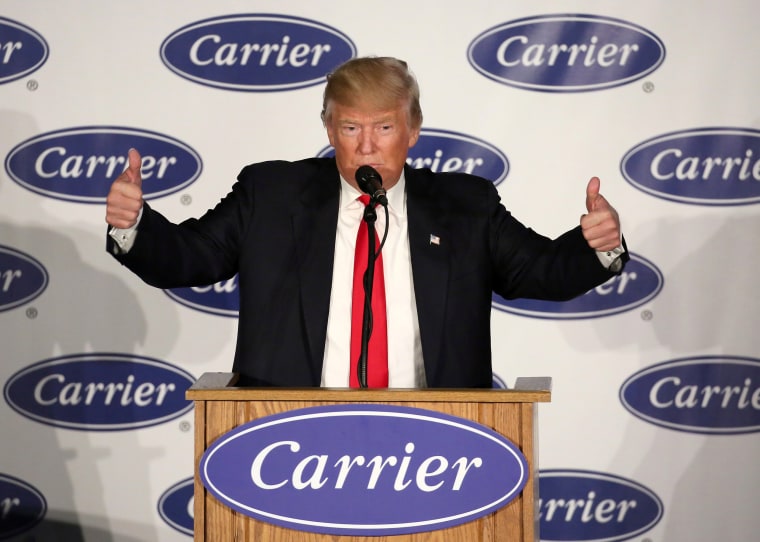 Chuck Jones, the tough-talking Local 1999 steel worker president who spent decades fighting the exodus of good-paying American manufacturing jobs to countries like Mexico, said he didn't buy what Trump was selling. Jones began working in the 1970s when 19.4 million Americans had manufacturing jobs, a number that had shrunk to fewer than 11.5 million when he recently retired.
"I didn't vote for Trump," he said. "And I kept on saying I think he's full of s---."
Privately, however, Jones hoped Trump would prove him wrong. He worked for the nearby Rexnord plant for more than 40 years before that operation was moved to Monterrey. And he knows a lot of the Carrier workers who had pinned their hopes on Trump. But as Trump spoke, Jones did the math.
"When Trump and Pence showed up here, they kept on referring to the fact they had saved over 1,100 jobs," he said. "The people in the crowd thought that everybody was going to have a job. They misled the people."
Jones said it was an especially cruel move because many of the Carrier workers had already made peace with the idea that layoffs were looming and were looking for other jobs.
"Then people went home that evening and told their families, 'Everything is going to be all right. President Trump saved our jobs,'" Jones said.
The Carrier plant in Indianapolis will have a work force of 1,100 people after about 215 workers depart Thursday, "completing the final phase of the previously announced plan to relocate fan coil manufacturing production lines," Ashley Barrie, a spokeswoman for United Technologies, said in an email to NBC News.
Also, Barrie added, the laid-off workers will "receive a one-time payment, severance pay and six months of medical insurance."
"Then people went home that evening and told their families, 'Everything is going to be all right. President Trump saved our jobs.'"
"Since the initial announcement, approximately 60 impacted employees have chosen to take advantage of the company's Employee Scholar Program and pursue degree programs," Barrie said. "In addition to reimbursing four-year education costs, Carrier has also reimbursed, and will continue to reimburse, technical training costs for those who prefer to pursue a vocational technical certification program."
Elliott said she was convinced her job was safe until some strangers from Monterrey showed up at the plant.
"Mexicans came in and some even came to me and asked questions, but I didn't want to talk to them," she said.
But other Carrier workers were forced to train those who would be doing their jobs for a quarter of the salary the Americans made.
"The Mexicans aren't our enemy," Jones said. "Pure and simple, corporate greed is driving it."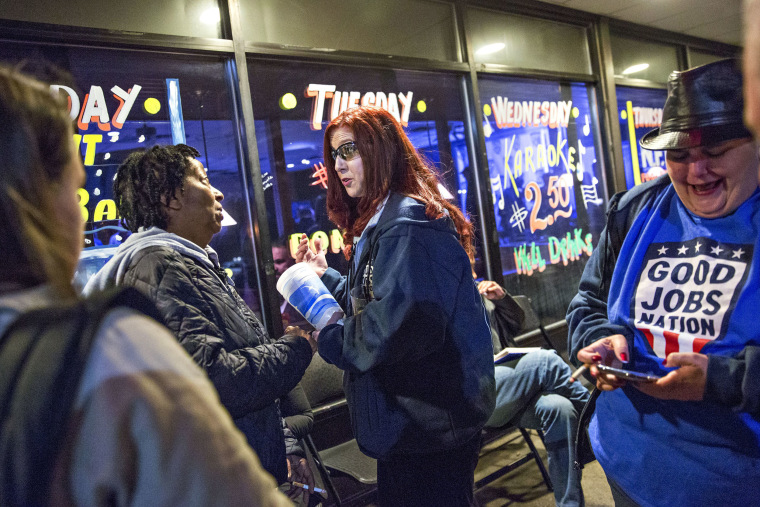 For Elliott, the first real confirmation that she was going to lose her job came when "our human resource girls comes around with a list of everyone employed there." She quickly figured out she didn't have enough seniority to survive.
"They are only going back to 2004," she said. "I thought, 'Wow, how could they do that to us?'"
Elliott said the dismay she was feeling spread across the plant. "There was shock and disbelief," she said. "My brother and sister-in-law work there, too."
They survived the cuts.
With her future now even more in doubt, Elliott said she went out on medical leave early in December with what doctors at first feared was congestive heart failure. She recovered and returned to work a week before she will leave the plant forever.
Elliott kept her tears largely in check throughout the interview, but she broke down crying at one point while she was talking about how the quality of the air conditioners and furnaces she built would suffer when production started in Monterrey. She said she fears a faulty unit may spark a deadly fire. A Carrier spokeswoman said all of their products would continue to meet the same set of standards for safety.
Elliott's pride in what she accomplished at Carrier, and uncertainty about what she will do now, were evident, too.
"I started as a production associate and it was at the bottom," she recalled. "I wanted to be more and I moved up and up and up, and I became a supervisor and that's like the highest (post) in the plant."
Come Friday, though, Elliott will be another unemployed American factory worker. "At my age, I don't have the confidence to start all over again," she said.
Bencosme and Heller reported from Indianapolis, Siemaszko from New York City