At least one person was killed and dozens of others rescued after record-breaking rainfall soaked the Dallas-Fort Worth area Monday, turning streets into rivers and submerging cars.
A 60-year-old woman died when her vehicle was swept away by floodwaters, Dallas County Judge Clay Jenkins said.
Jenkins, the county's top official, declared a state of disaster after more than 15 inches fell in 24 hours in one section of east Dallas.
"It grabbed my BMW, four doors down, and swept it," Brent Proctor, of Fort Worth, told NBC Dallas-Fort Worth. "It's already completely totaled out."
The region saw its second-wettest 24-hour period ever, with 9.19 inches of rain recorded at Dallas/Fort Worth International Airport between Sunday and Monday, the National Weather Service said. The record is 9.57 inches over 24 hours in September 1932.
One part of east Dallas recorded 15.16 inches, while others saw far less, according to the weather service.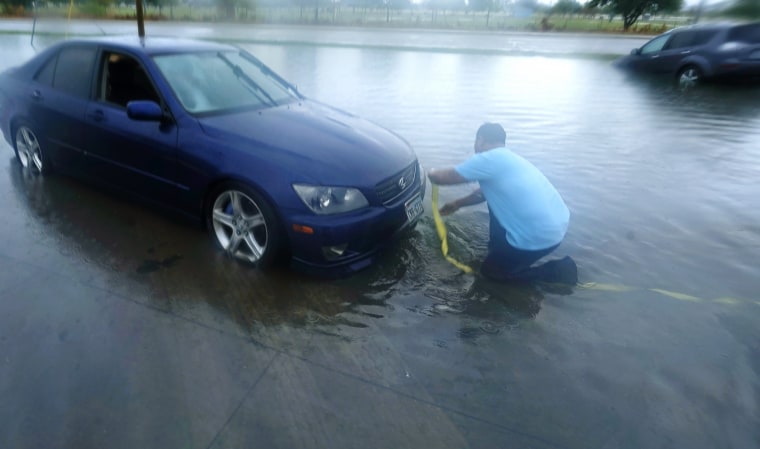 Jarring photos and videos on social media showed streets overwhelmed with water and cars submerged in window-high floods.
Interstate 30 was swollen with water in videos shared online, with tractor-trailer trucks and cars halted and some partly submerged early Monday in downtown Dallas, well before morning rush hour.
"I've been here over an hour. … I almost made it home," Jimmy Dede Mccoy said in a video livestreamed on Facebook before 4 a.m. Monday. "Everybody's already out of their cars stuck. That's [I-30] though, towards downtown. Looks like a river."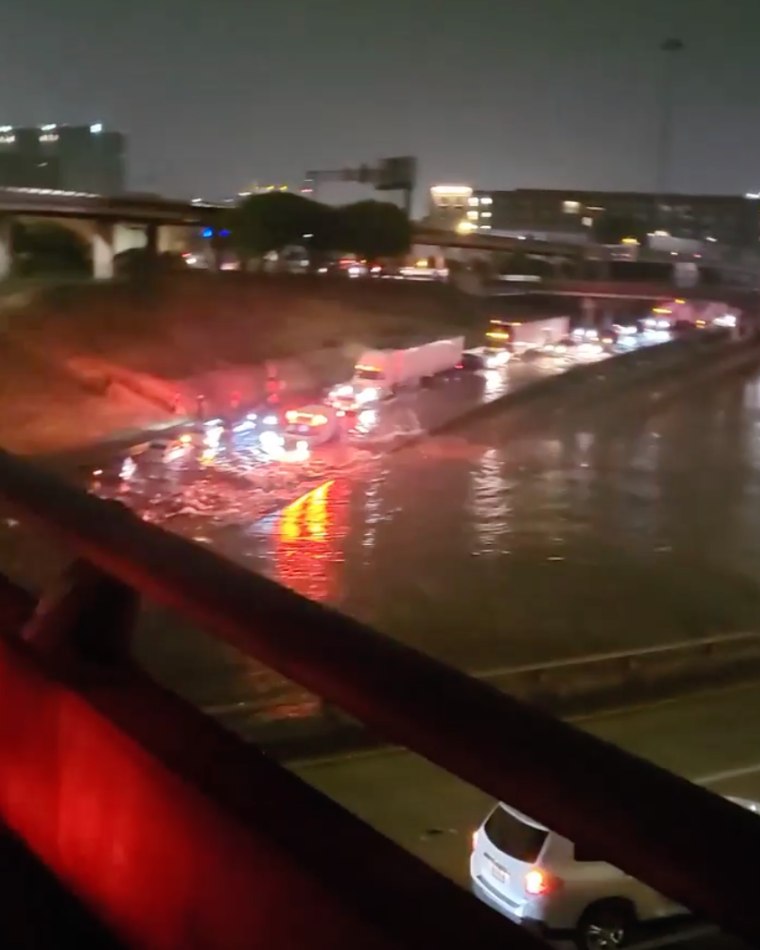 Dallas firefighters had conducted 94 water rescues and responded to 225 high-water incidents by Monday evening, a spokesman for the fire department said.
In neighboring Fort Worth, firefighters responded to 174 rescues and other high-water investigations, that department tweeted. "This is a day we won't soon forget" it said.
Flood watches stretched across Texas, from the Austin and into northern Louisiana and into parts of Mississippi on Monday evening.
The severe weather caused ground stops earlier Monday at Dallas-Fort Worth and Dallas Love Field airports.
There were 292 cancellations at Dallas Fort Worth International Airport Monday and 78 at Dallas Love Field, according to flight tracking website FlightAware.
The rain is expected to shift toward the lower Mississippi Valley later in the week, according to the weather service.
Heavy rain has been pouring down on some of America's driest areas in recent weeks. Texas is in a drought, and the Dallas-Fort Worth area has been nearly 17 inches below normal over the past 12 months, according to the weather service.
The eastern Arizona town of Duncan was overwhelmed by flooding Monday, prompting a "mass evacuation" in the 712-person community and a local state of emergency.
Earlier this month in Tucson, fire crews rescued 21 adults and a baby over a river canyon full of rushing water on Aug. 12.
In California's Death Valley National Park, flash flooding stranded 1,000 people in early August.