RIVERHEAD, N.Y. — The case against the suspect in the Gilgo Beach serial killings, Rex Heuermann, could grow to include other bodies found over the years along a stretch of the shore in Long Island, prosecutors said Wednesday.
Heuermann, 59, made a brief court appearance in Riverhead for the pretrial conference wearing a sport coat, a white shirt and tan pants.
He's already been charged with three counts of murder, in the alleged slayings of Melissa Barthelemy, 24, Megan Waterman, 22, and Amber Lynn Costello, 27. And prosecutors have previously said he's a prime suspect in the disappearance of a fourth woman: 25-year-old Maureen Brainard-Barnes, who vanished in 2007.
The women have been called the "Gilgo Four," in reference to Gilgo Beach, along the southern shore of Long Island, where bodies have been found.
"Now we have expanded our investigation to include other bodies recovered in that area," Suffolk County District Attorney Ray Tierney told the court.
Outside the courthouse, he declined to say when more charges could be filed against Heuermann.
"We're prepared to bring charges with regard to three out of the four 'Gilgo Four' victims," Tierney said. "We're working on the fourth Gilgo victim, and now we've expanded our investigation to include other bodies that were recovered in that area."
Prosecutors also revealed that a DNA swab from Heuermann, taken after his arrest, matched biological material from a male hair collected off burlap on Waterman's body.
Investigators had previously said they made the DNA match from pizza crust that Heuermann had allegedly thrown into a New York City trash can. Now the state claims it has DNA directly from Heuermann's mouth, linking him to the leftover pizza and Waterman.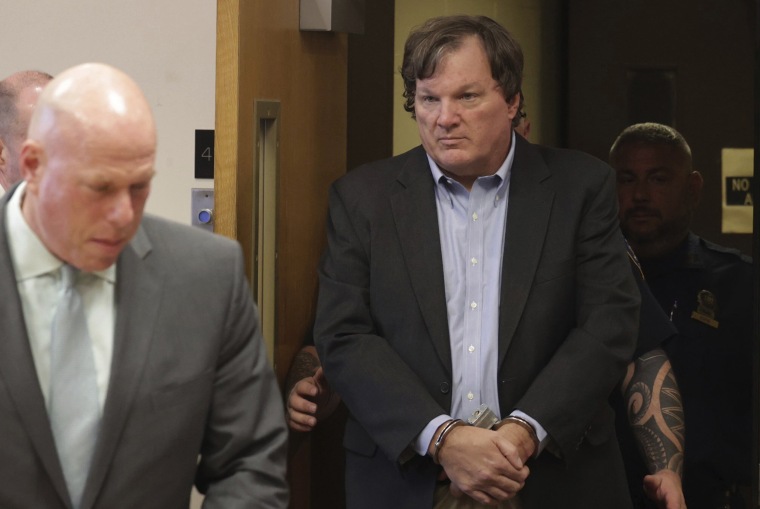 Defense lawyer Michael Brown downplayed the possible DNA evidence.
"DNA can be transferred from me going up to the cameraman and shaking his hand," Brown told reporters outside court.
Heuermann has been in custody since his arrest in New York City on July 13.
The suspect told the judge Wednesday that he's been reviewing the state's evidence against him for about two or three hours a day.
"From the beginning (he) has said he's not guilty," Brown said. "He's a fella who was working, has never been arrested, has a wife and children, is a productive member of society."
Since the end of August, prosecutors have given the defense about 13,000 pages of material that could be used against the architectural consultant from Massapequa Park, a village in Nassau County.
The defendant's next court appearance is set for Nov. 15.