There was no jubilation for John Delaney when Pennsylvania's attorney general released the results of a two-year investigation into allegations that hundreds of Catholic priests molested thousands of children in parishes in six dioceses.
The priest who Delaney said had raped him when he was a 12-year-old altar boy at St. Cecilia Parish in Philadelphia — along with several of his classmates — is long dead.
In fact, only two of the 301 "predator priests" identified in state Attorney General Josh Shapiro's report, which was released Monday, will face any criminal charges.
So Delaney, now 48, who has spent much of his life grappling with what happened to him, did what Catholic boys are taught to do in uncertain times — he counted his blessings.
"We knew when we went to the grand jury there was nothing criminally we could do," Delaney said in an interview on Wednesday. "It was more about getting the story out there, letting the people know what happened, so more people won't have to go through what we went through."
Another priestly sex-abuse survivor, Shaun Dougherty, 47, said, "It is a lifelong thing, you know.
"We struggle with suicidal thoughts," Dougherty said in an interview. "You don't try to think about killing yourself over a nice sunshiny day. And when you don't see a nice sunshiny day in years, this is what this is about."
But having the report out there does help because it confirms for the victims that they are not alone, he said.
"People like me, there are people who have been hiding under a rock since they were children, afraid to go outside, hard to brush their teeth," he said. "They're on social media. They're finding us. They're finding they're not alone. And they're speaking."
Dougherty said he was 10 when he was molested by his parish priest in Johnstown, Pennsylvania. But other than being branded a "child predator" by the grand jury, his abuser is untouchable because the statute of limitations has long passed.
For Mark Rozzi, a Democratic state representative from Berks, the report hit especially close to him. He says he was raped by a priest.
"Victims should have any amount of time to come forward when they're ready," Rozzi said Wednesday.
The U.S. church has said more than 17,000 people have reported having been molested by U.S. priests and other church figures since 1950.
For Mike Rezendes, a Spotlight reporter on the Boston Globe team that won a Pulitzer Prize in 2003 for uncovering abuse in Boston, the Pennsylvania report sounded familiar.
"This is the same old story. The depravity is the same. The criminality is the same," Rezendes said Wednesday. "The determination to cover it up is the same."
Dougherty is helping to lead the drive for change in New York, where he lives and where he said victims of childhood sexual abuse can seek justice from their alleged abusers only until their 23rd birthdays. He hopes the damning report will help turn the tide in their favor.
"If this report does not eliminate the statute of limitations, what is it going to take to do that?" he asked. "Are you going to have to bust into the rectory and catch a priest with two or three kids in his bed?"
Shapiro's report addresses six of Pennsylvania's eight dioceses — Allentown, Erie, Greensburg, Harrisburg, Pittsburgh and Scranton, but not Altoona-Johnstown or Philadelphia, where Dougherty and Delaney grew up.
Still, for two Irish Catholics who say they were punished by disbelieving parents when they told them what happened, the report is another bitter "I told you so."
"When I told my parents what happened to me, I was treated like s---," said Delaney, who now works as an advocate for SNAP, the Survivors Network of those Abused by Priests. "My dad actually slapped me. They thought I was a liar."
In an interview last year, Dougherty said his mother didn't believe he was molested until she saw the priest's photo on the front page of their hometown paper, along with a story about how he raped other boys.
Both men said the damage the priests have done not only wrecked their lives but also affected the lives of everyone they love.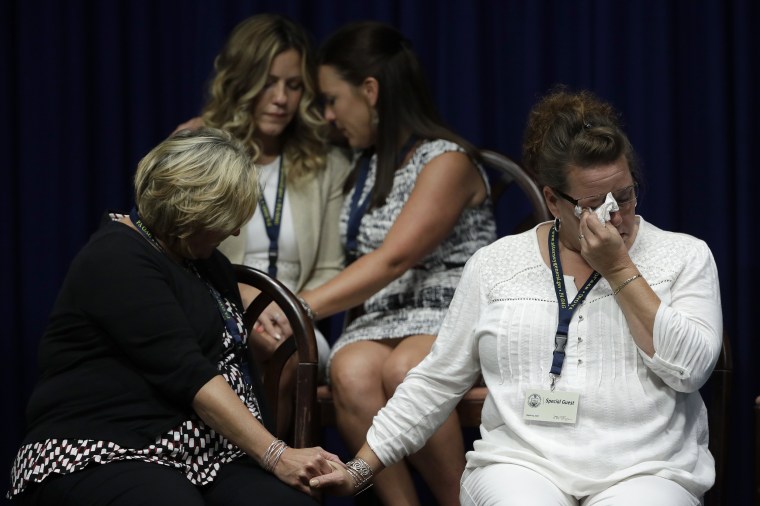 "Broken relationships, ruined marriages, drug and alcohol abuse — this is what happened to me, to a lot of us," Delaney said.
Delaney said he buried two close friends who were also victimized by their parish priests — one of them a suicide, the other the victim of a fatal drug overdose. He said he still struggles with the anger.
"I used to go to bars and try to fight to biggest guy I could find," he said. "There is damage that can never be repaired from this. It feels really good to talk about it but really bad at the same time. I can't explain it."
An attorney for the dioceses of Harrisburg and Greenberg said in a statement to NBC News on Tuesday: "The Dioceses I've gotten to know so well over the past two years are incredibly sorry for the harm to these survivors.
"But the Catholic Church discussed in the grand jury report no longer exists, and hasn't existed for a long time," said the lawyer, Matt Haverstick. "Today's Church has listened and learned from its mistakes, and its reforms over the past two decades keep children safe."
And the current bishop of Pittsburgh, David Zubik, repeatedly apologized to victims at a news conference Tuesday night. But he said diocesan leaders did what they thought was right with the information they had at the time.
"There was no cover-up going on," Zubik insisted.
Delaney, who now lives in Knoxville, Tennessee, said he felt a pang when he read reports about how Ohio State University wrestlers were allegedly abused by team doctor Richard Strauss and their coaches failed to protect them.
"It's so hard to come forward, because you don't know anybody is going to believe you," he said.
He said his experience at the hands of predatory priests shattered his faith.
"I believe in something, but it's not the God they told me to believe in," Delaney said. "I still say the same prayer I was taught in Catholic school before I go to sleep at night. I still wear a cross around my neck, and I don't know why. But honestly, I don't think Jesus would be protecting priests who prey on children."