Hundreds of supporters — many of them armed — showed up to protest the federal government's decision to round up cattle from land in Nevada a rancher says he owns, prompting the feds to surrender the animals, for now.
"Get off our land, period. Give us back our property," said Ammon Bundy, whose father, Cliven Bundy claims his family has the right to allow more than 400 head of cattle to graze on acres of ranch he says are his.
The Bureau of Land Management began corralling the livestock outside Mesquite, Nev., last week, but agents were met by resistance by hundreds of protesters, fighting for what they consider states' rights.
"I'm willing to lay my life down," said one man who declined to be named, but showed up with an AK-47 hanging by his side.
One protester was shot at by law enforcement officials with stun gun. Ammon Bundy said the federal agents were the "aggressors."
"They had the Tasers, they had the weapons, they had the dogs, and we had nothing but us," he said.
"No cow justifies the atmosphere of intimidation which currently exists."
The dispute over the land spans generations — "My grandpa fought for this. I'm going to fight for this," said Cliven Bundy's sister, Margaret Houston — and it's not over yet.
The cattle have been grazing illegally on the property for decades, according to the BLM. "Mr. Bundy owes the American taxpayers in excess of $1 million," a statement by the bureau said.
Forty-five million acres of public rangeland are designated for grazing in Nevada, but cattle owners must have a permit for the land they use and pay fees, according to the BLM
"The courts have ruled that his cattle are in trespass, the courts have demanded that he remove his livestock," State Director of the Nevada Bureau of Land Management, Amy Lueders, told NBC News.
"We remain disappointed that Cliven Bundy continues to not comply with the same laws that 16,000 public lands ranchers do every year," national BLM Director said in a statement.
The cow row came to a head on Saturday when the feds said the protesters blocked the streets and threatened their agents.
"My grandpa fought for this. I'm going to fight for this..."
Kornze said authorities decided to release the cattle "because of our serious concern about the safety of employees and members of the public."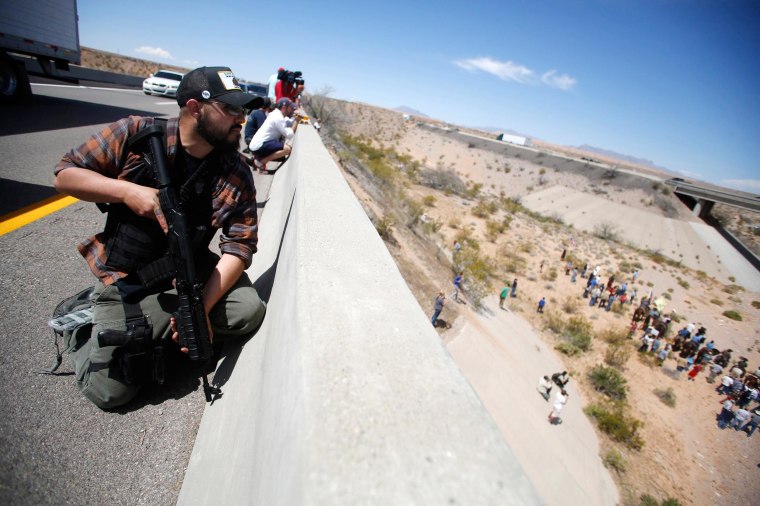 Nevada Governor Brian Sandoval said Saturday, he was concerned for the safety of the public and government officials involved in the dispute, and he was glad the BLM yielded.
On April 8, Sandoval said the move by the BLM was "offensive" and called the land a "First Amendment Area."
"No cow justifies the atmosphere of intimidation which currently exists nor the limitation of constitutional rights that are sacred to all Nevadans," he said.