The voice on the phone told Addis Thompson that his local sheriff's office in Macon, Georgia had a warrant for his arrest. Thompson had missed jury duty, said the man, who identified himself as an officer. Thompson could pay a fine, or go to jail.
"Being an old man," said Thompson, who is 78, "I don't want to go to jail."
What Thompson didn't know was that the caller himself was in jail — he wasn't a sheriff's deputy, but, allegedly, a convicted coke dealer serving 30 years at Georgia's Autry State Prison. And Thompson, who forked over $734, is just one of many victims across the country who've been targeted by cellphone scammers inside Autry. Law enforcement officials in California, New Jersey and Georgia told NBC News they've traced "jury duty" calls to the prison.
More than 90 percent of American adults have cellphones, and sometimes it seems like everyone in prison has one, too. Georgia, the nation's fourth-largest state prison system, last year confiscated more than 13,500 phones — about one for every five prisoners.
"Everyone has one or has access to one," said Sarah Geraghty, a senior attorney with the Southern Center for Human Rights, which last year issued a report on widespread violence in the Georgia prison system. "That's not okay. That's not acceptable, for so many reasons."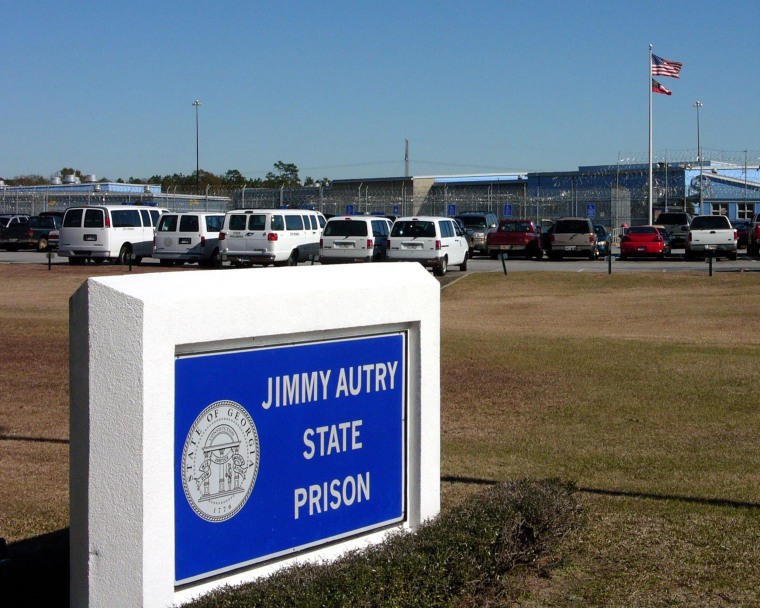 Cellphones serve as lifelines for prisoners, who use them to communicate with loved ones when they've had privileges taken away, or can't afford to use a prison's phone. Until the FCC stepped in recently, the private contractors who provided officially sanctioned phone service for most prisoners were allowed to charge high fees — sometimes more than a dollar per minute.
But the soaring number of cellphones inside cellblocks has facilitated violence and criminal enterprise on both sides of the bars, according to interviews, incident reports and internal documents reviewed by NBC News. In addition to "jury duty" scams, Georgia prisoners have used mobile phones to extort the families of fellow inmates, texting pictures of bloodied inmates to their relatives outside and threatening harm unless families send cash. And while prisoners — who will pay up to $1,000 for a phone — have used everything from soda cups to drones to get them onto prison grounds, experts say many are brought in by guards.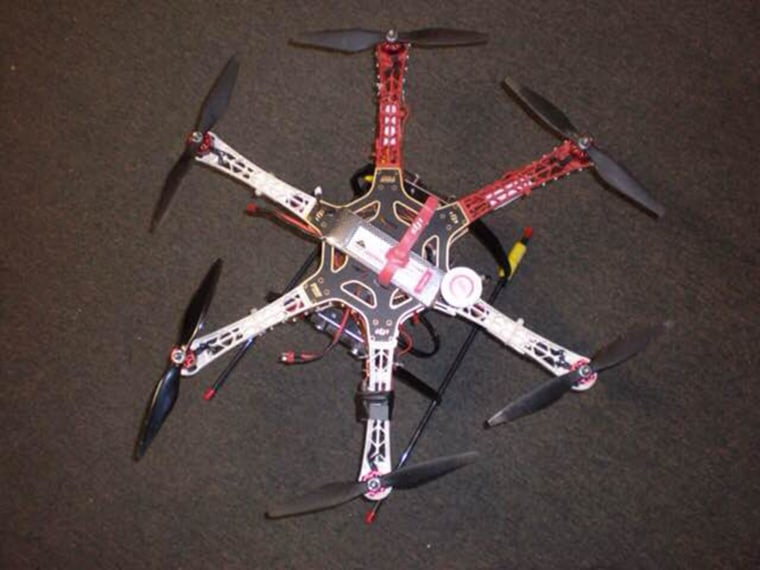 Terry Pelz, a corrections consultant and former warden, called phones "very dangerous contraband. ... They're really used as an instrument to further criminal activity."
Prisoners' advocates say that Georgia's ongoing contraband cellphone problem is indicative of a systemic failure by the Department of Corrections to control its prisons.
Gwendolyn Hogan, spokeswoman for the Georgia Department of Corrections, said in an email that "the Department does not tolerate contraband and takes very seriously its mission of protecting the public and running safe and secure facilities."
Hogan said the DOC has installed body scanners, mobile phone detectors and infrared cameras to vet prison staff and visitors for contraband.
According to Geraghty, however, Georgia hasn't "been able to make much of a dent" in its prison phone problem.
'You've Been Had'
When Addis Thompson got that call in February 2014 from a man claiming to be a sheriff's officer and saying he'd missed jury duty, Thompson told the man he'd never received a summons or been in trouble with the law. But the "officer" insisted it was true.
"They said, 'Mr. Thompson, well, all I've got is an order here to pick you up. You owe us $734."
The man told him the only form of payment the sheriff's office could take was a card known as a "Green Dot," a reloadable cash card available at most drug stores. The man wasn't rude, but he was persistent.
"Just as nice as could be," said Thompson. "Honey flowed out of that person's mouth like it was nothing."
Thompson stayed on the phone with the man, switching from his landline to his cell as he went to a Walgreens and put $734 on two cards.
But when the man asked for the account numbers on the back of the cards, Thompson hesitated.
"I finally gave them the number, and all of a sudden, the phone went dead," he said.
When he went down to the sheriff's office that afternoon, "They said, 'It sounds like you've been had,' " Thompson said.
Detectives from the Bibb County Sheriff's Office quickly followed the money. Willie Johnson Jr., serving 30 years at Autry State Prison for cocaine distribution, had allegedly moved the cash from the Green Dot card to a prepaid Visa owned by his brother's girlfriend. Johnson then allegedly called his brother, who moved some of the money onto more prepaid cards and spent the rest at barbecue joints and convenience stores. All three people were charged with account fraud and Willie Johnson was charged with impersonating a police officer. No indictments have yet been filed.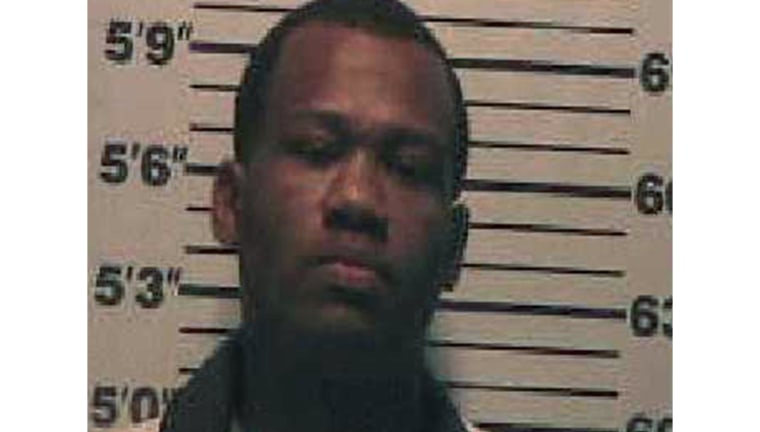 When he found out the scam originated from inside a prison, Thompson was shocked. "It was just unbelievable, that prisoners have the access to phones to do something of that nature," he said. "How can this happen?"
The Green Dot cards made it easy for accomplices outside prison to launder the money and then steer the proceeds to the inmates.
Sgt. Daryl Bagnuolo of the Bergen County Sheriff's Office in northern New Jersey learned about the laundering when he heard about local victims of the jury duty scam and decided to follow the money. Several county residents reported receiving calls from someone posing as an officer from Bagnuolo's department, and demanding they pay up or face arrest. At least one of the victims had sent money via Green Dot.
Bagnuolo found that the money moved quickly from one Green Dot MoneyPak card into another account, generally a pre-paid credit card, then back to a new Green Dot. The laundering process was meant to make the trail go cold.
Bagnuolo said it became common enough that perpetrators had a name for it: "Wash those Dots." In the Bergen County case as in Thompson's, the "washing" didn't work, and the trail led back to Georgia's Autry prison.
The Georgia Department of Corrections told NBC News it could not comment on the "jury duty" scams because they are currently under investigation. A spokesman for the U.S. Secret Service said the agency had been assisting the DOC with the probe.
Contraband Networks
Experts say that despite security measures, contraband can be snuck into prisons in a variety of ways — by corrupt staff, contractors, visitors and the inmates themselves.
"Cellphones do not grow on trees, nor do they fall out of the sky," said Manuel Romero, a corrections expert and consultant.
According to interviews with former correctional officers, Georgia inmates go to great lengths to smuggle phones into prisons. Phones have arrived hidden in the boxes of food, toilet paper, and other basics that get delivered daily to Georgia prisons. But inmates and their accomplices often find more creative ways to get around prison security, from sticking phones into Nerf footballs and spiraling them over prison gates, to flying drones over prison yards.
The Georgia Department of Corrections houses 57,000 prisoners. DOC records show that in 2014, the agency confiscated 13,521 phones, up from 4,826 in 2011.
By comparison, officials in California, which has the nation's second largest corrections system and about twice as many inmates as Georgia, told NBC News that last year they confiscated 10,427 cellphones. Florida, the nation's third-largest state prison system, uncovered about 4,200 last year. Texas, the largest system in the nation at about 149,000 prisoners, confiscated just 628.
One former correctional officer at Ware State Prison in Waycross, Georgia said that when he first began work in 2006, cellphones were rarely a problem. By the time he left in 2014, prison officials "were finding a cellphone every day."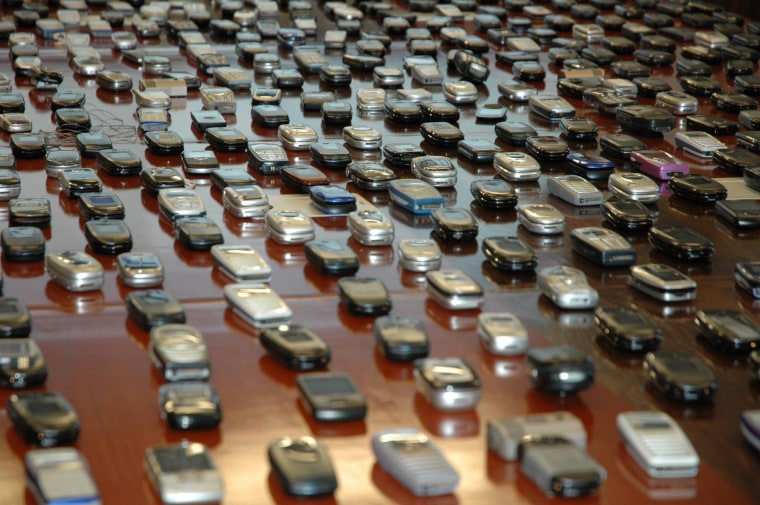 The officer, who asked to remain anonymous, said that during his tenure, one or two officers were assigned to supervise 100 inmates, and the spread of cellphones made them harder to control.
"They've got eyes and ears everywhere," the former officer said of inmates. "You lock one of the leaders in lockdown, he's going to get word out to their followers. It's really, really hard to contain it."
But the guards are often the source of the phones used to watch them. A review of Georgia DOC press releases shows that at least 15 DOC employees were arrested for bringing phones onto department grounds in 2013 and 2014. Prisoners reportedly pay hundreds and sometimes more than a thousand dollars for phones worth a fraction of that outside. Some point to understaffing and low employee salaries as a factor in the contraband problem. Starting pay for a Georgia officer is just $24,300.
A correctional officer was even implicated in a cellphone "jury duty" scam as the alleged "dot washer."
In the Bergen County, New Jersey case, officers found surveillance video showing Clarinda Carter transferring money from the Green Dot cards to a prepaid Visa in her name.
Carter, a correctional officer at Wheeler Correctional Facility, a private prison in Alamo, Georgia, had been moving the money for Covian Camp, a prisoner at Autry prison. Bagnuolo had traced the phone calls that had scammed victims to a tower near Autry.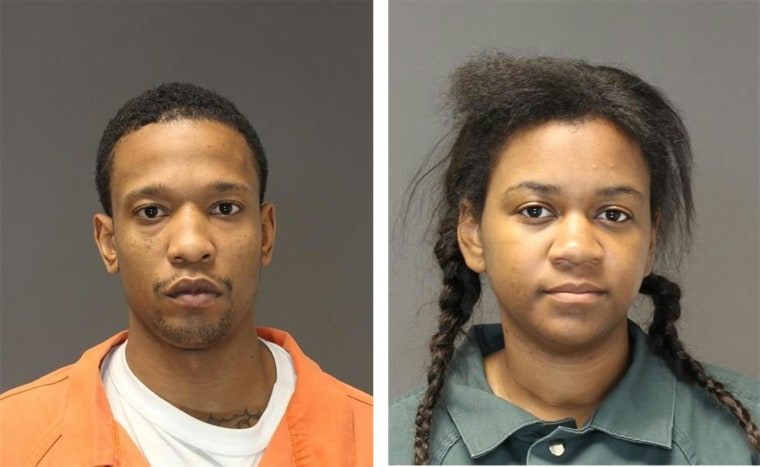 Carter, who was arrested in May 2014, admitted moving money for Camp, and described him as her boyfriend. She said she had met him when he was incarcerated at Wheeler.
The Georgia Department of Corrections raided Camp's cell and found his phone, and the Bergen County Sheriff's Office arrested both Camp and Carter on charges of theft by extortion and impersonating an officer. The pair were also charged in Mississippi. Officials in 12 states have received reports from potential victims.
While the jury duty scam perpetrated by Willie Johnson, Jr., has not publicly been connected with Camp and Carter, Bagnuolo said he believes the pair belonged to a wider ring.
"There are definitely a lot of other guys in the prison involved in this," said Bagnuolo. "It's bigger, I'm sure, and broader than I know."
Green Dot discontinued its MoneyPak PIN product in early 2015 after widespread complaints of fraud. "The product was just too prone to that kind of abuse and we decided to get rid of it," said the company's CEO at a February investors' forum.
The company also said in a recent filing that it believed dropping the product would "lead to benefits in customer service, fraud charge-off rates and brand reputation."
Threats of Violence
Families of prisoners have also become prey for extortion by cellphone. News reports and records obtained by NBC News shows the practice stretches back years.
On the night of November 6, 2012, an officer at Georgia's Baldwin State Prison heard banging on a dorm door. There he found prisoner Robert Dennis.
Dennis, who is serving a life sentence for murder, had transferred into Baldwin that day. According to a federal lawsuit filed against the prison, Dennis told officials at Baldwin that he feared a "hit" on him had been forwarded by cellphone to gang members at Baldwin. He asked to be housed in protective custody. Instead, he was assigned to the notorious M dorm.
Within 20 minutes of entering the dorm, the complaint states, a gang of prisoners attacked. They tied Dennis hand and foot, and took him to the bathroom where he was blindfolded and beaten. They broke his nose and hands. They pummeled his chest, back and ribs.
The attackers snapped photos of his injuries and allegedly extorted Dennis' family via cellphone — send money, or the beatings would continue. According to the suit, Dennis' then-girlfriend sent $1,000 via Green Dot. When the attackers received the money, they untied Dennis and escorted him out of the dorm. An officer found him banging on the dorm door with an "abrasion on his nose," according to a DOC report. Dennis was taken to a local hospital for his injuries. He returned with casts on both hands.
This came just weeks after the brutal beating of Wayne Shaw, a fellow prisoner at Baldwin. On the night of Oct. 2, Shaw's wife got a text message demanding $1,000, she told the the Atlanta Journal Constitution. When she could not raise the money demanded, the AJC said she received a picture of her husband with the word "RAT" carved into his forehead, as well as burns and broken fingers. Department records show Shaw was taken to the emergency room with "lacerations to the face, chest and back." As with Dennis' attack, the DOC classified the Shaw incident as "minor."
After returning from the hospital, Shaw was put in segregation for protection. He was later joined by Dennis, whose claims were part of a lawsuit filed by another prisoner housed in the same segregation unit. A judge removed Dennis' name from the suit in late 2013 because Dennis had not signed the filing.
Around the same time in 2012, Gloria Rodriguez told the Chattanooga Free Times she was texted pictures of her boyfriend, imprisoned at Hays State Prison. The images showed Derrick Stubbs was being "strangled with a T-shirt, a shank to his head." She was told to send $300. She scraped together and sent more than half the money, she said, but on December 19, 2012 he died in protective custody after being severely beaten.
"I feel like it's my fault," Rodriguez told the paper. "I should have called [to report it.]"
An incident report from July 2013 obtained through an open records request indicates the problem stretches throughout the system. Prisoner David Montgomery reported to officials at Ware State Prison in southern Georgia that he had been repeatedly assaulted over several days, and that his family had been receiving calls harassing them to send money via Green Dot cards. Officials noted, "inmate alleges that last week his mother sent $75 and his wife sent $50."
Geraghty of the Southern Center for Human Rights said families and inmates first began to contact her office about violence and extortion around 2012.
"We started to get these calls and letters about people being extorted through cellphones," said Geraghty. "The threat is, call your family member and tell them to pay $500 on this prepaid credit card, or something else will happen to you."
In an email to NBC News, the Georgia Department of Corrections said it takes these accusations seriously. According to the DOC, its Office of Investigations and Compliance has investigated eight allegations of extortion since January 2013. One of those was substantiated. Currently, the Office has two open extortion cases.
The DOC declined to comment on Dennis's lawsuit since the other plaintiff is still suing and the suit remains active. The state of Georgia says the remaining plaintiff, who was also attacked by other inmates, has not established that the DOC showed "deliberate indifference" to the possibility that he would be harmed.
Meanwhile, said Geraghty, the cries for help have not stopped.
"I understand that you cannot prevent every single thing from coming into the prison system," said Geraghty. "But we are at a point where we're talking about basic security measures that are not being followed."