Democrat Cesar Chavez — the former Republican formerly known as Scott Fistler — was thrown off the congressional primary ballot Tuesday in Arizona because of invalid petition signatures.
The Arizona secretary of state's office confirmed Tuesday night that Chavez would be removed from the ballot after Maricopa County Superior Court Judge John Rea ruled that more than 700 signatures on the candidate's ballot petition, or almost half, were invalid.
Sign up for breaking news alerts from NBC News
Many of the signatories didn't live in the 7th District or weren't registered to vote, Rea found.
"It's almost as simple as saying Elvis Presley is running for president," Chavez said after he legally changed his name last November before filing to run as a Democrat in the heavily Hispanic 7th Congressional District, which includes Phoenix.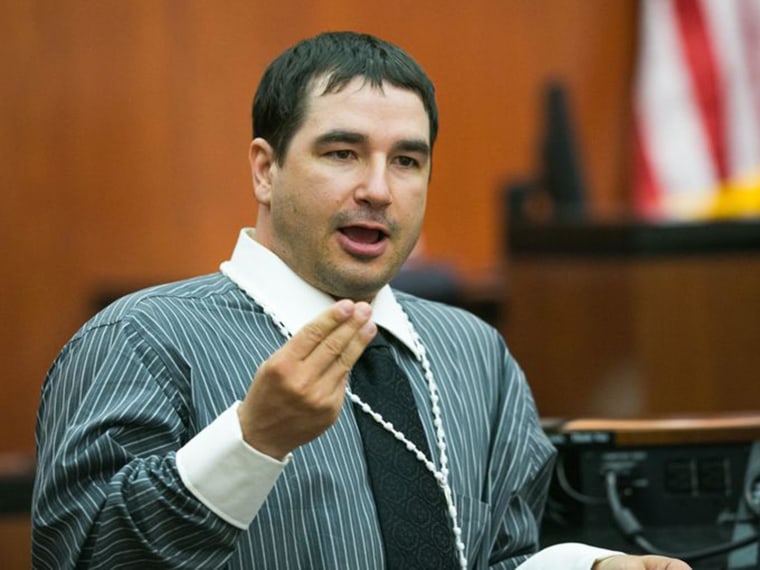 "You wouldn't forget it, would you?" he said then.
Maybe not, but apparently it was easy for Chavez to forget to check out who signed his election petition.
The lawsuit was filed by Alejandro Chavez, the grandson of the real Cesar Chavez, the labor leader who co-founded the National Farm Workers Association, who claimed Fistler was trying to deceive voters by becoming Chavez.
But Chavez — who lost a previous election under his birth name to Democratic Rep. Ed Pastor, who is retiring from Congress — insisted the name change had nothing to with the late civil rights leader.
"He's been dead for 20 years, people, and I'm not dead," Chavez told NBC station KPNX of Phoenix.
He told the station he chose the name because "I like Julio Cesar Chavez," the six-time world boxing champion.
On his election blog, Chavez wrote Tuesday that "the word 'have' is in the middle of Chavez. We have a choice."
In the posting — which misspelled Judge Rea's name — the candidate accuses the news media of spreading "hate-filled propaganda about a candidate they have never met."
He has until June 27 to appeal the ruling.