A two-time world champion air racer was identified Monday as one of two people who were killed when their small plane crashed Sunday in San Bernardino County, California.
Mike Mangold, 60, of Victorville, California, was the top winner in the history of the Red Bull Air Race series, in which competitors race the clock while navigating an obstacle course. Mangold, a former Air Force pilot, won the competition's world championship in 2005 and 2007, said the sport's sponsor, Red Bull GmbH, which announced his death Monday.
The other victim hasn't been publicly identified.
The jet, an Aero L-39 high-performance training aircraft, was taxiing down the runway for takeoff at Apple Valley Airport when witnesses saw flames coming from its engine.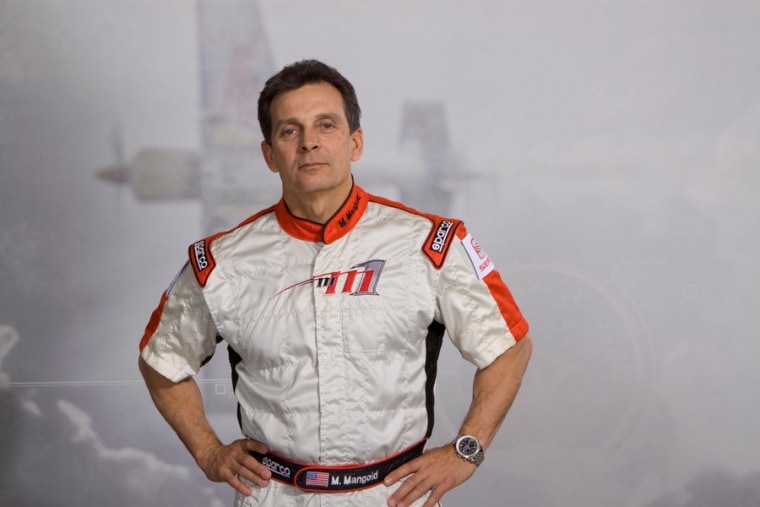 "It came down, and I went, 'Oh, my God — it's going to crash,'" Debbie Williams, a witness, told NBC Los Angeles, saying she saw "flames coming all the way out in the back."
"It came over to the right, and it went 'bang,' and it exploded," Williams said.
"The Red Bull Air Race community has reacted with great sadness at the news of the untimely passing of one of their most vibrant and respected friends," the company said in a statement. "His precise and spectacular flying has amazed millions at numerous airshows around the globe."
All flights to and from the small airport were halted, the Apple Valley Fire Protection District said. The Federal Aviation Administration and the National Transportation Safety Board are investigating.