Of all the constituencies reeling from Hillary Clinton's surprise election defeat, experts say one group has a particularly unique opportunity to be a powerful counterpoint to Donald Trump's White House: the hip-hop community.
Jay-Z, Chance the Rapper, and a host of other hip-hop stars and fans of the genre threw their support behind Clinton — albeit without quite the same fervor that artists embraced President Barack Obama with during his candidacy.
Now, instead of celebrating the election outcome, they are facing the reality of a president who is widely perceived as hostile toward minorities and other groups that frequently overlap with the hip-hop world.
But hip-hop — with its broad appeal and influence, especially among young people — has the potential to be a galvanizing force during Trump's administration, similar to the dissenting voices of rock n' roll artists in past decades, argue progressives such as filmmaker Michael Moore.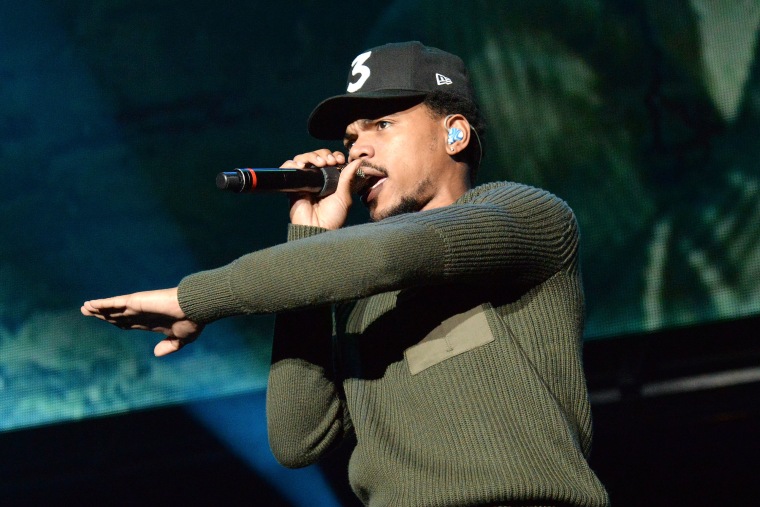 We "must quickly and decisively form an opposition movement, the likes of which hasn't been seen since the 1960s," Moore urged in a Facebook post after the election.
Related: Rapper T.I. Presents Counterpoint to 'All Lives Matter' Crowd
One notable exception to the chorus of Trump haters is iconoclastic rapper Kanye West, who declared at a concert on Thursday that he didn't vote, but if he had, it would have been for Trump.
But overall, this year has seen an uptick in activism from rap artists, thanks to the Black Lives Matter movement, but also to Trump — whose comments on race have been criticized as giving credence to white supremacists and police brutality apologists.
Trump's victory further emboldened many.
"My fight doesn't end here no matter the outcome," wrote rapper Vic Mensa in a Nov. 14 op-ed for Billboard, adding that "the things that I've been talking about this year and going hard on are the same. Those things have not changed."
Iconic group A Tribe Called Quest released a new song called "We the People ...", which they performed last weekend on "Saturday Night Live," that lampoons Trump's incendiary statements about Muslims and Mexicans.
And rapper Ras Kass released a blistering takedown of Trumpism, called "Amerikkkan Horror Story," which samples CNN contributor Van Jones' post-election "whitelash" soliloquy, and calls the president-elect a "sociopath" running on a "reinstatement of white privilege."
Its cover art features Trump grabbing the Statue of Liberty by the genitals, in an ironic nod to Trump's so-called "locker room talk."
Even a usually pop-oriented artist like Nicki Minaj has gotten in on the anti-Trump blitz; on the track "Black Barbies," she raps: "Donald Trump want me go home. Still pull up with my wrist lookin' like a snow cone."
According to John Kennedy, features editor at Genius, these songs are likely only the beginning of a sustained effort to present an alternative view of the black experience in America, in contrast to the bleak portrait Trump painted in his campaign.
"Hip-hop came from struggle. It came from a people who felt their voices weren't being heard and it's always been an anti-establishment culture," Kennedy said. "Hip-hop is not a culture that gets discouraged and that energy is going to continue."
Kennedy predicts the genre will be an outlet for people to vent their frustration, be a source of information for the disenfranchised, and provide a soundtrack for protests.
Related: Trump Criticizes Clinton Backer Jay Z for 'Bad Language'
"I don't think there's ever been an incoming president who has ever had this much opposition before he was even sworn in," Kennedy said. "[George W.] Bush was pretty overwhelmingly hated by hip-hop, but it wasn't from day one. With Trump, it's from day one."
"Hip-hop came from struggle. It came from a people who felt their voices weren't being heard and it's always been an anti-establishment culture."
Compounding the hatred: The White House access that hip-hop artists enjoyed under Obama will almost surely come to an abrupt halt, others say.
"You're not going to have Rick Ross and Talb Kweli coming to the White House to talk about an initiative like you did with Obama," said Shawn Setaro, host of the hip-hop podcast "The Cipher." "That does not seem likely under a President Trump."
Still, he believes the music naturally provides an opportunity to generate dialogue.
"Hip-hop at its roots has the opportunity to make statements about politics because of the way it's set up. It's a lot of words," he said.
Rev. Lennox Yearwood Jr., who leads the Hip-Hop Caucus, a non-partisan voter engagement organization, said while many young people are upset, there's cause for optimism.
"The level of hip-hop artists across the board being involved in this election was unprecedented," he said. "We did what we were supposed to do. We should applaud ourselves, but we must also continue to grow as a powerful unit in politics."
Yearwood feels rap has already demonstrated an ability to permeate peoples' consciousness in rust belt states in a way that many progressive politicians can't. He also believes the music can be a "drumbeat to organize and mobilize people."
On Wednesday evening, the Hip Hop Caucus hosted a conference call featuring Mensa and rapper Ty Dolla $ign to plot next moves, from recruiting homegrown candidates for office to mobilizing new voters for gubernatorial races next year and the midterms in 2018.
"November 6, 2018, is going to be a line in the sand, we are going to start organizing right now," Yearwood said. "We have work to do."