If President Donald Trump had plans to follow in the footsteps of Barack Obama, Bill Clinton and Ronald Reagan and address Britain's historic Houses of Parliament, he may have to think again.
The president was the subject of an unprecedented snub Monday by the usually-impartial speaker of the House of Commons, the most powerful branch of the U.K.'s legislature.
"Before the imposition of the migrant ban, I would myself have been strongly opposed to an address by President Trump in Westminster Hall," John Bercow told the Commons. "After the imposition of the migrant ban I am even more strongly opposed to an address by President Trump in Westminster Hall."
Trump is expected to visit the U.K. later this year. Not all presidents include a speech to Parliament as part of their itinerary but Obama, Clinton and Reagan all did so.
Were Trump to make an address inside one of Parliament's halls, Bercow is one of three lawmakers who would need to sign off on it — something he implied he would block Monday.
"Our opposition to racism and to sexism, and our support for equality before the law and an independent judiciary, are hugely important considerations," he said.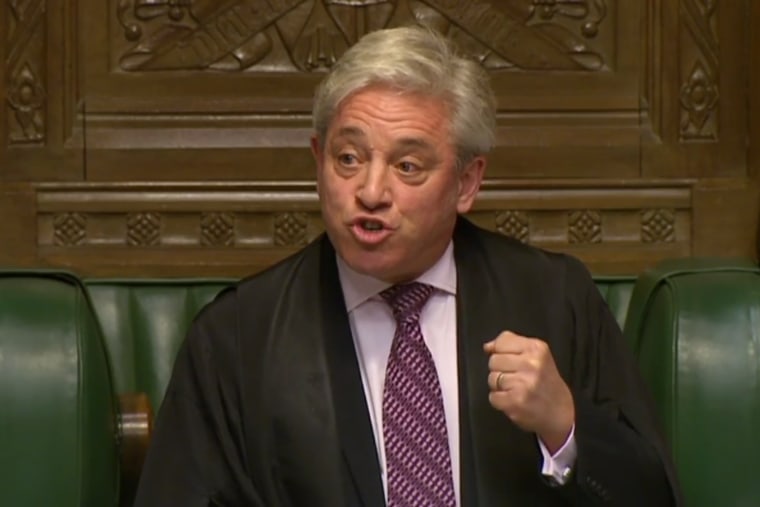 There was no immediate response from the White House, nor from U.K. Prime Minister Theresa May, who had been under pressure from some lawmakers for inviting Trump for a state visit.
Republican Congressman Joe Wilson said Bercow's comments were "very disappointing" and "a slap at the Republican Party," during an interview with the BBC later Monday.
Bercow stressed that Britain values its "relationship with the United States," but addressing Parliament was an "earned honor" not an "automatic right."
British lawmakers from all stripes have criticized Trump's travel ban. Members of the Labour Party, Britain's opposition left-of-center group, cheered Bercow's comments, but other lawmakers said it overstepped the speaker's supposedly impartial role as moderator in the Commons.
Nadhim Zahawi, an Iraqi-born Conservative member of Parliament, was critical of Trump's travel ban after he initially believed it would prevent him from traveling to the U.S. However, he said that Bercow's comments would leave the speaker open to allegations of hypocrisy, given the other world leaders who have addressed Parliament in the past.
In 2015, these speakers included Chinese authoritarian leader Xi Jinping, whose country faces longstanding allegations of human rights abuses, and in 2012 Sabah Al-Ahmad Al-Jaber Al-Sabah, the emir of Kuwait, where being gay is illegal.
"I think the Speaker was unwise to speak out," Zahawi told the BBC early Tuesday. "He prides himself on his neutrality, to speak for the whole of parliament, and I think to become the story is a bad place to be."
More than 2 million people have signed a petition to block Trump from making an state visit to the U.K. A rival petition to allow the official visit has reached more than 300,000 signatures. Both will be debated by lawmakers.