Fox Business Network has suspended longtime host Charles Payne during an investigation into allegations of "professional misconduct," a spokesperson said.
The "Making Money" host was sidelined Thursday night after the Los Angeles Times first reported allegations of sexual harassment against him, citing two sources familiar with a complaint made by a female political analyst.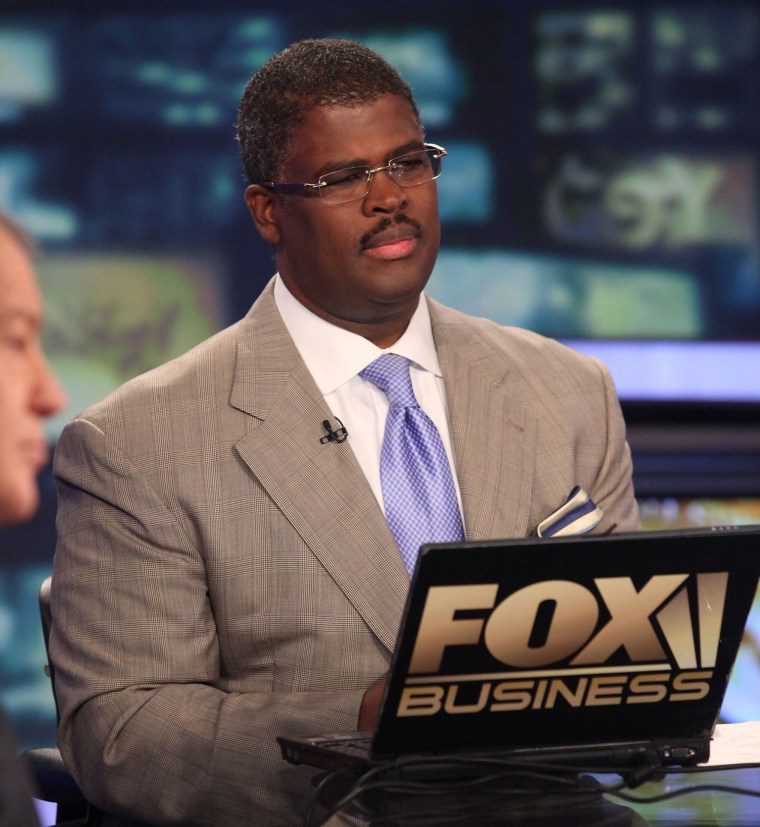 "We take issues of this nature extremely seriously and have a zero-tolerance policy for any professional misconduct," a Fox Business Network spokesperson said in a statement. "This matter is being thoroughly investigated and we are taking all of the appropriate steps to reach a resolution in a timely manner."
Payne, 56, has worked at Fox Business Network since it debuted 10 years ago and also hosts the syndicated talk show, "The Payne Nation."
The Los Angeles Times did not name Payne's accuser because she alleges that she was coerced into a sexual relationship under the threat of reprisals. The newspaper reported that the woman said she believes she was blacklisted as a guest on Fox Business Network and Fox News when she ended their affair in 2015 and told network executives.
Both Payne and the woman are married.
Payne admitted to a "romantic relationship" with the woman and issued an apology in a National Enquirer story published Wednesday, according to the Los Angeles Times.
In a series of tweets Friday morning, Payne did not detail the claims against him but said he gave an unnamed reporter a comment responding to the "false" allegations. He said the story was reported without it.
He tweeted, "This was my reply: 'That is an ugly lie I vehemently deny to my core. There is a mountain of proof that also proves its [sic] a lie.'"
He added that he would "fight this like a lion armed with truth."
Jonathan Halpern, who is representing Payne, said in a statement Friday to NBC News that Payne "vehemently denies the allegations" and would "defend himself vigorously against these claims and will hold those responsible to account."
Sources told the the Los Angeles Times that his accuser is preparing a legal complaint against Payne and Fox, and that her hopes of becoming a paid contributor were dashed and appearances on Fox were drastically reduced after she ended their relationship.
The latest allegation of misconduct follows a tumultuous year for 21st Century Fox's news division, which was hit by a sexual harassment scandal last July when star host Gretchen Carlson filed a suit against then-chairman and CEO Roger Ailes.
She claimed Ailes "sabotaged her career" after she spurned his sexual advances. Ailes resigned from his post amid the fallout, but continued to deny any wrongdoing up until his death in May.
Related: Fox News Head Bill Shine Resigns Amid Harassment Scandals
Ailes had also faced a lawsuit from Fox News contributor Julie Roginsky, who sued him and then-Fox News president Bill Shine, alleging that her promotion to become a co-host of the news show "The Five" was "contingent upon having a sexual relationship with Ailes."
The network has grappled with a string of similar allegations and high-profile firings: Popular host Bill O'Reilly was ousted in April after multiple claims of sexual harassment against him. O'Reilly has called the allegations "unfounded," and his attorney says he is the subject of a "brutal campaign of character assassination."
The following month, "The Five" co-host Bob Beckel was fired for making a racist remark to a black IT worker, the network said.
And earlier this week, Jamie Horowitz was fired as president of Fox Sports' cable networks. No reason was given, but the Los Angeles Times said Fox was investigating allegations of sexual harassment in the sports division. Horowitz's lawyer said the way her client was treated was "appalling."
"At no point in his tenure was there any mention by his superiors or human resources of any misconduct, or an inability to adhere to professional conduct. Jamie was hired by Fox to do a job that until today he was performing in exemplary fashion," the lawyer, Patricia L. Glaser, told the newspaper.
Horowitz was a senior vice president and general manager of NBC's TODAY Show for three months in 2014. Deborah Turness, then-NBC News president, said in a statement at the time that "he and I have come to the conclusion that this is not the right fit."