A city council meeting in Charlottesville, Virginia, erupted in fury on Monday night over the authorities' handling of a white nationalist rally that left a woman dead and 19 people injured.
The agenda for the meeting — the first since the Aug. 12 rally — did not mention the rally or its aftermath. But angry residents and protesters took over the meeting, hurling expletives at the officials and dressing them down.
At one point, the mayor, vice mayor and three council members fled and two people holding a sign that said "blood on your hands" jumped on the chamber's dais, NBC affiliate WVIR reported.
Police officers flooded the room, the station reported, and three people were detained and removed from the chambers.
Related: Charlottesville Mayor Changes Position, Agrees With Confederate Statue Removal
Vice-mayor Wes Bellamy said they would later be released, according to WVIR.
The council re-convened and listened for more than three hours of tongue-lashing from people who said the authorities did nothing to protect them from white nationalists.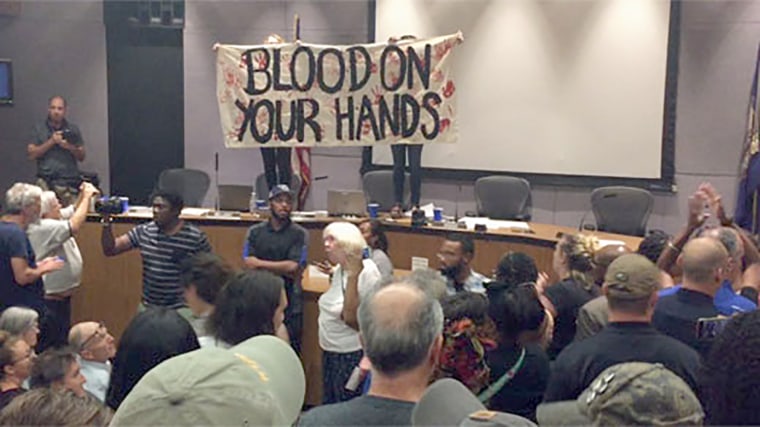 The council ultimately voted unanimously in favor of expediting the removal and relocation of both the Robert E. Lee and Stonewall Jackson monuments in the city, Charlottesville City Clerk Paige Rice said. The council also voted unanimously to drape the statues "in recognition of the city's mourning," Rice said.
In a live feed broadcast by The Daily Progress, a local newspaper, people said that rally attendees attacked them, spit on them and called them racial epithets.
And the police, one unidentified woman said, "did nothing."
"You all let this city down," she said. "It's absolutely disgraceful."
As many of them spoke, the council members listened quietly.
Charlottesville Police Chief Al Thomas, who was not at the meeting, has previously said that he has "regrets" over how local law enforcement handled the rally and counter-protests. But Thomas has also blamed rally attendees for not following plans that had been agreed upon before the rally, and he said that violent confrontations were the result of "mutually engaged attacks" fueled by "mutually combative individuals."
Asked how 20-year-old James Alex Fields allegedly drove down what was supposed to have been a blocked-off street, killing 32-year-old counter-protester Heather Heyer and injuring 19 others, Thomas said: "I'm not sure."
Fields, who has been charged with second-degree murder and other crimes, has been ordered held without bond pending an Aug. 25 hearing.