CHARLOTTESVILLE, Va. — Residents of Charlottesville — reeling after a driver plowed his car into a crowd of anti-fascist protesters — turned their attention to the deep-seated divisions that may have attracted hate groups to the town in the first place.
"I think in a Southern city, Southern town, white supremacy is woven into the American DNA," said Rev. Seth Wispelwey of the local Sojourners United Church of Christ. "There's a lot of unreconciled history that has gone unchallenged."
Saturday's gathering marked the fourth time since May that white nationalists have gathered to protest Charlottesville's decision to remove the statue of Confederate Gen. Robert E. Lee and to rename parks dedicated to Confederate leaders.
The statue's location in what is now called Emancipation Park — formerly known as Lee Park — has become a meeting place for the members of the "alt-right," a part of the conservative movement that mixes racism, white nationalism and populism. This right-wing activism comes amid a renewed push across the South to remove Confederate symbols and names from public places.
Wispelwey, who has lived in this city of 43,000 for most of his life, and other local residents said they were still processing the shock that washed over so many after white protesters and counter-protesters clashed in the heart of the city.
The violence reached a peak when a silver Dodge Challenger drove into a crowd of counter-demonstrators, killing a 32-year-old woman and injuring 19 people. Soon after, police arrested 20-year-old James Alex Fields Jr. of Ohio, and charged him with one count of second-degree murder, three counts of malicious wounding and one count of "hit and run attended failure to stop with injury."
Fifteen others were injured at the rally, while a pilot and a trooper-pilot also died when helicopter that they were in nearby crashed.
"We have to talk to each other, but we also have to work to address the real problems that exist in the foundations of our community."
On Sunday afternoon, tensions remained high at a 2 p.m. press conference called by Jason Kessler, a blogger who helped organize Saturday's "Unite the Right" rally. Crowds of protesters chanted "Shame!" repeatedly as Kessler took the podium.
"The hate that you hear around you, that is the anti-white hate that fueled what happened yesterday," Kessler said, speaking behind Charlottesville City Hall.
Kessler said over the shouting that he condemned "any of the violence that happened." He said what unfolded at the rally was a result of an ineffective response by local police "refusing to do their job."
Protesters booed as Kessler spoke and some chanted "Get out!" before a crowd began to confront him, yelling in his face as he was still standing at the podium — effectively ending the press conference.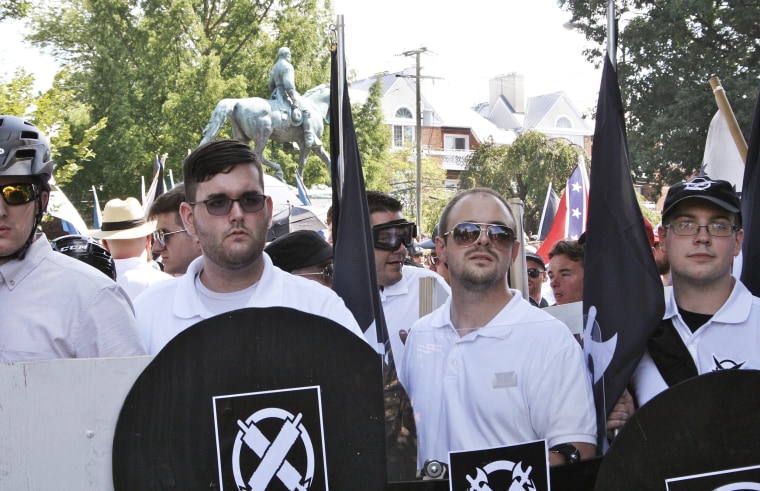 Kessler was chased off by protesters, several of whom attempted to shove or punch him as he tried to leave. At one point, a woman briefly tackled Kessler to the floor before he was led away by security.
Following the scuffle, Kessler tweeted that he "tried his best but once again violence rules over speech and ideas in #Charlottesville."
Virginia State Police said they charged a Charlottesville man, 47-year-old Robert K. Litzenberger, with misdemeanor assault and battery after a trooper saw him spit on Kessler as he was walking away from the press conference. Because the charge was a misdemeanor, he was released on unsecured bond, officials said.
Also on Sunday afternoon, hospital officials said that of the 19 injured who were transported to UVA Medical Center after the incident, 10 were in good condition and nine had been discharged. The hospital system treated additional people in connection with the driver plowing into the crowd, but they did not have an exact number for the additional patients, the UVA Health System said on Twitter.
Wispelwey had said he began his Saturday by leading a group of clergy and faith leaders on a march. He, along with Jill Williams, a local teacher who marched with another clergy group, said they avoided areas where white nationalists were congregating and instead gathered with local residents to counter hate groups.
Sean Clinchy, who lives in downtown Charlottesville, said he felt it was important for residents to stand up and be counted.
"A lot of us felt that you had to show up and show there were more of us than them," he said.
A number of residents who spoke with NBC News said they felt a need to participate in peaceful counter-rallies, but did not expect the violence even though they have witnessed months of building tensions.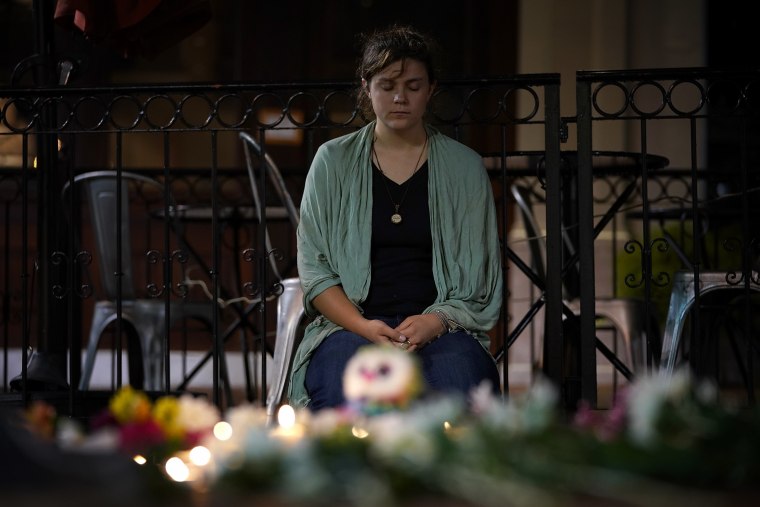 Brian Calhoun was one of those who began handing out water and offering bathroom breaks to those walking on the street in front of his house. Living just a block away from Emancipation Park still does not make Calhoun nervous, but he admitted to feeling afraid for the first time after seeing the Dodge Challenger ram the crowd.
"We're going to get through this," he said about his community. "But it seems like most of the violent protesters are coming to Charlottesville."
He added: "Why is this happening here?"
Residents seemed eager to answer that question by forcing blunt conversations and acknowledging the social and economic divisions that slice through what Calhoun described as a "tiny, artsy, peaceful town."
Neil Gropen, who previously worked for a museum, found what he called a handmade white supremacist shield, which he called the "object of the devil," on Sunday morning.
Gropen blamed white nationalists for Saturday's violence but also pointed the figure at aggressive protesters for provoking the right wing racists.
"Don't provoke them," he said. "You have a dog in a cage. How many times do you have to rattle the car before he snaps at you?"
Lifelong resident Chuck Moran was overcome with emotion as he reflected at how recent events had redefined the city in the eyes of the nation.
"Having these hate-mongers come to my city it just broke my heart. It really did," Moran said.
Two residents pointed to decades of gentrification as a reason why many low-income African-Americans have felt shunned by their own city.
Soon after white supremacist Dylann Roof murdered nine African-Americans in a Charleston, South Carolina, church in 2015, many in Charlottesville started highlighting the towns' deepening economic divide. Some also agree with African-Americans activists who have called for Confederate leaders' statues to be removed and to rename parks the monuments stand in.
Charlottesville's city council voted to remove two statues, but there has since been a delay due to a pending legal case, which has allowed white nationalist to use the issue as a focus of protests.
Though many white nationalists, neo-Nazis and radical counter-protesters came from outside Charlottesville, residents said white nationalism was embedded in the community.
Kessler, who organized Saturday's rally, is a Charlottesville resident. Richard Spencer, the man who is considered to have coined the term "alt-right," went to school at the University of Virginia, which is based here.
Now that the beginning of the school year is approaching, Williams, the teacher, said she was hoping other local educators would help students have open and frank discussions about what happened.
"The guy who drove the car reportedly was 20 years old," she said. "You know I teach high school and we need to talk about this with the kids — all of it."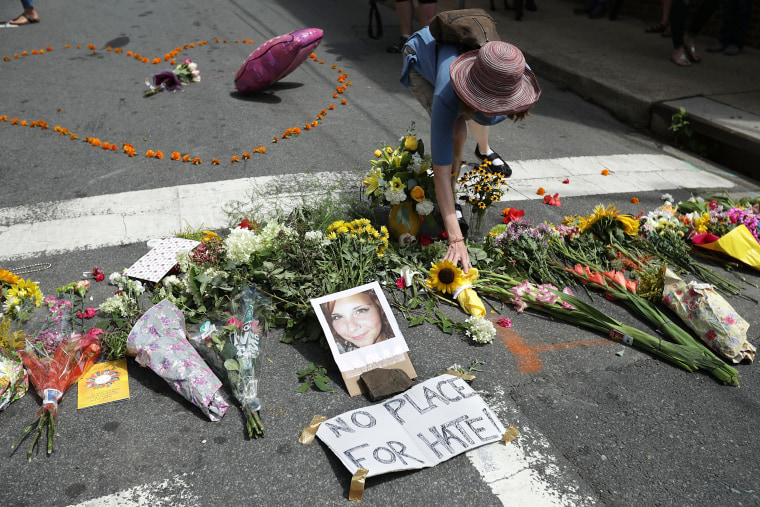 Still, Williams said she was afraid that some teachers would want to move on from the subject quickly.
Though a somber feeling lingers over Charlottesville, all those interviewed said they were not fearful about living in their town.
"'No hate, no fear,' that's what we've been chanting," said Williams, adding that wasn't the whole answer.
"We have to talk to each other, but we also have to work to address the real problems that exist in the foundations of our community," she said. "If all we do is say 'let's love,' there's more work to be done than that."
Marianna Sotomayor reported from Charlottesville, Daniella Silva reported from New York City