One person was killed and more than 19 others were injured in Charlottesville, Virginia, after a car plowed through a group of counter-protesters who were demonstrating against an alt-right and white nationalist rally.
Charlottesville Police Chief Al Thomas said a 32-year-old woman was killed and the suspect vehicle which fled was found moments later and a male driver was arrested.
Police on Saturday night said James Alex Fields Jr., 20, of Ohio, was the person arrested and is charged with one count of second-degree murder, three counts of malicious wounding and one count of "hit and run attended failure to stop with injury."
Two Virginia State Police officials were also killed when a police helicopter assisting in law enforcement efforts in Charlottesville crashed southwest of the city at around 5 p.m., the state police and FAA said. Foul play is not suspected, according to the state police.
At 7:30 p.m., the University of Virginia Health System said it was still treating 19 patients from the car crash — five are in critical condition, four are in serious condition, six are fair and four are in good condition.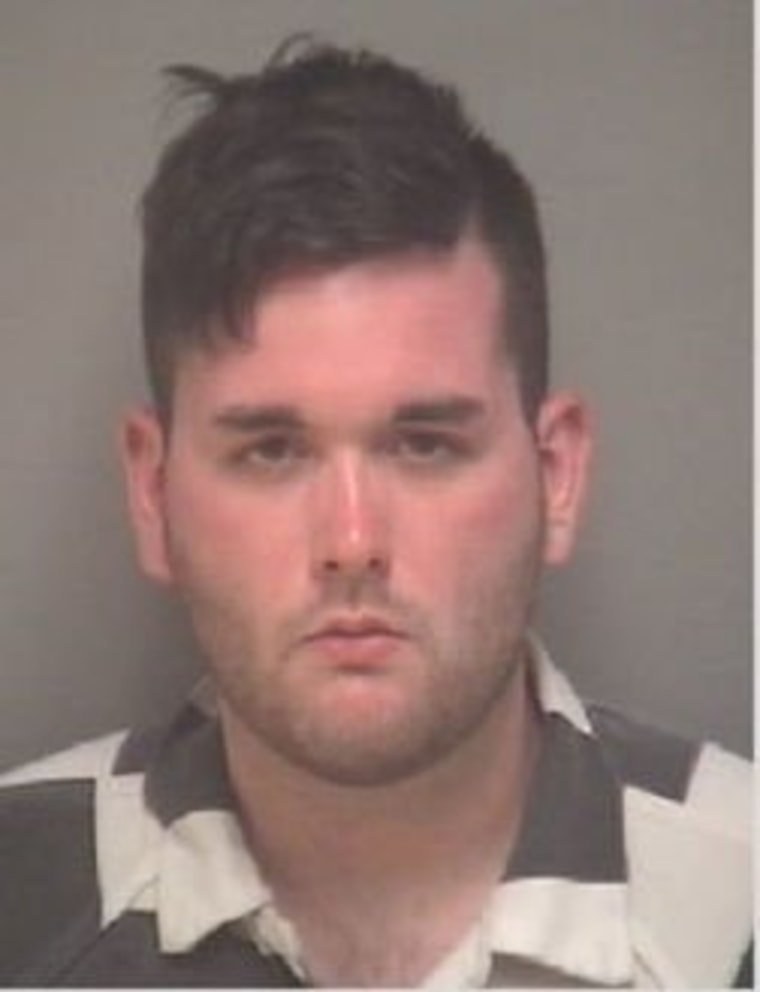 Described as a group of "anti-racist protesters" by a witness who took video of the crash, the group of marchers was packed close together at the end of a street near the intersection of Fourth and Water streets in downtown Charlottesville when the car struck.
Brennan Gilmore, a 37-year-old who works for a start up, shot the footage and said he heard tires squealing before he saw a car build up speed and ram the crowd. It hit a number of people before plowing into the bumper of another car.
"It was very clearly intentional," Gilmore told NBC News. "From the far end of the street it accelerated, slowed down right before the crowd and then slammed on the gas through the crowd sending bodies flying. And then it reversed back into the street dragging bodies and clothes."
Related: Trump Criticized for 'Many Sides' Comment After Charlottesville Violence
Fields' mother, Samantha Bloom, told The Associated Press on Saturday night that she knew her son was attending a rally in Virginia but didn't know it was a white nationalist rally.
"I thought it had something to do with Trump. Trump's not a white supremacist," Bloom told the AP.
The FBI and Department of Justice have opened a civil-rights investigation into the deadly crash.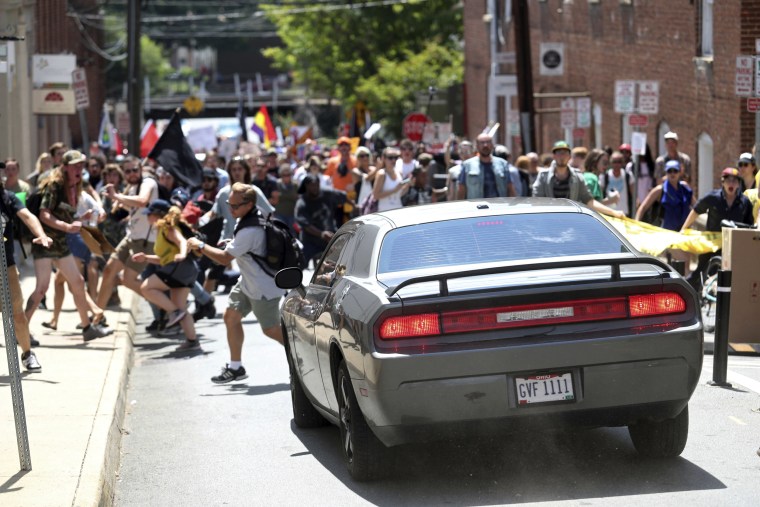 Thirty-five people overall were treated for injuries by city personnel Saturday, Thomas said, and 14 of those were hurt in "individual engagements" as violence flared amid the white nationalist rally and counter-protests. No injuries were reported from interactions with police, he said.
"The premeditated violence that our community experienced today was completely unacceptable," Thomas said at a press conference Saturday evening.
The two Virginia State Police officials killed in the helicopter crash were identified as the pilot, Lt. H. Jay Cullen, 48, and tropper-pilot Berke M.M. Bates. The cause of the Bell 407 crash is under investigation.
PHOTOS: State of Emergency in Charlottesville, Virginia
Ahead of the rally that was planned for noon, different groups of protesters clashed with hundreds of white nationalists, Ku Klux Klan members and neo-Nazis throughout the day. They began to disperse after Virginia Gov. Terry McAuliffe declared a state of emergency and police told attendees to depart.
President Donald Trump called the series of events terrible, but was criticized for not providing a full-throated condemnation of the white nationalist elements of the protests, which included former Imperial Wizard of the Ku Klux Klan David Duke and white nationalist leader Richard Spencer.
"We condemn in the strongest possible terms this egregious display of hatred bigotry and violence on many sides," the president said during a Saturday press conference. "On many sides."
When asked to clarify what the president meant by "many sides," a White House official said Trump "was condemning hatred, bigotry and violence from all sources and all sides. There was violence between protesters and counter protesters today."
Related: White Nationalist Rally Violence Prompts State of Emergency
Trump did not respond when reporters asked whether the Charlottesville car crash was terrorism or if he denounced white nationalism.
McAuliffe did not mince words during an evening press conference that was a clear rejection of "the white supremacists and the Nazis who came into Charlottesville today." He simply told them to "go home."
"You came here today to hurt people, and you did hurt people," McAuliffe said. "My message is clear: we are stronger than you. You have made our commonwealth stronger. You will not succeed. There is no place for you here. There is no place for you in America."
Former President Barack Obama on Twitter posted a quote from Nelson Mandela Saturday that begins: "People must learn to hate, and if they can learn to hate, they can be taught to love."
Besides Fields, three people were arrested Saturday, Virginia state police said. A 21-year-old man from Chattanooga, Tennessee, was charged with disorderly conduct; a 44-year-old Gainesville, Florida, man was charged with carrying a concealed handgun; and a 21-year-old Virginia man was charged with assault and battery, police said.
On Friday night, torch-wielding white nationalists marched through the University of Virginia campus, which was condemned by the university president and other officials.
Friday and Saturday's alt-right rallies were held to protest the removal of a statue of Confederate Gen. Robert E. Lee.
Supporters gathered in Emancipation Park Saturday morning in anticipation of a noon rally held by "Unite the Right." The aim of the rally was to protest the removal of a statue honoring Confederate Gen. Robert E. Lee. The park was formerly known as Lee Park.
State police and members of the Virginia National Guard surrounded the park after McAuliffe declared a state of emergency and the city of Charlottesville declared the alt-right protest an unlawful assembly — effectively canceling the demonstration before its planned start time. The car later struck a group of people downtown.