CHARLOTTESVILLE, Va. — The Ohio man accused of killing a woman when he allegedly rammed his car into a group protesting against white nationalists rallying in Virginia was denied bail Monday in his first court appearance since the chaos in Charlottesville.
Dressed in a black and white prison jumpsuit, James Alex Fields Jr. appeared in a Charlottesville court room via video conference from the local jail and did not enter a plea in connection with the death of 32-year-old Heather Heyer at a "Unite The Right" march Saturday.
"No sir," Fields answered when Chief Judge Robert H. Downer Jr. asked him if he could afford a lawyer.
The 20-year-old was assigned court-appointed attorney Charles Weber and given an August 25 return court date.
Related: GoDaddy to Pull Plug on Daily Stormer After Article Mocks Victim
Fields told the court he earns $600 a week working for a private security company in Maumee, Ohio. During the 10-minute appearance, he mostly kept his head down and avoided looking directly into the camera.
"Yes sir," Fields answered when Downer asked him if he understood everything that was said during the proceeding.
Then Fields was marched back to his cell at the Albemarle-Charlottesville Regional Jail.
Fields was arrested shortly after he allegedly plowed his Dodge Challenger through a group of demonstrators, barreling through them like bowling pins. Heyer was killed and 19 other protesters were injured.
It was a deadly coda to day of anger and rage on the normally genteel streets of the southern city that pitted hundreds of white supremacists, Ku Klux Klansmen and neo-Nazis versus an army of anti-racism protesters.
Fields was held on suspicion of second-degree murder, malicious wounding and failure to stop in an accident that resulted in death.
Outside the courthouse, white nationalist Matthew Heimbach barged in on a gathering of reporters and accused them of being "liars" and insisted Fields was "scared for his life" and tried to portray him and the other white supremacists as the victims.
Related: Right-Wing Rally Goes Ahead in Seattle Despite Virginia Violence
"The nationalist community defended ourselves against thugs," Heimbach insisted. "These radical leftists...they are the one who came to kill us."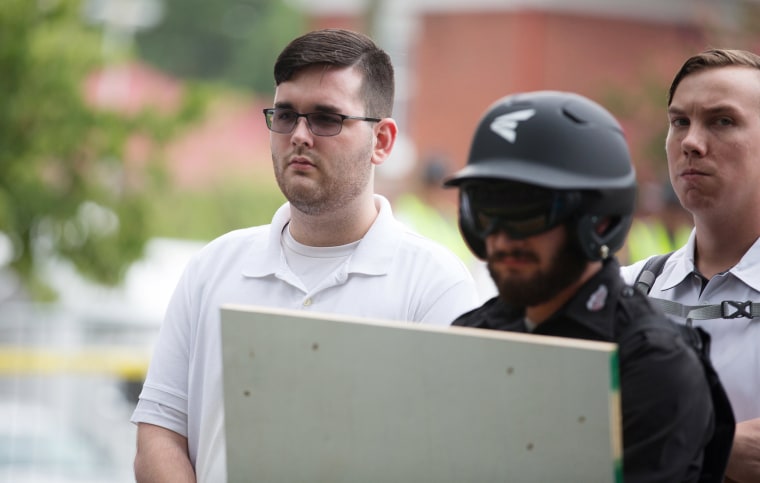 Heimbach was soon drowned out by chants of "Nazis go home" and "murderer" and police officers quickly surrounded him for his own protection and escorted him away from the court complex.
Fields' employer, Securitas Security Services USA, said that he had been fired. He worked for the company from May to July 2016 and then again from November till his recent termination. The company said he received a security officer license by the state of Ohio.
Earlier, Fields' mother Samantha Bloom told NBC News and other outlets that she learned of the deadly havoc from reporters who showed up at her home in a Toledo suburb and said she was under the impression that her son was merely attending a political rally — not a nationalist march.
"I didn't know it was white supremacists. I thought it had something to do with Trump," she said. "Trump's not a supremacist."
President Donald Trump has been hit with bipartisan criticism for failing to immediately — and explicitly — condemn the white nationalists for the violence and suggesting the counter-protesters bore some of the blame.
Marianna Sotomayor reported from Charlottesville, Corky Siemaszko reported from New York.