A flyer advising women on how to audition for the University of Washington's cheerleading squad ignited a controversy Wednesday over female body image and how far educational institutions should go in sexualizing their students.
The flyer, which was posted to the university's Facebook page this week ahead of auditions for the cheer and dance team, was quickly withdrawn after scores of people objected that it reinforced sexual and racial stereotypes.
The flyer, which was first reported by The Seattle Times, portrayed a skimpily clad young blonde woman with arrows pointing to several parts of her body, with advice on what to wear and how to groom — advising that applicants wear false eyelashes, "natural tan/spray tan," "girl about town lipstick" and hair with "volume," among many other tips.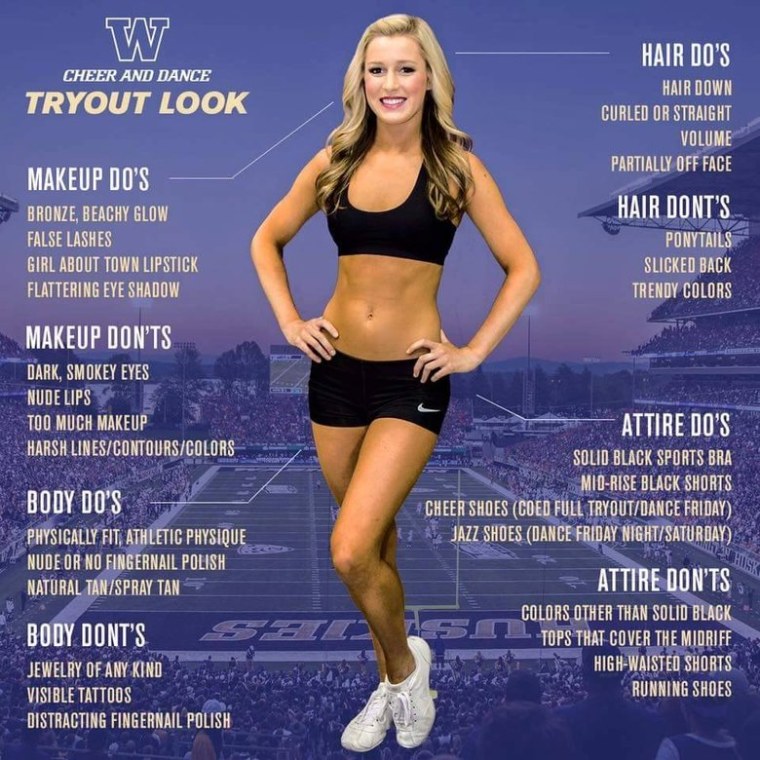 In a statement, the university said it withdrew the flyer "in response to a high volume of student questions."
"Some of the details and descriptions provided were inconsistent with the values of the UW spirit program and department of athletics," the university said. "Athletic department officials have reinforced the values of the programs to UW spirit leadership, and look forward to an equitable and diverse tryout process for interested students."
The university's student government said in a statement Wednesday afternoon that the flyer "does not reflect the values of the University of Washington."
"An advertisement such as this completely objectifies women and creates barriers that only perpetuates the inaccessibility of opportunities that should be open for every student on this campus," it said.
Since the advent in 1972 of the U.S. Education Department's Title IX regulations, which mandate equality in public institutions, most public colleges and universities have categorized cheerleading and spirit dance as sports, and the University of Washington is no different.
"UW Spirit members are well-rounded athletes," according to the university Athletic Department's operating manual. "We are part of a prestigious University, so we want our cheerleaders to graduate and achieve in the classroom."
A representative of Varsity, an umbrella organization of cheerleading, spirit and dance teams and competitions, told NBC News she'd never before heard of a similar visually bold depiction of cheerleaders by an educational institution.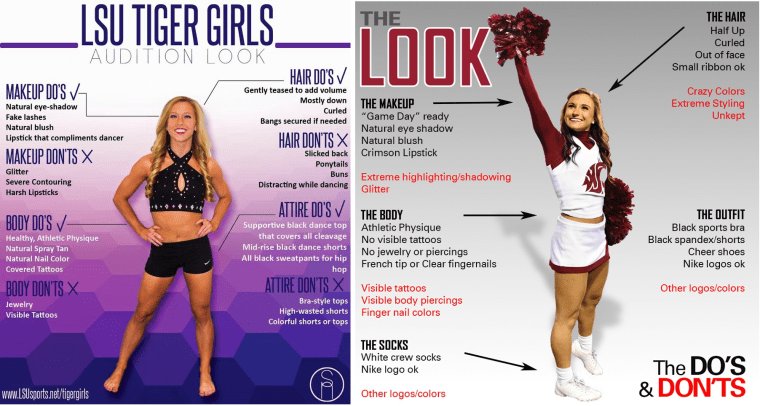 Similar flyers have been published by Louisiana State University and Washington State University, apparently to little controversy. (All three flyers are remarkably similar, boasting women with relatively straight, shoulder-length blonde hair.) But otherwise, they are rare.
"It's unfortunate. I wish this hadn't happened for them," said the Varsity representative, who asked not to be named because the University of Washington takes part in Varsity-affiliated programs and competitions.
"We might say wear a clean outfit and make sure your hair is done," but beyond that, Varsity doesn't have guidelines for how participants should look, the representative said, adding:
"Our focus is on athleticism. We like to keep the focus on athleticism and cheerleading skills.