The man convicted of planting pressure-cooker bombs in Manhattan last year has been trying to radicalize fellow inmates, providing them with bomb-making instructions, the al Qaeda magazine Inspire and speeches by Osama bin Laden, prosecutors said on Friday.
The disclosures came in a letter from the U.S. Attorney's office to federal judge Richard Berman requesting a hearing on legal representation for Ahmad Rahimi — who says he is on a hunger strike because his family hasn't been able to visit.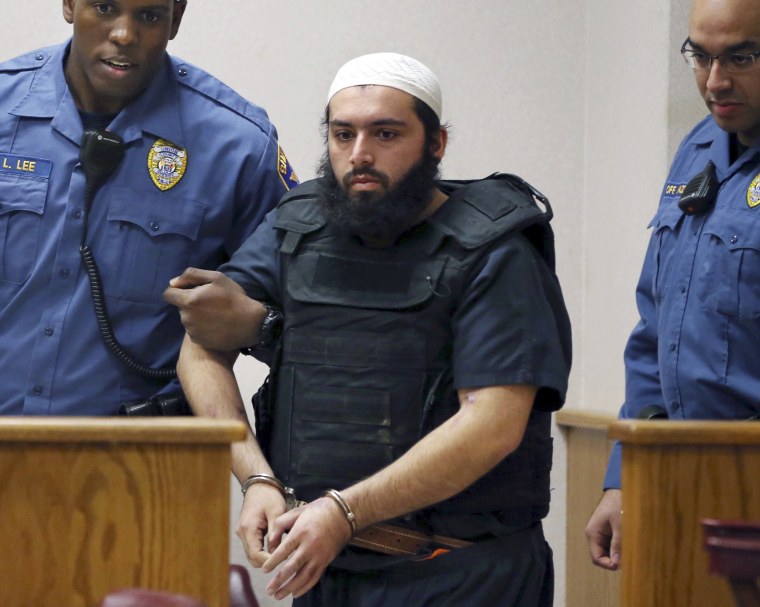 The letter says since October, while awaiting sentencing at the Metropolitan Correction Center in Manhattan, Rahimi "distributed extremist material to other inmates" he met during Friday prayer sessions.
The materials had been found on Rahimi's electronic devices after his arrest for the Chelsea blast that injured 30 people and two other unexploded bombs. They were given to him as pre-trial discovery materials while he was being held in the federal lockup, according to the letter from prosecutors.
"The defendant allowed the inmates to view these materials on his laptop, and also provided some of them with electronic copies," prosecutors said, adding they had recovered the copies from two inmates' electronics.
One of those inmates was identified as alleged ISIS sympathizer Sajmir Alimehmeti. Officials had previously disclosed that they found "terrorist propaganda" belonging to Rahimi on a hard drive in Alimehmeti's locker in the jail law library, where prisoners are allowed to examine the evidence against them.
The letter sent to the judge on Friday provided more details of Rahimi's alleged efforts to distribute jihadist writings and possibly connect with other terror suspects.
"After learning of the defendant's radicalization efforts, the MCC staff searched his personal property and located, among other things, an address book containing the names and inmate numbers of other defendants charged with terrorism offenses," prosecutors wrote.
Those inmates included Muhanad Mahmoud Al-Farekh, recently convicted in a 2009 attack on an Army base in Afghanistan and Maalik Alim Jones, an alleged al-Shabaab recruit.
Attorneys for Rahimi declined to comment on the letter, which notes that Rahimi, Alimehmeti and the unnamed inmate are represented by Federal Defenders of New York and requests a hearing over a potential conflict of interest because the same defenders office is involved in all three cases.
The judge has already heard from Rahimi himself, who wrote a letter to the court complaining that he was moved to the more restrictive Special Housing Unit in late October and has been unable to receive visits from his wife and children.
"I am extremely frustrated and physically tired and mentally drained of the continuous runaround they are giving me," he wrote.
In the letter written Dec. 12, Rahimi said he has been on a hunger strike since Dec. 8, though it's not clear if he is still on one. He is due to be sentenced Jan. 18 and faces a life sentence.