Chelsea Manning, the former Army intelligence analyst who is set to be released from prison next week after serving nearly seven years for leaking classified documents to Wikileaks, said Tuesday that she is preparing for the life she never thought she'd have.
"I can see a future for myself as Chelsea," Manning, a transgender woman who began using the name while in custody, said in a statement. "I can imagine surviving and living as the person who I am and can finally be in the outside world. Freedom used to be something that I dreamed of, but never allowed myself to fully imagine."
The ACLU, which represents Manning in an ongoing 2014 lawsuit against the Department of Defense over access to gender-related medical care, told NBC News they were unable to determine the exact day next week that Manning will go free. Earlier reports suggested May 17 as a likely release date.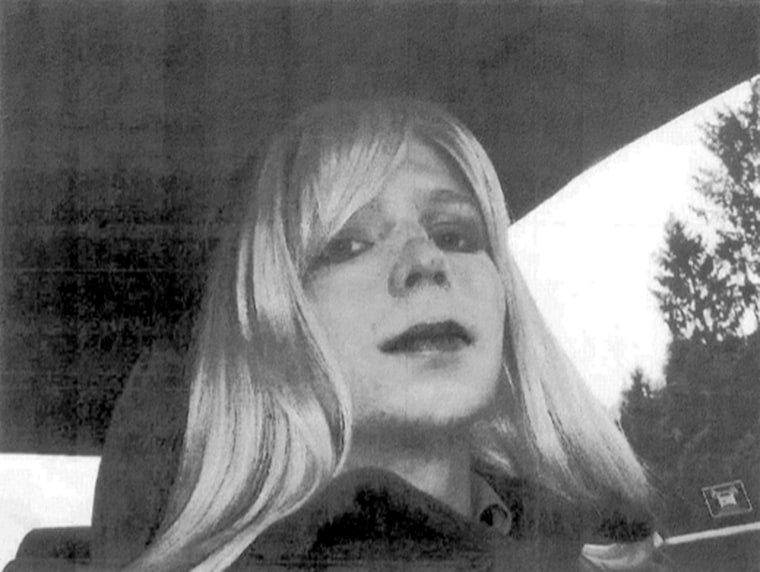 Former President Barack Obama commuted all but four months of Manning's remaining sentence just before he left office in January. Before his decision to shave 28 years off her sentence, she was serving 35 years in a men's military prison after being convicted of violating the Espionage Act as well as more than a dozen other charges.
The former Army private also faced new charges in July 2016: three administrative prison offenses related to her first of two suicide attempts last year. After being punished with solitary confinement for the first suicide attempt, Manning tried to commit suicide again in October.
"I am forever grateful to the people who kept me alive, President Obama, my legal team, and countless supporters," said Manning on Tuesday, citing struggles over "nearly seven years of bars and cement, of periods of solitary confinement, and of my health care and autonomy restricted, including through routinely forced haircuts."
Manning, who has been called an "ungrateful traitor" by President Donald Trump, said the support she received through letters kept her going.
"I watched the world change from inside prison walls and through the letters that I have received from veterans, trans young people, parents, politicians, and artists," Manning said. "My spirits were lifted in dark times, reading of their support, sharing in their triumphs, and helping them through challenges of their own."
Nancy Hollander and Vincent Ward, the attorneys representing Manning in clemency and appellate cases, called Manning's long sentence "draconian."
"Chelsea has already served the longest sentence of any whistleblower in the history of this country," said Hollander and Ward in a joint statement Tuesday. "It has been far too long, too severe, too draconian. President Obama's act of commutation was the first time the military took care of this soldier who risked so much to disclose information that served the public interest."
Manning — then known as Bradley — was convicted in 2013 for stealing 700,000 military files and diplomatic cables and giving them to WikiLeaks in 2010. Her defenders say no one was endangered by the leaks. She came out as transgender shortly after her sentencing.
An ACLU spokesperson told NBC News that a lawsuit against the DoD over gender transition-related medical care is now "on hold" and will likely be dropped after her release. Meanwhile, ACLU attorney Chase Strangio said Manning's visibility as a transgender woman is a "critical force" in the movement for equality.
"The transition out of these horrific institutions will not be easy, and part of what we hope is that Chelsea will find the space, love, and support to heal and build a life of her choosing," said Strangio. "Her fight to be herself, to access the medical care that she needed, and to gain her freedom have transformed law and society for the better."