Five groups supporting jailed transgender Army soldier Chelsea Manning delivered a petition with more than 115,000 signatures to the Army secretary's office on Wednesday, calling for the dismissal of new administrative charges that stem from Manning's attempt to take her own life last month.
Manning, who is currently serving a 35-year prison sentence on Espionage Act violations for sending more than 700,000 classified documents to the anti-secrecy website WikiLeaks, was briefly hospitalized on July 5 following a suicide attempt.
Three weeks later, Army officials informed her that she was being investigated for charges related to the incident, including "resisting the force cell move team," "prohibited property" and "conduct which threatens."
The maximum penalty for such offenses is indefinite solitary confinement.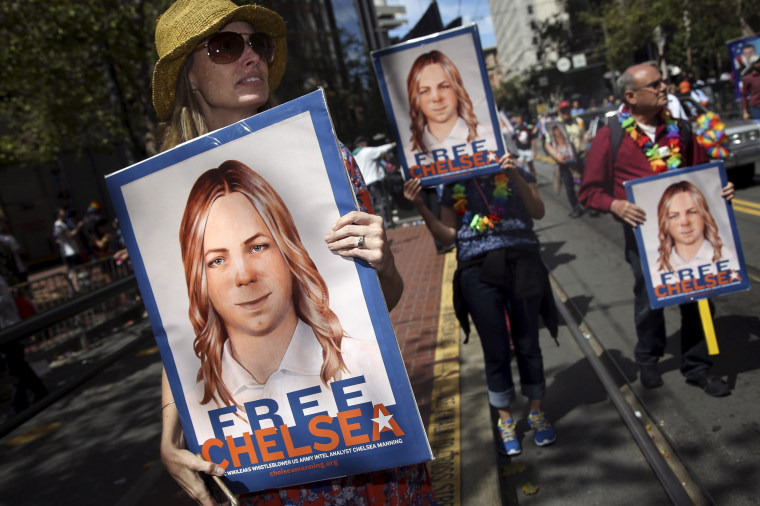 On a conference call with reporters Wednesday, advocates behind the petition to have those charges dropped repeatedly called the Army's latest action against Manning "egregious," particularly in light of the fact that she is still not receiving proper treatment for her gender dysphoria — a medical condition that often requires counseling, cross-sex hormones, gender reassignment surgery, and the social and legal transition to the gender with which a person identifies, according to the Diagnostic and Statistical Manual of Mental Disorders.
While Manning has been granted access to hormone therapy, speech therapy and cosmetics, she is required to keep her hair short in accordance with male grooming standards and continues to serve out her sentence at the all-male U.S. Disciplinary Barracks in Fort Leavenworth, Kansas.
That treatment, according to Chase Strangio, one of Manning's attorneys at the American Civil Liberties Union, is "inconsistent" and likely contributing to his client's "escalation of stress."
"The military's disciplinary system continues to treat trans women as men," said Strangio on Wednesday's press call. "That chips away at a core part of her humanity."
It's not the first time Manning has faced administrative offenses with the possibility of indefinite solitary confinement.
Last year, she was tried on charges of disorderly conduct for sweeping food onto the floor and medicine misuse for having an expired tube of toothpaste.
She also had a copy of the 2015 issue of Vanity Fair magazine featuring Caitlyn Jenner, the former Olympic champion turned transgender reality star, which the Army deemed prohibited property.
Manning was found guilty and sentenced to 21 days without access to recreation, including the gym, library and outdoors.
The ACLU's Strangio could not say for sure whether the charges against Manning following her suicide attempt were uncommon, as much of the information about what happens in military prisons is kept private. But he added, "So much of her treatment has been so egregious, it's hard to not feel as though she's being targeted."
A spokesperson for the Army did not immediately return NBC News' request for comment on the petition.