Bazooka bubble gum has stuck to a decades-old promise, awarding a Texas man a fresh new baseball glove from a 1957 baseball card contest.
Darwin Day, 70, was cleaning out his Grand Prairie house a couple months ago when he found a binder of Topps baseball cards he had collected as a kid when they were sold with Bazooka gum.
It brought back memories of collecting cards with his brother, Will, who died earlier this year.
"Win these swell prizes in the 4th Bazooka baseball contest," read one card, which offered a chemistry kit, a power microscope, or a baseball glove as a reward for filling out the scores of two games that were held on Friday, July 19, 1957.
Day — who is retired but works as an occasional tour guide at Globe Life Park, home of his beloved Texas Rangers — decided to enter the decades-old contest in honor of his brother.
"I knew he'd be smiling somewhere if I'd do it," Day told NBC News.
He did cheat a little: Instead of recalling from memory the scores from the Milwaukee Braves vs. New York Giants game and the Baltimore Orioles vs. Kansas City Athletics game from that day, he just looked them up.
The more difficult requirement for the contest, he said, was finding the five Bazooka gum wrappers it required.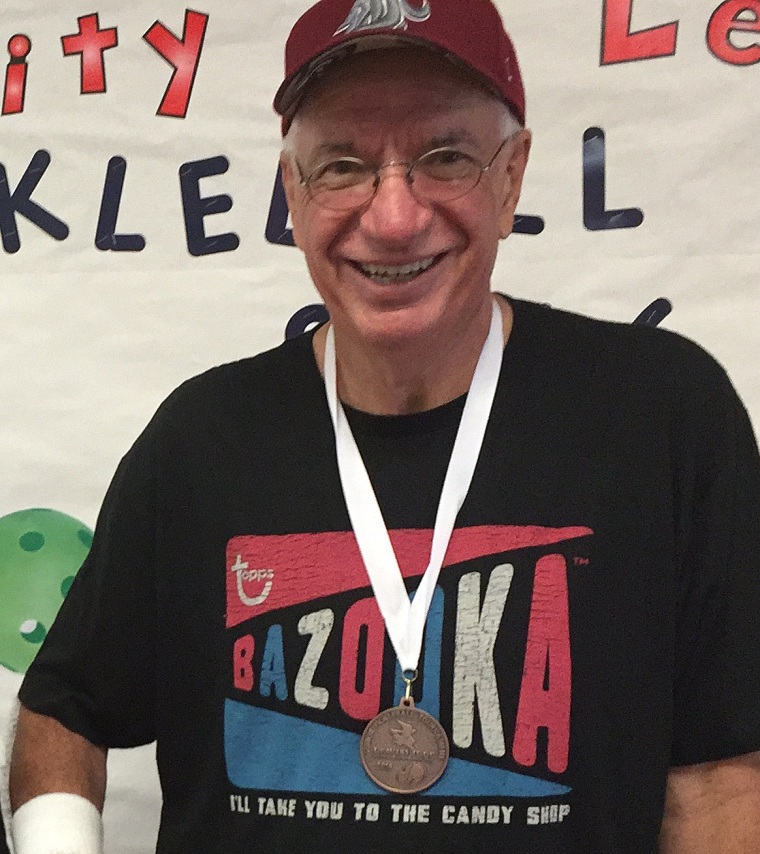 "I didn't want to do Double Bubble or anything like that," he said. He finally headed to the post office without the wrappers when he spotted a "movie-sized box" of Bazooka gum at a store along the way. But then he encountered another problem: He couldn't open the wrappers.
"I do it in front of this lady and her 10-year-old daughter, and the daughter looks at me as I'm fumbling. I was trying to open it without ripping it. She offers to do it, and I hand it to her and she gets it undone easy as pie as she looks at me like I'm from a different planet," Day said.
He took the wrappers he needed, gave the rest of the box to the girl, then sent in his entry to Tony Jacobs, global general manager of Topps Confectionery Brands, which includes Bazooka. Day also included an old baseball card for a player by the same name as the recipient, Anthony Jacobs, who once played for the St. Louis Cardinals.
"I hope I'm not the beginning of a 'Law and Order' episode with someone marking me with this card."
Jacobs said he was stumped by the package and its "mysterious elements."
"I said, 'There's three possibilities here. Number one, it's someone who has maybe lost touch with reality and doesn't know what year it is. The second is maybe somebody's having a little bit of fun.'"
The third possibility, he joked, was that he was the target of a murder plot.
"I hope I'm not the beginning of a 'Law and Order' episode with someone marking me with this card," he recalled thinking.
He showed the contest entry to his team, who told him it was a promotion from the 1950s. Jacobs then called Day and the two hit it off — they plan to get together and meet next time Jacobs is in Texas, he said — and then the Topps candy team verified that the contest entry was correct.
On Sept. 7, Jacobs sent Day his well-earned prize: A Louisville Slugger glove, plus a couple t-shirts, some Bazooka gum, and a pillow with the classic Bazooka label on one side and an old Bazooka Joe comic strip on the other.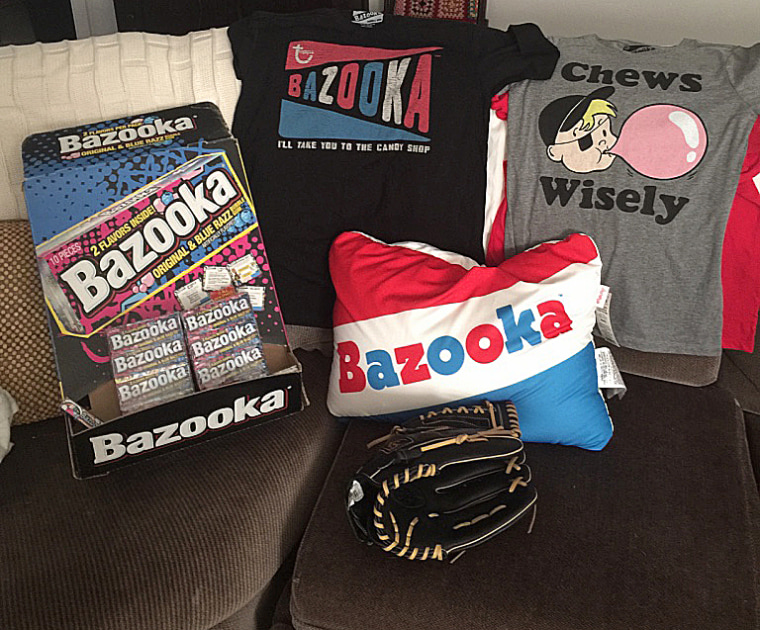 Day says his brother would have gotten a kick out of it.
"He was with me the whole way," he said. "I feel like he's someplace laughing his head off."